Knowing when to shop for your wedding dress can be confusing at best. Here's some handy tips to help you understand what your options are. Hope it helps
Hey there lovely lady! Wondering when is the best time to start looking for your Wedding Dress?
So, there's no set "rule" to this, every bride is different. It ultimately depends on you and your individual circumstances. We know that many of our brides have had to postpone wedding dates, or, take the first date available at their wedding venues, so we know its tight, we get it! There is a number of things that are really essential if you are at this stage: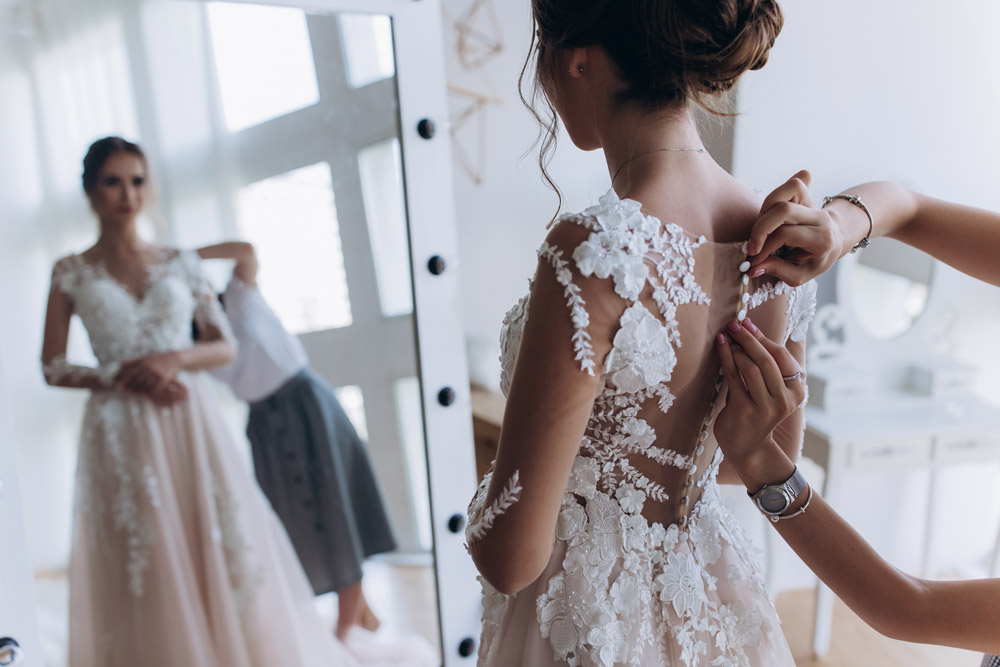 TDR Designers
Our relationship with our designers is SO important. Although our designers have certain standard delivery dates, there are a few, reputable designers, who have a 'rush cut' option when ordering, which means your dress will be delivered sooner than 'standard'.
Alternatively, some of our designers also carry stock of particular gowns in particular sizes, which means they can be shipped straight out to us – sometimes this means you may have to go up a size or two in order to receive your gown in time but do not panic, this is what our onsite seamstresses are here for, they will be able to alter your dress down to your size.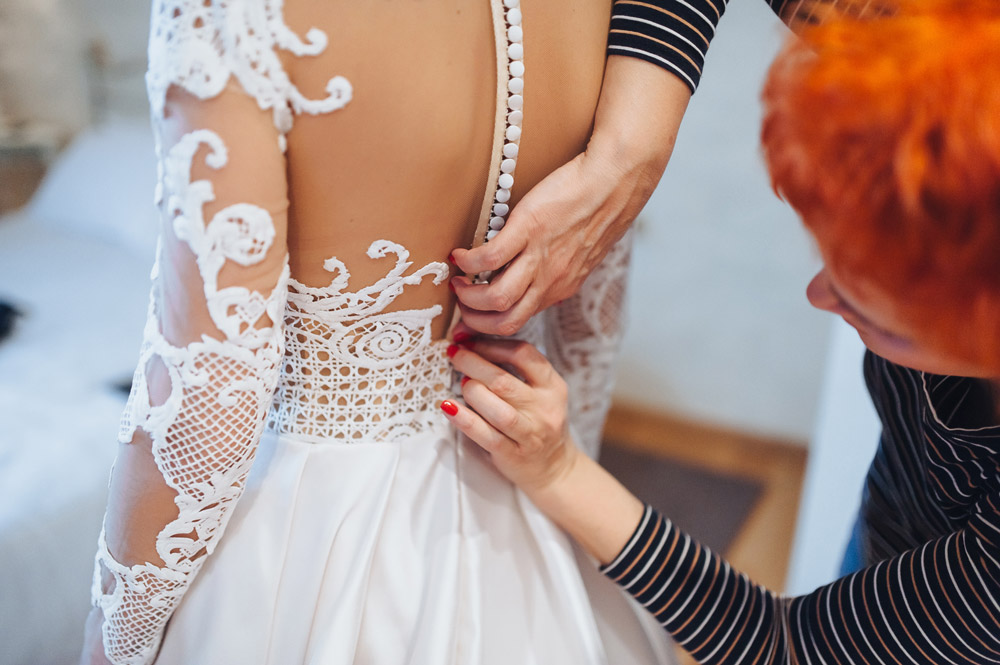 Seamstresses
It is with upmost importance that when searching for your wedding dress, you must do you research to ensure the shop you choose has experienced seamstresses (specifically experienced with wedding dresses).
We have worked with our seamstresses now for over 10 years, they work independently (which means we take no commission from them or have 'set alteration fees' which some other shops may have) but they work on-site, which means they are easily accessible, just like us. This also means that we know for certain, that they can alter your dress in 24-48 hours if needs be! Which for you, is peace of mind that if delivery dates are tight, no matter what, we will get you fitted to perfection in time for you to walk down the aisle.
Let's Talk Timescales
24 – 30 Months Before Wedding Date
You might want to be super organised like some of our brides and shop 24-30 months in advance- this gives you longer to plan, organise & budget well for your wedding.
12 – 18 Months Before Wedding Date
You might want to shop 12 – 18 months in advance- the majority of our brides do this as it still gives us plenty of time for your wedding dress to arrive and for all your fittings to be done.
6 – 12 Months Before Wedding Date
You might only have 6 – 12 months because you got a great deal on a shorter lead time with your venue. This is no problem for us at all. We will still have plenty of time to have your dress made & delivered to us plus we have the added benefit of 4 onsite seamstresses so you're guaranteed to have your dress fitted perfectly in time for your special day.
1 – 6 Months Before Wedding Date
You might have 1 – 6 months, don't worry! We can help you! Lots of our Designers hold stock and we are able to "live pick" that stock so that you can have the dress you want in the size that you need. Again, our amazing onsite Seamstresses will get you Aisle ready in no time!
Whatever your timeframe, we'll always do our very best to make sure you have THE most amazing time with us and that your journey from Miss to Mrs will be full of lots of happiness and memories for you to treasure.
Some say you need to visit lots of different shops to find the perfect dress, our brides say you don't. That's because we've got over 400 individual styles to suit every shape, size & style and budget plus an unrivalled service too!
When you buy from us you get to meet over 1400 other brides who have bought from us, all of which, will sing our praises and support you too on your journey. It's totally unique, there's nowhere else like It.
We really would love to meet you, we really would love YOU to be the next TDR Bride; And we promise you, you'll have the best time, and we will care for you and look out for you, every single step of the way, You're In Safe Hands
Lots of love
TDR Bridal xxxxx