Doing our bit for the environment.
We have been enthusiastic recyclers at TDR Bridal but recently we decided that wasn't enough.
So we decided to team up with The National Forest to do our bit for the environment.
As a result, for every wedding dress we sell, we pledge to plant a tree.
With your tree, you can dedicate it to whoever you like, be that a loved one or even yourselves as a couple.
You will receive a personalised certificate and you can even choose the type of tree that you would like to have planted in your name.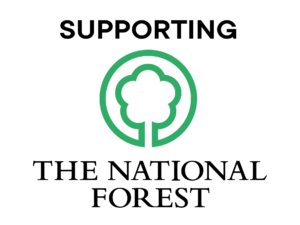 Oak
The wise old oak tree. A symbol of strength and survival, this sacred species provides rich habitats for wildlife, with many enjoying its falling acorns as a food source.
LIME
With its wonderful red buds, beautiful bark spine, and large heart-shaped green leaves, the lime is perfect for birds and insects. Particularly, it is a favourite of the endangered honey bee.
Hazel
The leaves of the magical hazel tree turn yellow in autumn, covering our landscape in colour before creating a beautiful yellow pathway when they fall. A species perfect for dormice and caterpillars.
Silver Birch
The birch trees light open canopy provides the perfect conditions for bluebells, violets, grass and moss to thrive on the Forest floor. You may also find a nesting bird or two inside its trunk.
Rowan
A rowan tree can live up to 200 years. Its flowers grow in dense clusters of cream and white, and after pollination, develop into striking red fruits – a rich source of food for wildlife.
Wild Cherry
The leaves of a wild cherry tree change colour throughout the year, creating a beautiful year-round display. Beginning with a deep green before fading into orange and a deep crimson in autumn.
Whatever tree you choose, you will be joining us in giving back to this wonderful world we live in, protecting the environment for generations to come.
SAYING THANK YOU TO OUR EMERGENCY SERVICES WITH THE BLUE LIGHT CARD DISCOUNT
We recognize the amount of work the NHS staff & emergency service workers have done for the UK, particularly during COVID-19 lockdown, so this is our chance to give back!
We know how many nurses, doctors, NHS staff & emergency service workers are getting married! We cannot wait to celebrate with you!! Let us say Thank You to each of you, by helping us give back!!
Offering every health worker a discount towards their wedding dress. Get in touch today to find out more.