For every bride on the planet, choosing the wedding dress that's right for you is an expression of your personal style, culture and family traditions. You may have been planning and dreaming of your wedding dress since you were eight years old and have had an idea in your mind down to the shape of the sequins and style of the buttons, but once you start looking at the stunning choices of wedding dress designers and different styles as well as the range of gorgeous fabrics that are available, your long dreamed of plans may start to change.
Maybe you have no preconceived ideas, you might have been surprised by an out-of-the-blue proposal and never given a thought before that moment about your choice of wedding dress. Well don't worry, TDR Bridal Suite has got you covered with some great tips and ideas on choosing the wedding dress that's right for you.
Choosing your wedding dress need not be stressful
Finding your dream wedding dress does not have to be stressful. We understand that it's a garment you will probably have never tried on before, and it is likely to be the most expensive dress that many women will ever own, but with TDR Bridals' experienced stylists and being one of Britain's largest bridal boutiques you benefit from the fact that we stock more dress collections than your average dress shop, giving you a wide variety of styles and designs to ensure that Choosing the wedding dress that's right for you could not be easier.
Once you start to see and hear terms such as a-line, beaded collar, fishtail, fit-and-flare, organza etc it can be a little bewildering. For some brides, it's like taking a new language course or trying to decipher a foreign holiday menu.
And then of course there are the fantastic designers whose creativity makes you gasp.
Designers such as Justin Alexander who is one of the world's biggest bridal names, produce wonderful bridal gowns that are style conscious and glamorous. Some may think of the collection as modern or contemporary but they often come with a subtle vintage twist.
Contemporary fabrics with modern design and finish add a luxurious feel to many of Justin's dresses. Each one is beautifully cut and features a range of hemlines and necklines.
If you want to put the wow in your wedding, look no further!
Another favourite designer in the TDR bridal collection is the beautiful romantic style from Rebecca Ingram.
Fun and carefree are words that perfectly describe her fabulous collection. Brides looking for something a little bit different like a soft, floaty, romantic style for a beach destination wedding, for example, will love this label. If you are blessed with a fuller figure and want to showcase your assets, add a Queen Anne high collar at the back with a deep neckline.
Stunning styles in fabulous fabrics at very affordable prices, that is the beauty of Rebecca Ingram.
To train or not to train is another big decision for many brides and an easy one for others. Whether or not you want a wedding dress train is a personal choice. Some people imagine gliding down the aisle with a fluffy, taffeta cloud in their wake; others simply don't want the hassle.
If you're someone who simply can't decide, then take a look at our truly beautiful Allure Couture collection that we are so excited to have in-store for 2023. All the dramatic, sartorial touches and luxurious textiles you could possibly imagine were poured into this beautiful collection. 
With stardust glitter tulle and pearl beaded English net, beaded embroidered appliqués and an overflow of sequinned lacework, you will not want to miss these dresses! Accents of modernity are counterbalanced beautifully by a return to timeless fabrics, organdy and Chantilly lace.
And lots of trains.
An altogether mesmerising collection which we at TDR Bridal are totally in love with, and we know you will be too.
But it's not about what we love, our job is to spend however long it takes and do whatever it takes to be with you and offer our expertise in choosing the wedding dress that's right for you.
Before we highlight another stunning designer we want to say a little about size and shape. We are all different and beautiful in our own way, We get asked if we do "plus size?" and our answer is always the same, we sell wedding dresses.
By that we mean we sell wedding dresses for real women of all shapes and sizes but what we don't do is label women and put them in categories.
Real women and real bodies are what we're all about. We feel passionate about this and would never wish to categorise you because your clothing size is different to the next person?
Every bride at TDR Bridal is equal in our eyes and receives the same love, service and assistance. Which is exactly how it should be.
Taking a more retro perspective, let's take a quick look at some more stunning designer wedding dresses.
If you want to be different and have a love of vintage styling then the fabulously talented House of Mooshki collection will take your breath away. Based in the North East of England, Mooshki are the wedding dress gurus for custom designed vintage-inspired 1950s tea-length wedding dresses. Each dress comes with seven different skirt styles, which makes the collection huge and diverse.
Inspired by the 1940s and 50s, the dresses look and feel contemporary, appealing to a wide range of brides looking for something unique, quirky and a little bit different.
Eternally elegant and feminine, the mere mention of a mid-century wedding dress evokes the elegance of a bygone era. Soft laces, stunning beadwork and sleek silhouettes are the ingredients for every House of Mooshki wedding gown.
If you're not into the full vintage look then a Madison James collection wedding dress might be the one.
The beautiful designs blur the lines between modern and vintage, appealing to a sense of whimsy and romance. These stunning dresses are thoughtfully crafted, so you'll look and feel amazing. With carefully selected light, fabulous fabrics that feel soft against your skin and never weigh you down.
They have a patented Cool Touch lining which keeps you cool and fresh from the moment you put the dress on until you finally take it off. This fabric makes the range perfect for the stunning beach wedding you might be planning.
We can't wait for you to try some of them on.
We have only touched on some of our fantastically talented wedding dress designers whose collections we stock and we know your jaw will simply drop when you see the full TDR Bridal range. Our super lovely friendly consultants are with you every step of the journey and your happiness when choosing the wedding dress that's right for you is our goal.
It's your special day, so look and feel special.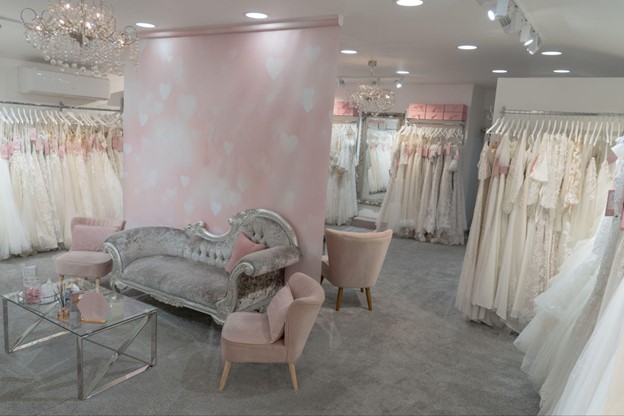 Trying on the wedding dress
Once your appointment to visit us is booked, take a little time to think about trying on the wedding dress of your dreams.
Bring with you what you think you will wear underneath and with your dress.
The reason we say this is that we want you to see the dresses in all their perfection and it's far from easy to envisage how a strapless dress really looks when your floral bra straps are sticking out, or how a curve-hugging gown would fit once your hips are smoothed if you have your gym shorts on.
We advise that you wear a patternless thong and strapless bra, and bring some spandex if you need to, but if comfort is going to be your main concern, go with whatever is going to work for you. If you're wearing heels, bring them.
Don't overthink things before your visit, there are no industry standards for wedding dresses and designers take into account real women's sizes and shapes and use a huge array of styles and fabrics.
One of the most important aspects of the dress is the fit. We embrace differences, and so should you.
Final Words
The TDR Bridal consultants will tell you stories of how many times they see excited brides stepping through our doors with a set idea of what they want for a gown, then upon actually trying it on they find they don't actually love it as much as they thought they would and often, fall for something completely different they'd never considered.
Keep an open mind while wedding dress shopping. You may find your dream dress is the one you never envisaged would be your dream dress.
Choosing the wedding dress that's right for you is an important decision that should never be hurried. Wedding dress designers are genius at taking their time and getting it perfect, and we stock collections from some of the best bridal gown designers in the world.