Justin Alexander Bridal Design is a multi award winning wedding dress label, which has been on the bridal fashion scene since 1949! It has been over the last 20 years that the brand has sky rocketed in popularity and is now renown across the globe. The heritage and ethos behind this power house designer is just a few of the reasons we are so pleased to be able to stock the magnificent dresses created year and year.
Justin Alexander gowns have been at The Dressing Rooms for over 6 years, and what first attracted us to the designer was the breathtaking, innovative and beautiful designs. The label has in fact won many awards for being an industry leader and trend setter. Although, once you dig a little deeper into the styles and designs you can see that the designer takes inspiration from the past but re works it into a stunning contemporary gowns.
We currently hold around 25 different styles of Justin Alexander gowns and are one of the few bridal shops in the Birmingham area who are luck enough to be able to call it one of our labels. In fact, the selection of gowns you can find at The Dressing Rooms is soon to grow, in the new year we are delighted to say we will also be carrying the Signature range by Justin Alexander,  as well as some other new exciting labels but more on that another time!
Another major draw, not just to us as a bridal shop, but to many of the brides who choose to wear Justin Alexander Bridal Designs is the brilliant structure each gown has. Whatever your body shape or size, a Justin Alexander gown will give you support and comfort as well as making your figure traffic stopping worthy. Trust me when I say; you know when you are wearing a Justin Alexander gown.
Of course, the fit, attention to detail and elaborate handcrafted beadwork comes at a price – these wedding dresses aren't cheap! However, I would say they are amazing value for money. Aimed at the mid to high end market price point, each gown is stunning in both it's design and structure and if your wedding dress budget is around the £2000 mark, I would say you should at least try on a Justin Alexander gown. We find that brides who are looking for a classic, romantic look on their big day often veer towards this designer, and brides who know style and substance can, and should go hand in on the biggest day of your life.
We have loved so many of the Justin Alexander Bridal Designs which have flown in and out of our doors in the last 6 years, and although everyone has a different favourite for their own reasons, my absolute stand out favourite wedding dress of all time has to be Style No. 8596 in Ivory/Oyster. It is simply divine; from the way it fits and flatters pretty much every bride I have seen in it, to the stunning textured lace, neckline detail and figure enhancing satin cummerbund around the waist. It is a showstopper, for sure!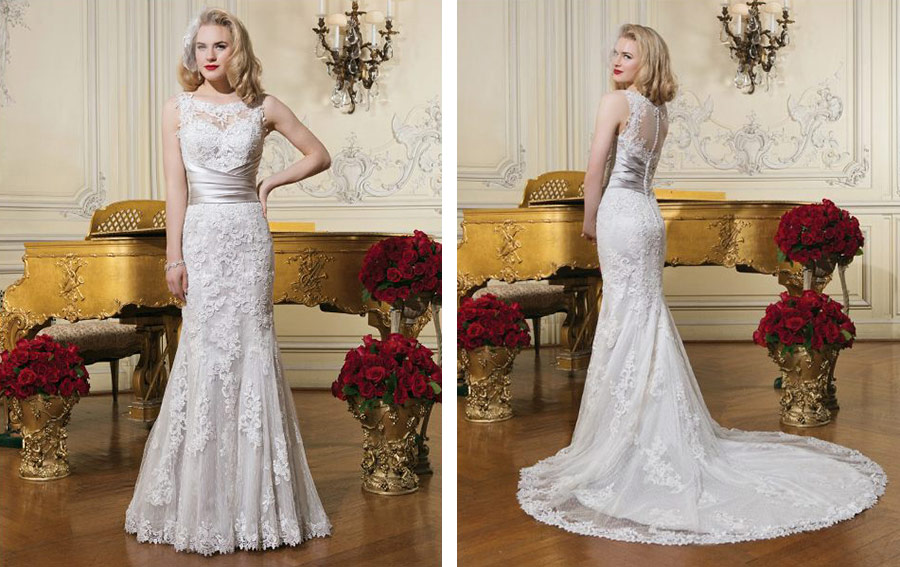 Finally, another reason I love these gowns so much is that as a special keepsake to remember your beautiful dress after the big day (without keep dragging it down from the loft to try on) you can actually buy an original sketch of your dress by Justin Alexander – how amazing is that! I love the fact you can have such a special token of the most beautiful dress you are probably ever going to wear right up there on the wall – to look at and swoon after every day of your life – much like your significant other, right!?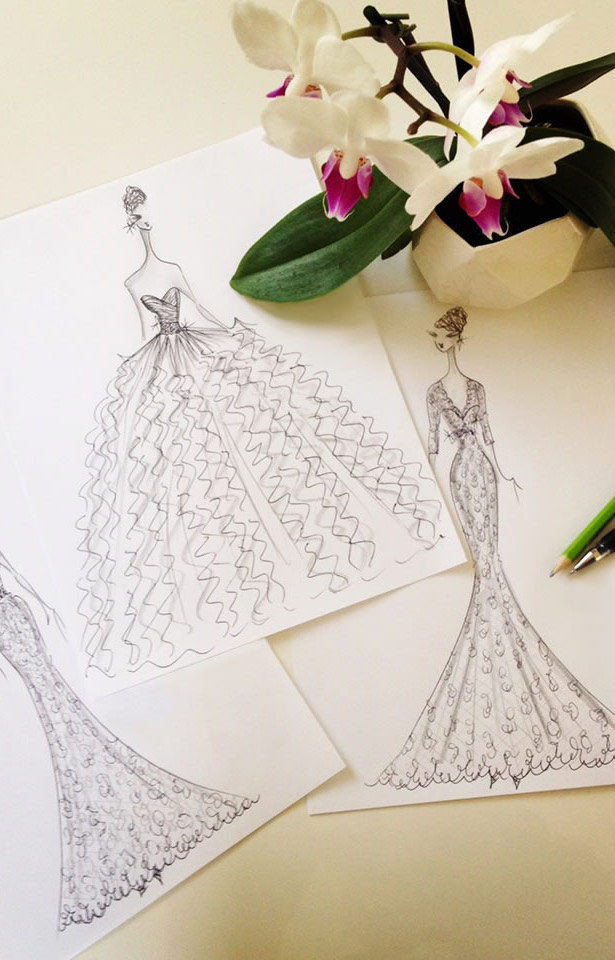 That's why I love Justin Alexander wedding dresses and hopefully now you know a little more about the label. Do you love Justin Alexander gowns? Did you get married in one? If so, which one? and what made you fall in love with a JA gown in the first place?
I would love to hear your thoughts and insights into this designer.
Rebecca x