Photography by Charlotte Mail Photography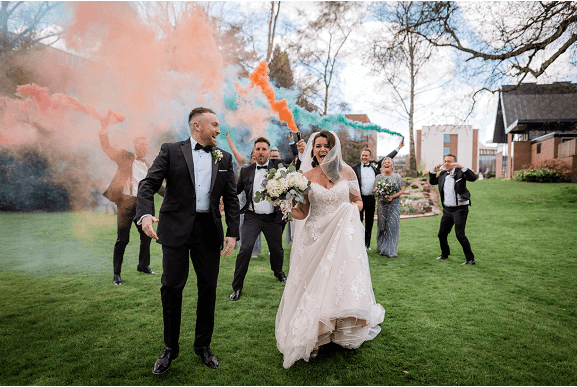 SUPPLIERS
Venue: edgbastonparkhotel.com
Your dress designer: Justin Alexander
Flowers: The Secret Garden Weddings
Stationery: Design a Penguin (Matt's cousin's business)
Shoes: rainbowclub.co.uk
Accessories: debenhams.com
Hair: sonyajaynebridalhair.co.uk
Makeup: emilygrosvenor.co.uk
Cake: ladypscakery.co.uk
Ceremony band or musicians: undercoverartists.co.uk
Reception band/DJ: Stuart Ojelay – wordofmouthevents.com
Videographer: rmweddingfilms.co.uk
Wedding Stylist: skeventstyling.co.uk
Photographer: charlottemailphotography.co.uk
How did you meet? I met Matt through Facebook in 2011. I slid into his DMs and the rest is history!
How many dresses did you try on before you found the one?
Overall, I probably tried on around 10 dresses in 2019 and then had a wobble in 2021 and tried on more but still kept with the dress I wore on my wedding day.
Was there a theme or colour scheme for your wedding?
Our theme was gold and white with a 'Happily Ever After' theme because I'm a massive Disney fan – we got engaged in Magic Kingdom Walt Disney World. Our Venue Stylist Subira did a great job because I changed the colour scheme so many times over the two years!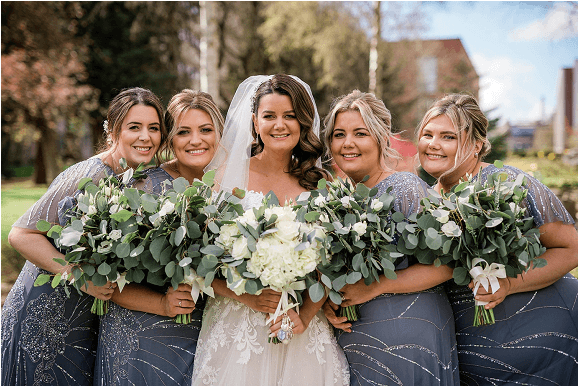 How did you decorate your venue?
SK Events decorated the venue with a theme of white roses and orchid flowers. Me and my best friend Stacey also decorated the night before the wedding with lots of little bits I had made over the years.
What music did you choose for the ceremony? Why?
Being a massive Westlife fan I had to have them form a part of our day, somewhat to Matt's disgust! The song is called I Do, it holds a special place in my heart because it also was one of my late Nanny Wyn's favourites. She would always play it on a Sunday when cooking the Sunday roast and say to me "Our Natalie, when you get married walk down the aisle to this song, it's beautiful". And I did for her!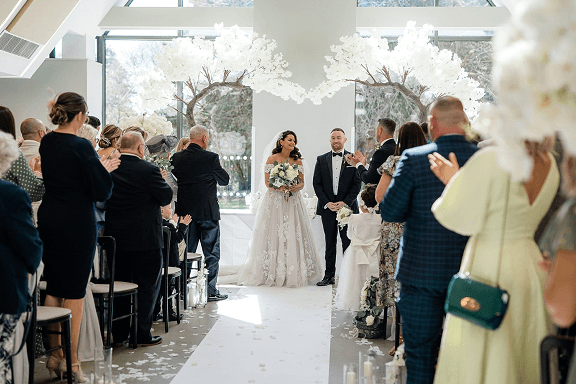 What advice do you have for other brides?
You have waited for this day since you were a little girl. Embrace every moment and if things don't go to plan on the day it doesn't matter. Always remember the reason why this day is happening, to celebrate you and your partner. Take a moment before you walk down the aisle and take it all in, this is a beautiful moment then walk down the aisle ,hold your head up and smile, you will get some great photos from this!
Also if you have a flower girl or page boy and their mum is also a bridesmaid get the mum to walk down the aisle before their child, because when she is at her seat she too gets to see her little one walk down the aisle, which is a lovely touch my sister loved and cried at.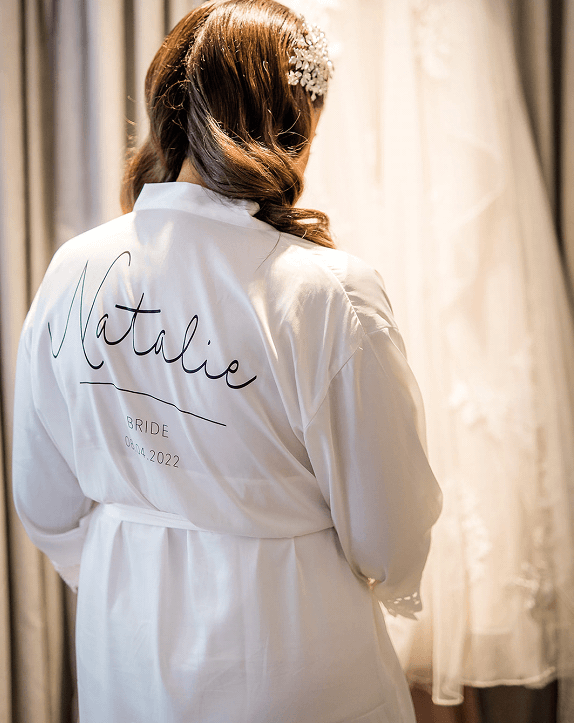 Did you make any cost savings, and how?
Yes, I made my own cake stand with my Dad – this not only saved me hundreds of pounds but also created something lovely with my Dad that I will cherish.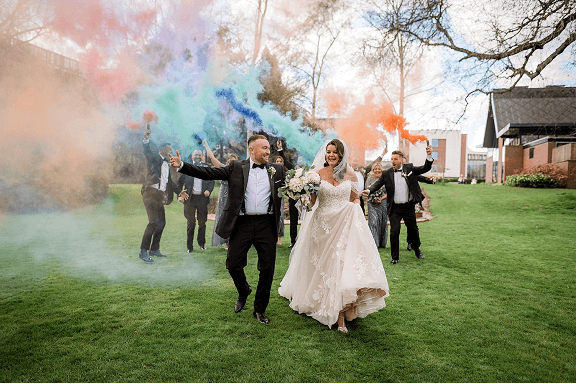 What were your favourite moments?
Any funny things happen? Embarrassing moments?
My favourite moment was creating beautiful smoke bomb photos! This is something I've always loved and saved endless Pins of, Our Photographer Charlotte created lots of beautiful images of these.
Funny moments were probably Matt not saying the word solemnly correctly in our wedding vows! 
Did you follow all the traditions?
The only thing probably we did a bit different was we didn't have the traditional 'top table' – it was just me and Matt. 
What were the challenges of planning and organising the wedding?
The only challenge really was Covid and waiting to marry.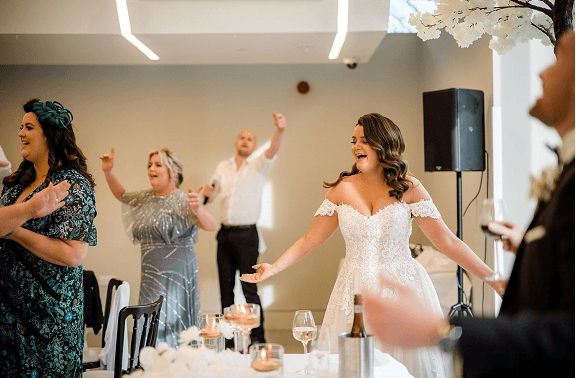 Any regrets? Anything you would have done differently, or included with hindsight?
No regrets with the wedding at all. I would do it all again tomorrow! 
In hindsight really, I wish I didn't put so much pressure on myself when choosing my dress. Don't get me wrong I love my dress but at the time I was going through my first lot of IVF and like any person going through fertility treatment you always look to the what ifs, what if I'm pregnant on my wedding day, will it fit, what if this treatment doesn't work and I'm left with a dress that I thought I was going to be pregnant in? All these things were going thought my mind. But the lovely Della at TDR was so supportive when my treatment again didn't work in 21 and I visited the shop again. She was so lovely, reassuring and helped me love my dress again! I will always be thankful of this.
Have you got a message for our team?
Thank you to all the lovely ladies especially Della. My experience with you all was truly wonderful. Nothing was ever to much trouble and you helped me not only find a truly wonderful dress but personally too. Thank you ❤️