Which finger does the ring go on… This wedding was laid back, the gorgeous couple forgot some of the basics!
SUPPLIERS
Photography : Matt Clarke
Ceremony venue : Chawn Hill Church
Reception venue : yeoldpunchbowlinn.com Bridgnorth
How many guests did you have to the ceremony? 140
Your dress designer : Morilee
Flowers : everyoccasionvenues.co.uk
Shoes : Amazon – low heel satin bridal shoe, white crocs for evening reception!
Accessories : Headband from Quiz
Hair : hmwollaston.co..uk
Makeup : The bride's cousin Annabel
Cake : Family friend Heidi
Bridesmaids : Beth – bride's sister, Leah – bride's best friend, Amiee – groom's sister, Brooke – bride's sister
Ceremony band or musicians: Chawn Hill Church band
Reception band/DJ : Guy Rolls
How did you meet, and when?
We met back in 2016 and we met through Dan's aunty and uncle who were friends of my family
How many dresses did you try on before you found the one?
15 dresses at another shop, however when coming to TDR it was the first dress I tried on!
Was there a theme or colour scheme for your wedding?
Dusty Blue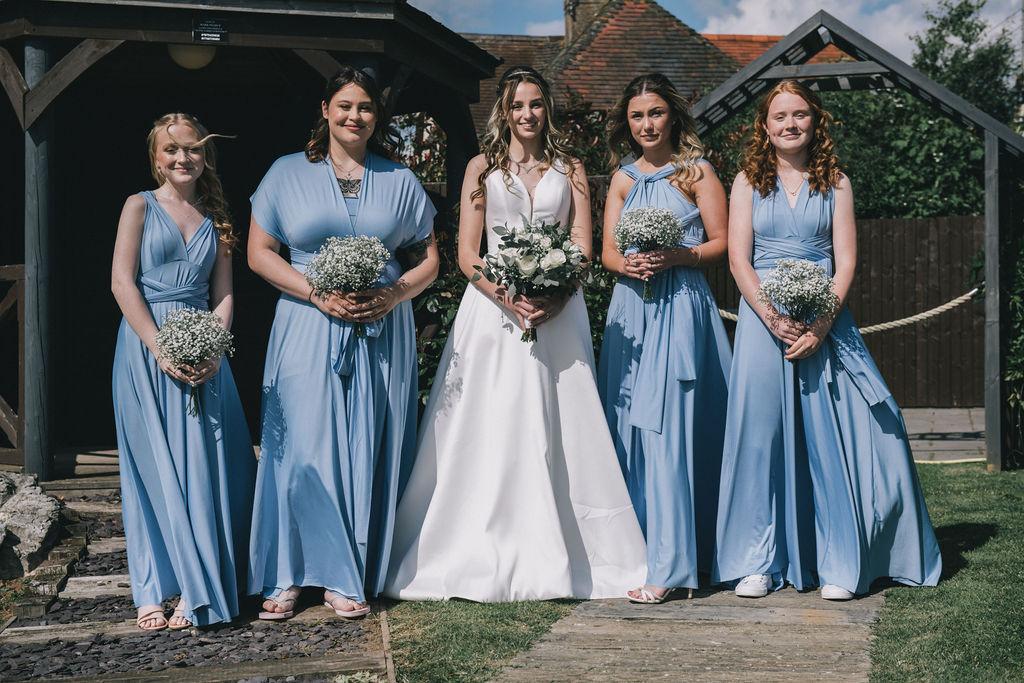 How did you decorate your venue?
We went for a rustic look with log slices on each table with a lateen on top. And some jars of gypsophillia and a few crystals with a eucalyptus table number with Polaroid in the back. Also on the tables we ordered little games of noughts and crosses that had our names on and the date of our wedding. We also bought some baby books and bubbles to keep the babies entertained. And we had a sweets' cast that went down a treat, everybody loved it! We also had personalised colouring sheets for the children which were from Etsy and bought some crayons. On the top table we had a nice log sign which said our names and the date of the wedding. And some nice fairy lights with some garland. We also had some big glass Jars filled with water ready for the bridesmaids' bouquets and my bouquet!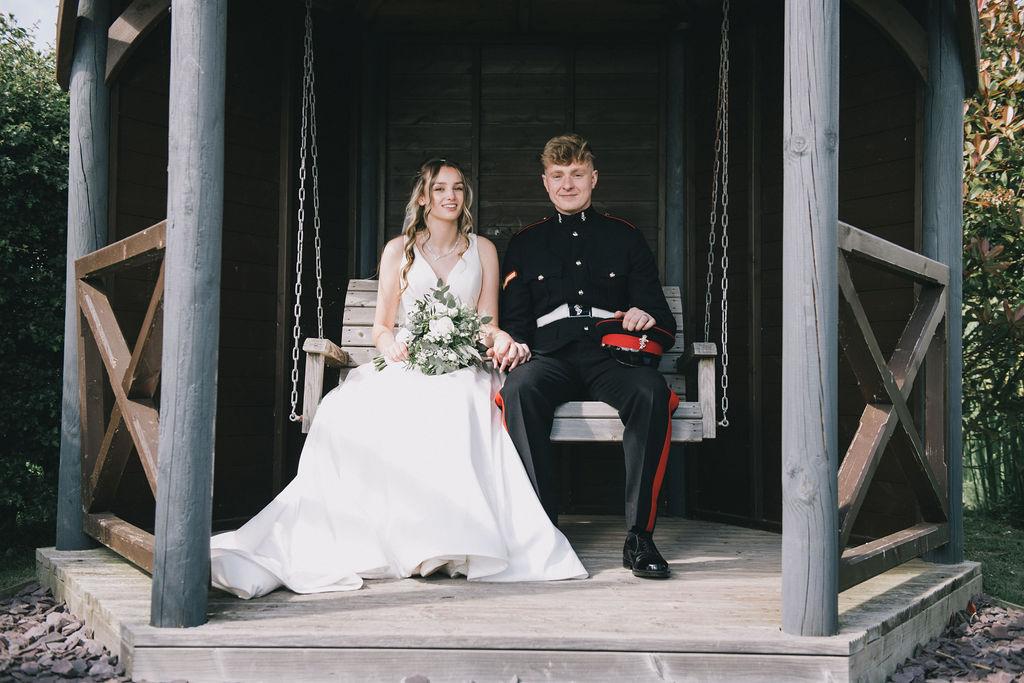 What music did you choose for the ceremony?
Can't Help Falling in Love With You (piano version) for entrance music because it sounded so beautiful. And for when we were signing the registry we had How Long will I Love You? – also a piano version. Because we both really liked the song. And for exit music we had Have I Told You Lately?, which was covered by Michael Bublé because we both like him and we wanted something happy to walk out to.
What were your best decisions for the wedding?
Having it laid back because everyone felt nice and relaxed, and the atmosphere was amazing. Also, I gave my mum my phone and looking back on the photos from other's perspectives was really nice. Lastly having the ceremony at 1.30pm meant that we could all eat beforehand and so we weren't really hungry, which has happened to me at other weddings I have been to.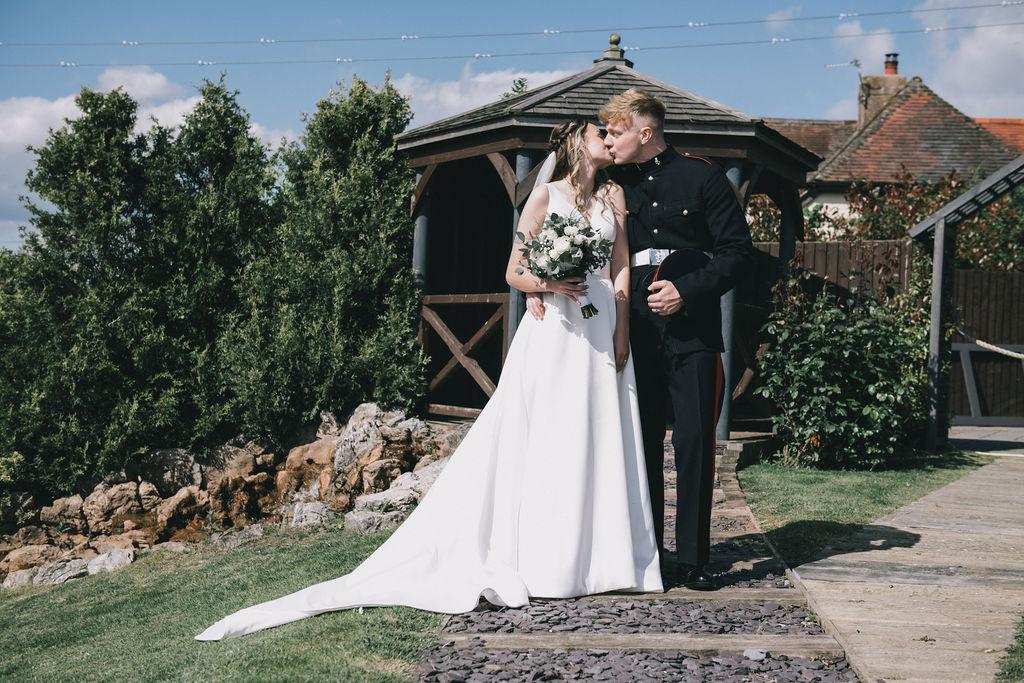 What advice do you have for other brides?
Enjoy every single minute of your special day, because it goes so quickly. Take some time out the day just to be with each other as newlyweds just to breathe and to talk to one another. When planning your wedding remember to take breaks because it can sometimes be overwhelming, and also plan it for what you and your partner want, no-one else
Did you make any cost savings, and how?
Yes I did – our family friend did our wedding cake. And shopping around for things. Also, I bought some reception decorations from the TDR Bride Facebook group, which saved me some money.
What were your favourite moments?
Walking down the aisle and being spun round in the air for our first dance.
Any funny things happen? Embarrassing moments?
When doing the vows, Dan tried to put the ring on my right hand. And then when it was my turn, I tried to put it on his middle finger!
Did you follow all the traditions?
Some I followed but not all. For a meal we had a buffet because we wanted it to be an informal meal, instead of a sit down meal.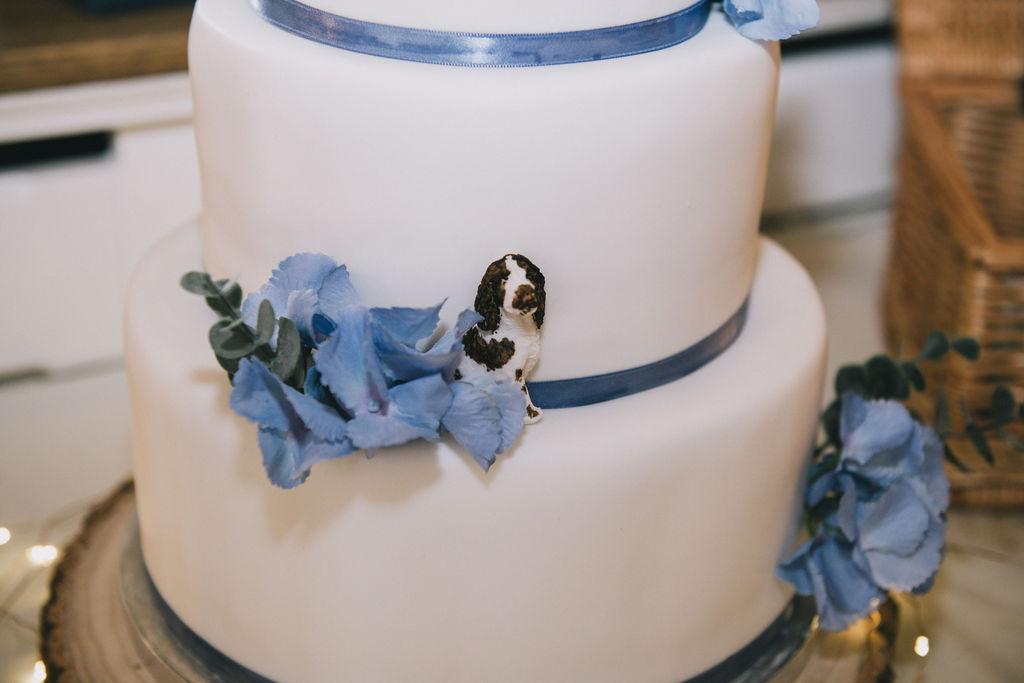 What were the challenges of planning and organising the wedding?
Because Dan is in the army it was sometimes difficult to communicate. There is so much to choose from decoration wise and with venues and sometimes gets overwhelming. Remember to takes breaks from planning
Any regrets? Anything you would have done differently, or included with hindsight?
Absolutely nothing, the day was perfect
Have you got a message for our team?
The TDR team are absolutely fantastic, I was nervous to try on wedding dresses. But they all made me and my family who came with me, so welcome from the moment we walked through the door. The experience at TDR was amazing I felt excited to try dresses on and didn't feel nervous anymore. And Molly was brilliant, she really listened to what I liked and got me to try on a range of different styles. As sometimes you can be surprised with a dress you thought you didn't like. But when trying it on you love it. So thank you so much Molly and all the TDR team