Congratulations…You're Engaged!
This is where the real fun begins, and we are SO excited to be part of this very special journey. Once you have decided to book your wedding dress experience at TDR Bridal Birmingham to find your ONE, you may have a few questions and we are here to help answer them…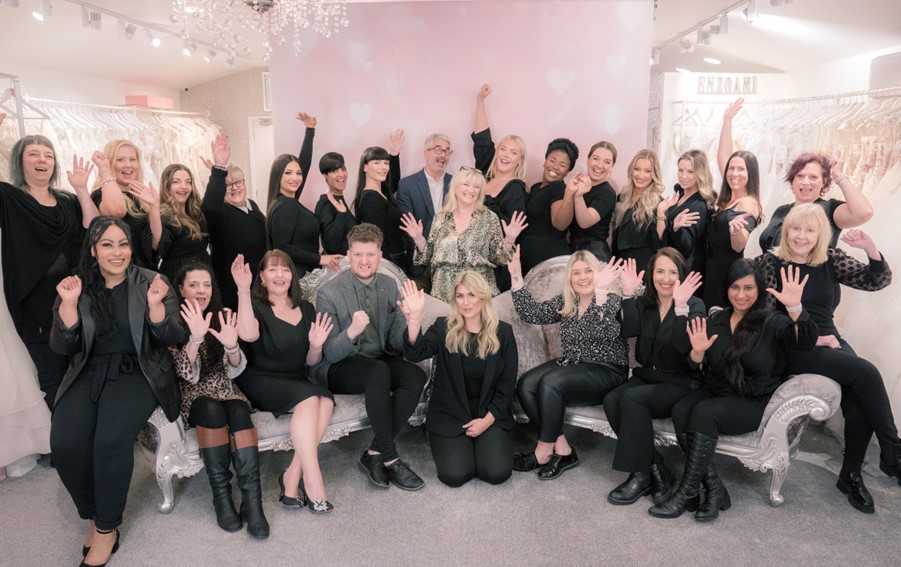 I've booked my TDR appointment, what now?
Once you have booked your first wedding dress appointment with TDR Bridal Birmingham you will receive an email notification with a link to our very own Private Client Portal where you can view all our wedding dresses with their prices and you can favourite the ones that you love, so that your stylist can see the dresses you like before your appointment. This will help prepare you in becoming familiar with the wedding dress styles we have and start giving you an idea of what style you may like! However, it is important to note that if you don't know what style you like, this is fine!!! Most brides will not know what style they love until they begin trying and until your stylist can begin to guide you through this very new journey… and that is ok. Our advice is to be open-minded!
Who do I bring?
When shopping for your wedding dress is it important to bring those with you that will help you make the important decision of choosing your dress. Often, you can feel as though you don't want to 'leave anybody out' and we completely get this, this is a new journey for you and you want to make sure everyone is involved BUT, it is so important to remember that this is YOUR day, YOUR dress and you must choose the dress that feels right for YOU and YOU only. When bringing an entourage of people, often there can be an overwhelming amount of opinions and it can be difficult to stay focused and be in touch with your feelings, so it is our advice to think very wisely about who you choose to bring with you.
However, we do offer an 'open door policy' here at TDR which means you can visit us as many times as you like to try on your dress, so you are more than welcome to bring your friends, family, bridesmaids etc. to TDR Bridal Birmingham to show off your gorgeous dress, once you have chosen!
Set a budget!
Every single bride has a budget and no matter what this is, it's still very important to set this, so that you have something to stick to. Your stylist will want you to communicate this budget with them so that when they are choosing gowns for you, they can be respectful of your budget, the last thing we want to do is pick a gown out of your price range.
Just to give you an idea of pricing, our dress prices start at around £800 and go up to £3500 with the average price of our dresses are £1500-£1800. Alterations are always a separate charge on top of the price of your dress, so always allow for this within your budget!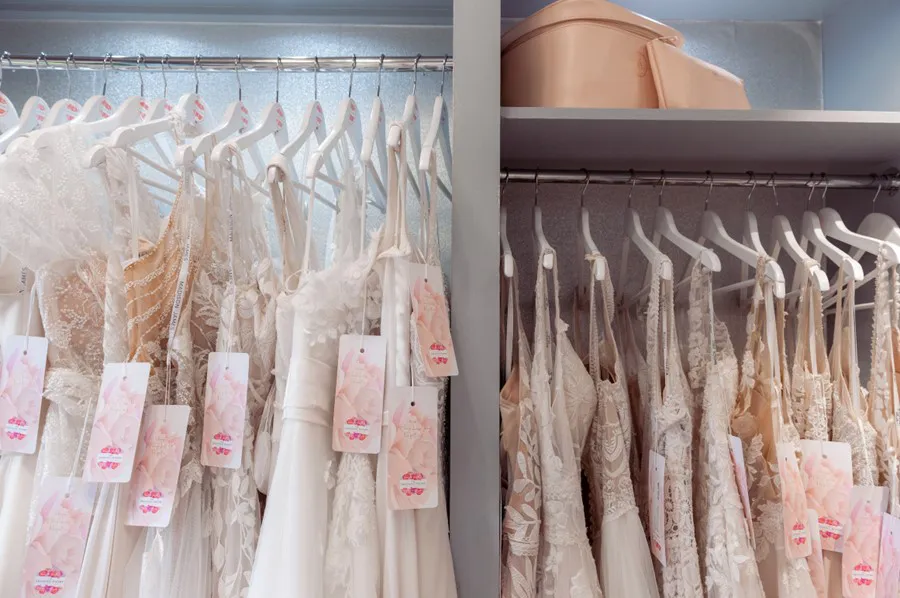 Sizing
Please don't worry about sample sizing, we are an inclusive bridal shop and ensure our sample sizes range from size 8 to size 32, with over 80 dresses Size 18 and above, so we really do have every style from sleeved to low-back to long train wedding dresses to fitted to princess ball gowns, all in a wide variety of sizes. You must also remember that these samples are just for you to try on, not the actual dress you buy. The process for sizing is that we will measure you and order your dress to your nearest size, we have dress clamps, pins and panels to ensure we can fit you into our sample as best as possible so you can visualize your dress!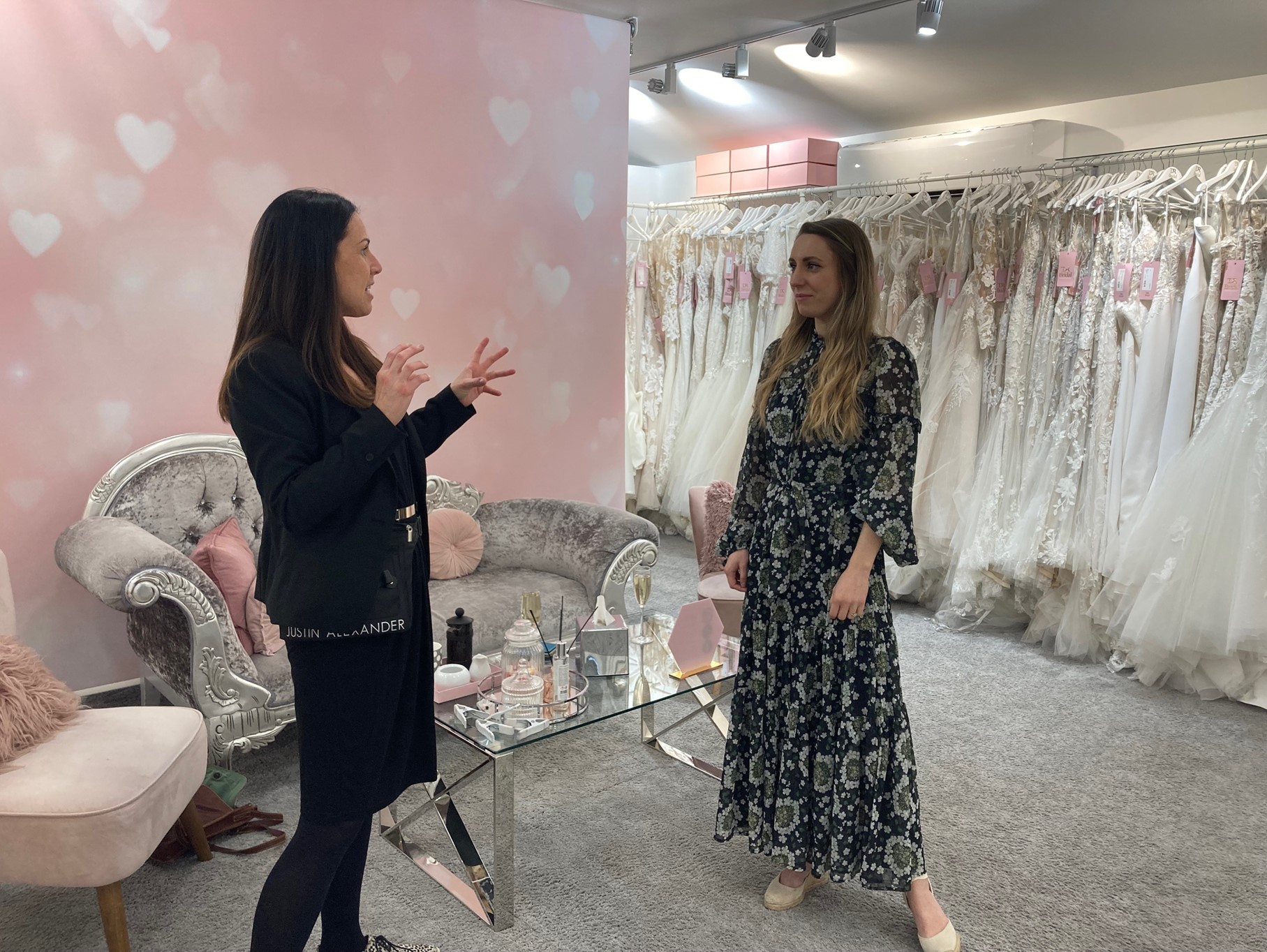 Who will help me?
We have over 600 beautiful wedding gowns in store and it can feel extremely overwhelming when you first begin, some brides either relish in the opportunity to have so many dresses to try on, however, there are other brides that will feel quite daunted by this and not know where to start, but this is what your stylist is there for! Again, we know this is a new experience for our brides, this is why our advice is to let your stylist guide you. Start by choosing the dresses that stand out to you, try different styles (even just to rule certain styles out) and then, by this stage, your stylist will have begun understanding your style preferences, needs and how to dress your body and you will be amazed at how easy this process becomes.
Let's Talk Underwear
There is no set rule to underwear, but our recommendation is nude, seamless underwear. You can opt for a strapless bra, however, this is usually not required when trying dresses on as most bridal gowns will already have a built-in bra.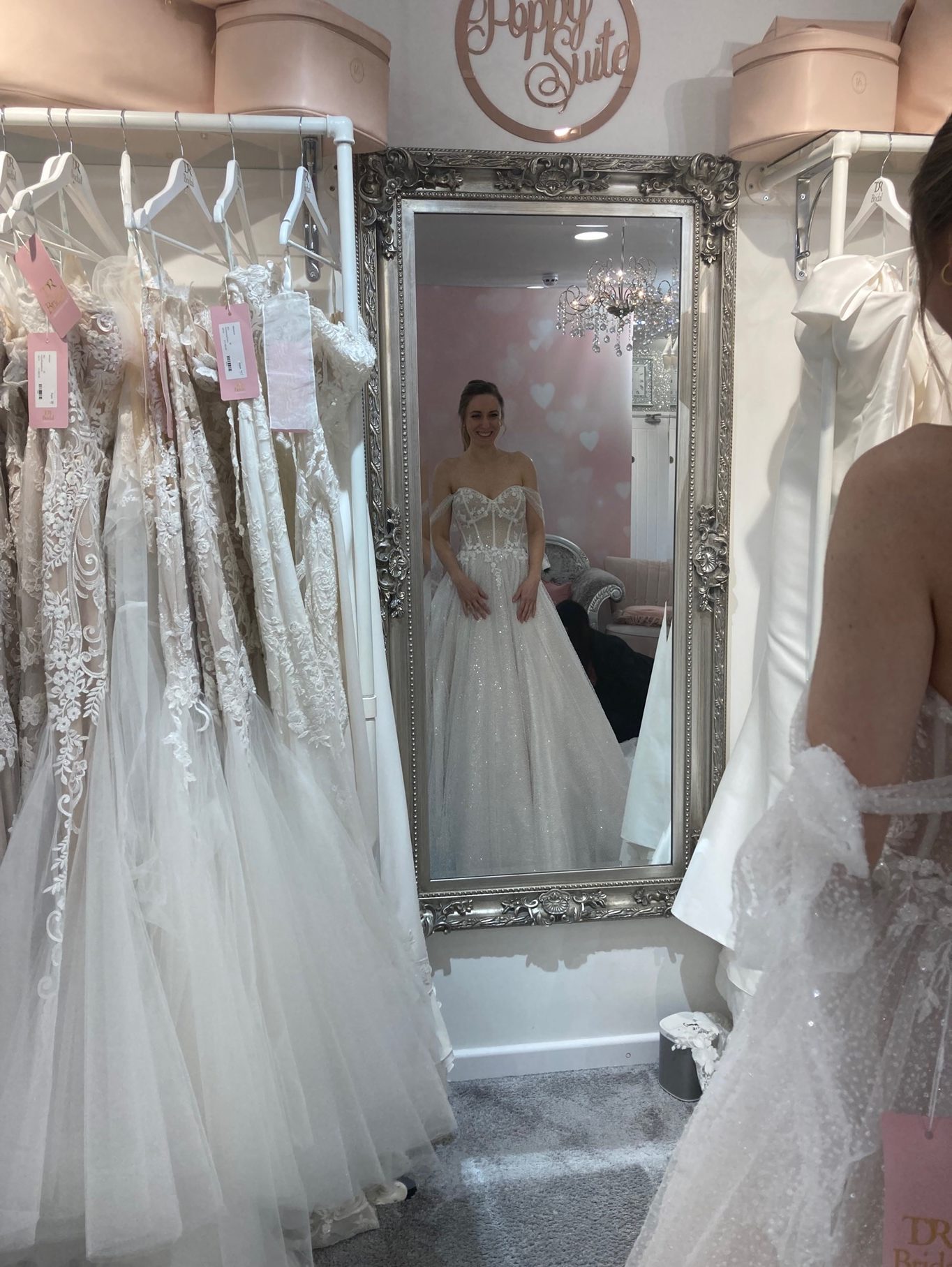 What if I don't know what I like?
If you are a bride that has scrolled the internet to try and find your perfect style but still hasn't got an idea of what style to go for, how to fit your style in with your venue.
what shape will suit your body etc. THIS IS NORMAL! It is totally fine to feel this way, sometimes this is often better. Sometimes brides can get fixated on a certain style of dress and when they try this style on, it may not particularly suit them and they struggle with this concept, so, our advice is to always be open minded, be open to trying new styles and be open to taking advice from your stylist.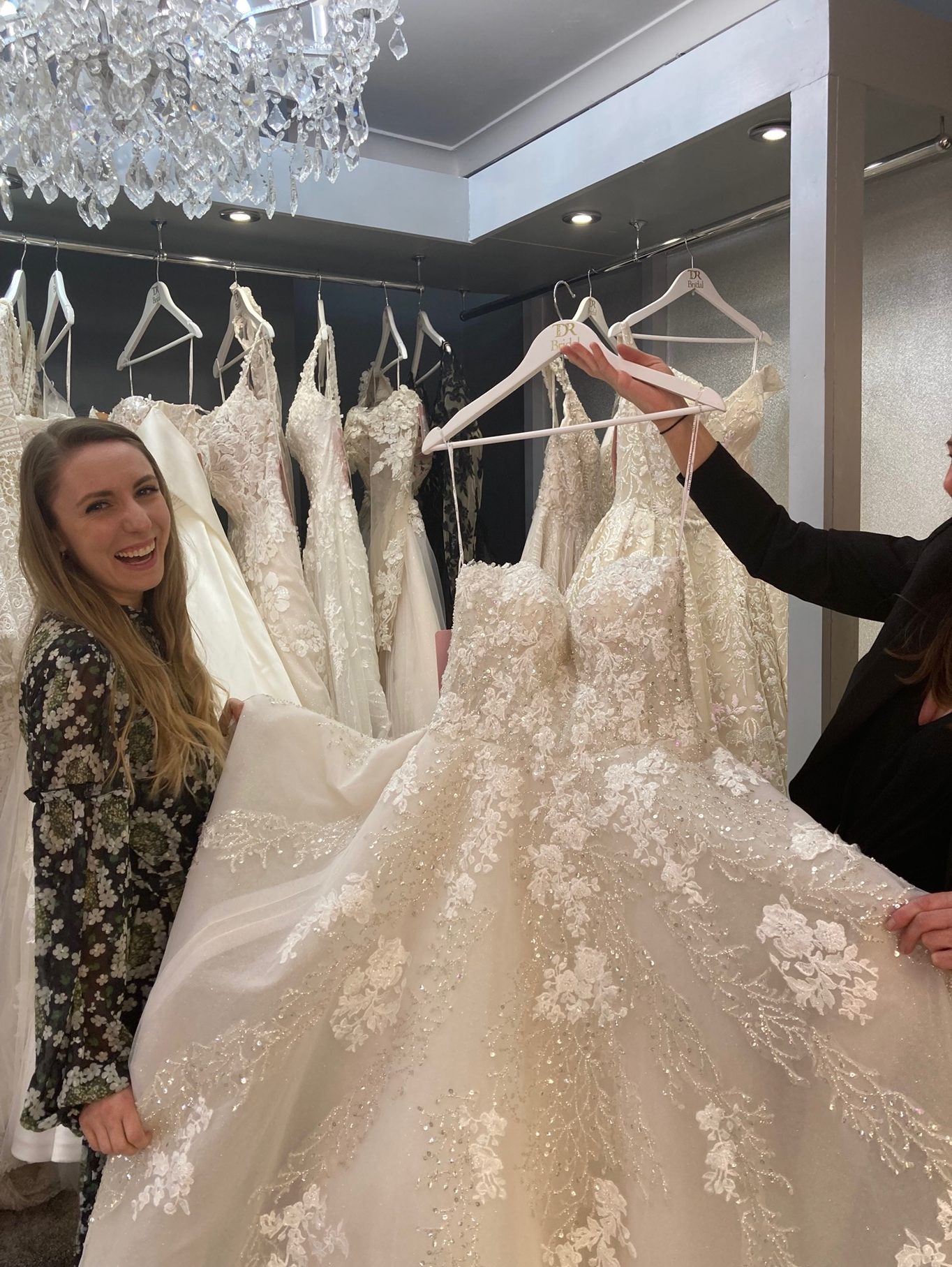 Will I buy on my first appointment?
Hopefully! It is 100% completely normal to find your dress on your first appointment, we have well-trained, experienced stylists that know exactly how to guide you through the process of finding your gown during your appointment time. Do not be scared by this thought! The fact we have over 400 gowns in store is a huge bonus to our brides, as it means we are like 5 shops in 1! We have carefully selected gowns in store, in all sizes, styles and themes, there is literally a dress for every single bride.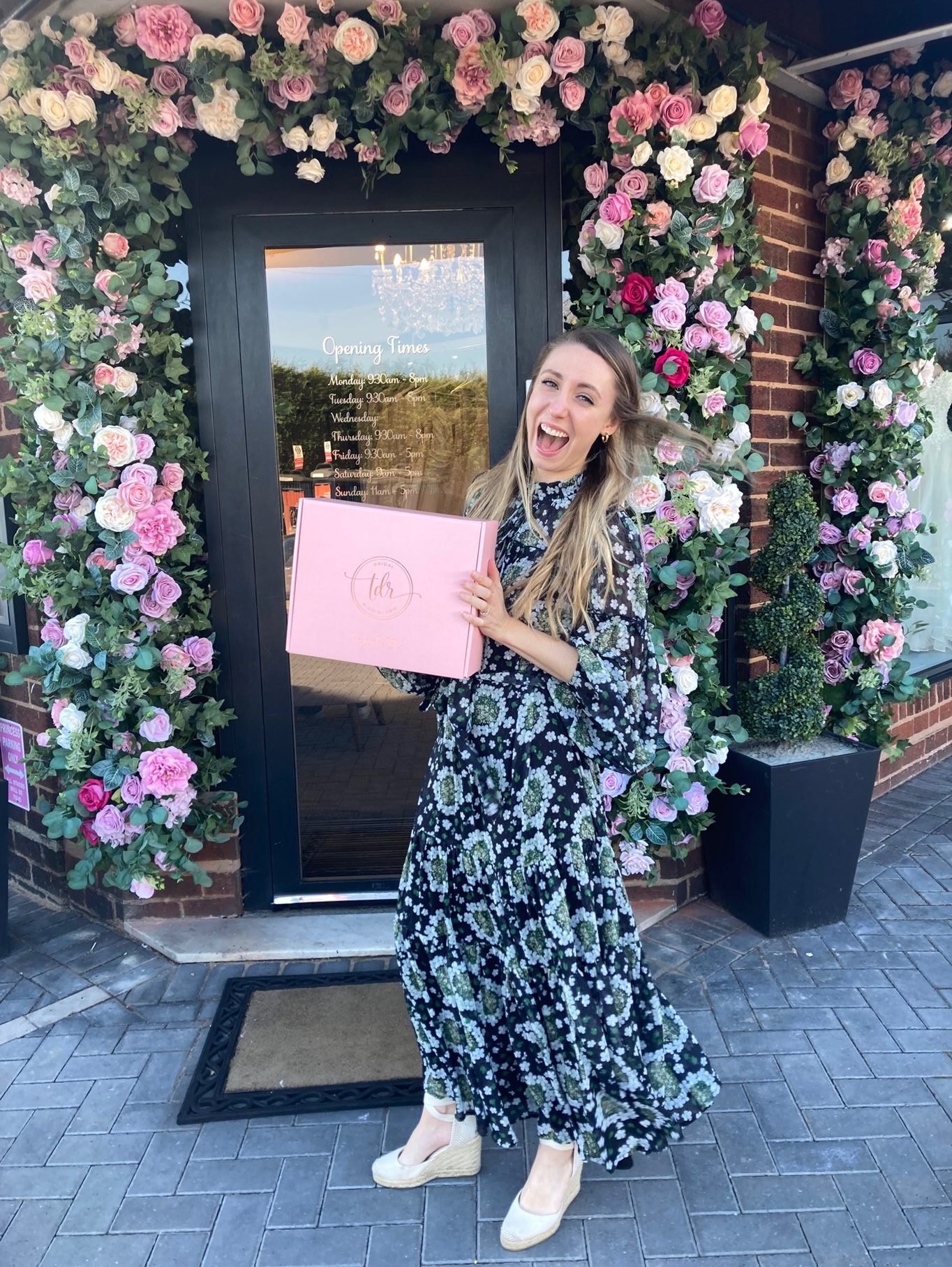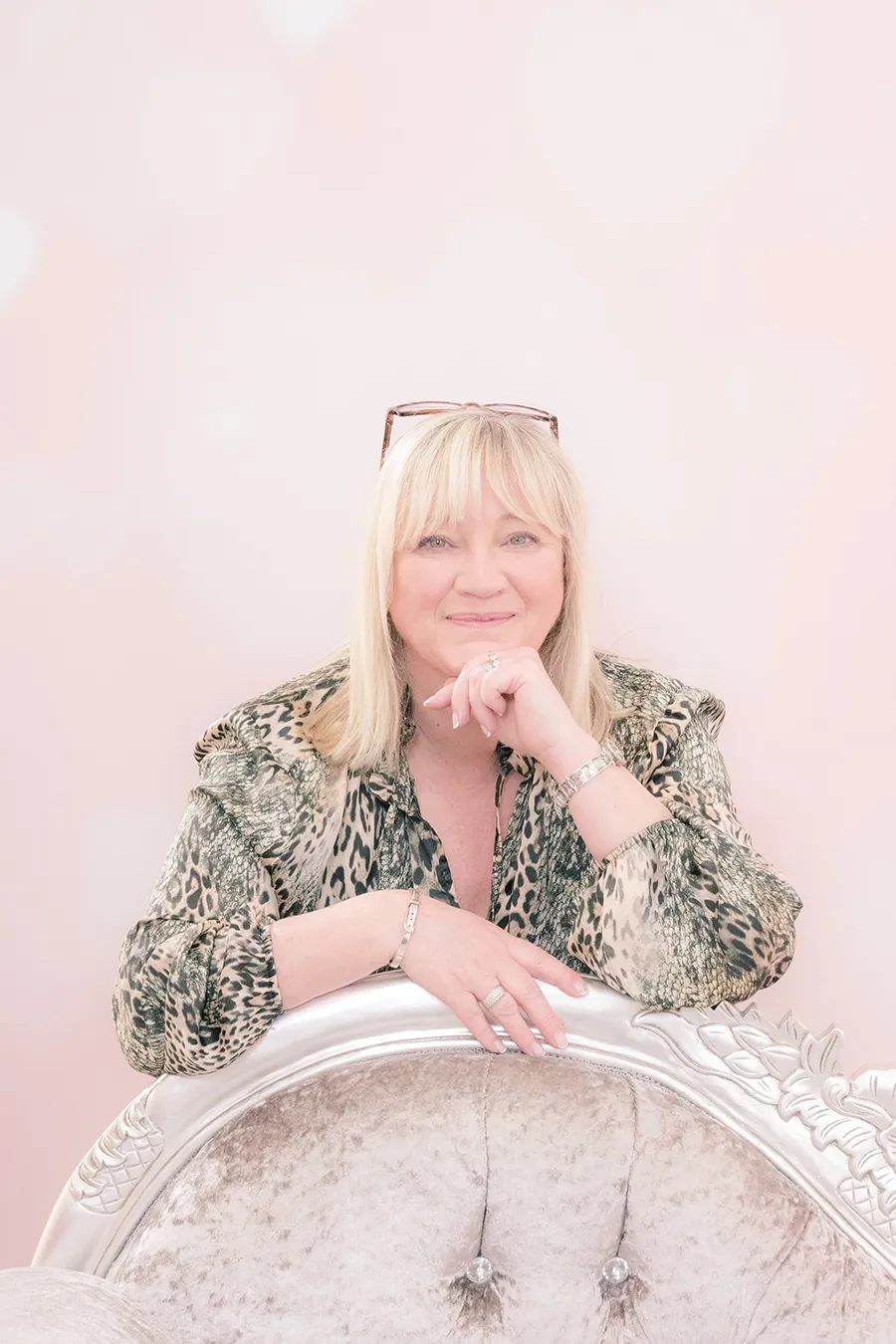 Lastly and MOST IMPORTANTLY – You can expect to HAVE FUN!
We are all about celebrating EVERY SINGLE BRIDE! We are here to celebrate every single step. TDR Bridal is a place where you can feel confident, learn to express yourself and be supported by a team of ladies who simply love what they do. Take a look at our reviews, see what our brides say, it's not just a dress, it's the biggest day of your life and we are here to celebrate every single moment with you! We don't just sell a dress, we provide an unforgettable service, we cherish life moments, we care, we pay attention to every detail and we take care of everything, right the way through your journey from Miss to Mrs. 
We hope this has helped answer your queries and questions about your first appointment with us at TDR, but most importantly we hope you are excited! Of course, as always, please drop us a message, email or call if you have anything more to ask us and we look forward to welcoming you into store very soon! 
Lots of love                                                    
TDR Bridal Birmingham xxx
*Images featuring our beautiful bride Phoebe