It's a fantastic time in your life as the bride to be and family and friends soon get caught up in the excitement of choosing your wedding dress and then finding those perfect wedding rings for the big day.
While you were choosing your wedding dress you might have some ideas in mind for the wedding jewellery to go with your stunning gown or maybe you want to see the wedding dress first before shopping.
Let's take a look at a few specialist wedding jewellers in Birmingham.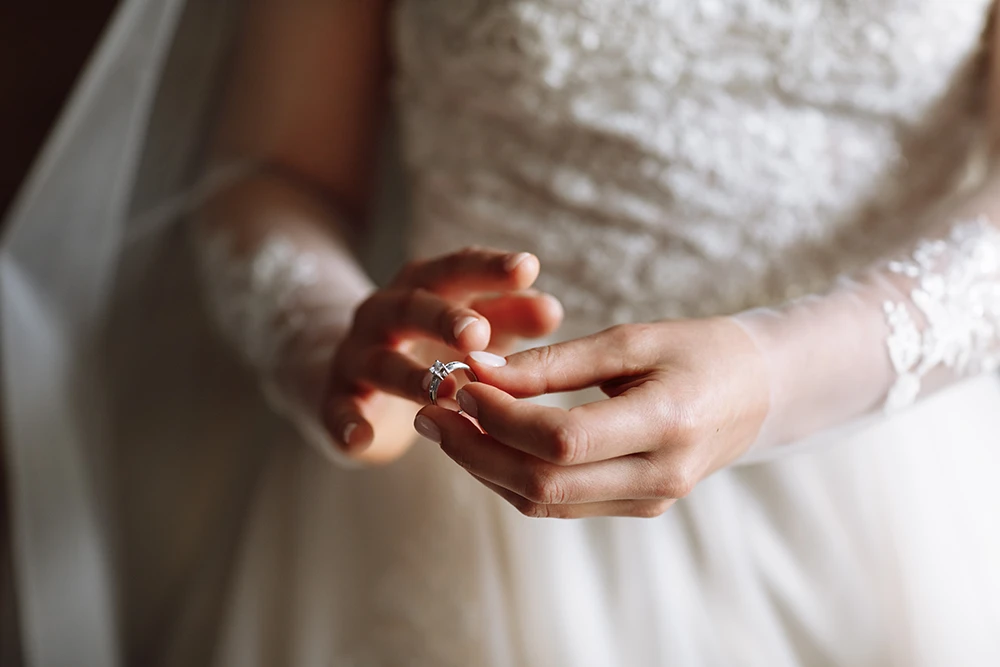 One of Birmingham's most renowned jewellers. Wedding rings from Mitchel & Co are far from ordinary and their helpful staff assist you to find the perfect ring for your style of wedding dress.
Mitchel & Co are proud to tailor-make each ring, ensuring it is fitted perfectly to you, in size, width and profiles of your choice. Using only precious metals, they create a range of luxury wedding rings that will also fit to your budget. 
When you're choosing your wedding dress, always start to think about the wedding rings to compliment the bridal gown. 
Over the years the store has built a reputation for exceptional quality, with people travelling from all over the country to visit Mitchel & Co in Birmingham's  Jewellery Quarter. 
Take a look for yourself and have fun.
If you have dreamed of that very special bespoke designer wedding ring while you were choosing your wedding dress, then it's time to realise your dreams.
At just 21, Lora Leedham has already been designing jewellery for The Duchess of Cornwall from her studio in Birmingham's jewellery quarter. Initially funded by The Prince's Trust.
Featured on BBC television and the quote was: A glittering future is in store for young jewellery designer Lora Leedham whose handcrafted designs have been worn by royalty and grabbed the attention of Vogue magazine. 
So you can have your ring designed by a Royal Jeweller, and with your stunning wedding dress, be assured of a fairy tale wedding day. 
Handcrafted from high end, ethically sourced materials, Lora's stunning, contemporary work has been recognised throughout the UK. Her upcycling service is loved by many, bringing worn, sentimental and broken jewellery back to life as a bespoke piece you will love to wear.
Your wedding day is special, so make yourself feel extra special.
Newey's Jewellers has been established in Birmingham for over 50 years having been founded in 1971.
Newey's is still run by the same family, and their team of sales assistants are widely known as being some of the most helpful in the world famous Birmingham Jewellery Quarter.
They pride themselves on listening to the customer's needs and making the jewellery buying experience as special as they can make it. Once you have finished choosing your wedding dress and you want the A Team for your wedding jewellery, visit Newey's with their  30+ years of workshop experience and a fully trained gemologist.
A wide range of wedding rings of classic bands, elegant diamond rings and unique patterned designs. Whatever the style, you'll find the perfect wedding ring for life.
Make your wedding dress look even more stunning with beautiful wedding jewellery.
Your wedding day will be one of the most unforgettable days of your life, and getting the wedding rings and jewellery perfect for the occasion is almost as important as choosing your wedding dress.
Buying a wedding ring is not only an investment but also a visual way to show your love for each other and an important part of the wedding ceremony.
Many couples choose matching wedding rings to serve as a constant symbol for both of you to remember one of the most special days you will ever share together.
At Ritz Diamonds their jewelry pieces are highly appreciated for their unique pattern, appealing look, well polish and impeccable finish. And you can view some of their range in the purpose built showroom store.
Sparkle like a diamond in your stunning wedding dress and beautiful jewellery.
You have made your final decisions on choosing your wedding dress and now it's time to think about the all important wedding jewellery. If you need an experienced wedding jeweller in Birmingham, Henricks Jewellers specialise in engagements rings, diamond jewellery, diamond earrings and wedding rings.
Based in Birmingham city centre Henricks is a well established jewellery store with years of experience within the industry and have worked extremely hard in order to establish a well respected name and reputation.
You will find that their staff members are ready and willing to share their valuable experience and advice with you and love matching the perfect jewellery to your wedding dress.
Henricks know and appreciate how special jewellery is to their clients for an engagement or a wedding. It is something to be treasured for generations.
Make your wedding day as special as you are. You deserve it.
Lets close
Lots to think about and lots of planning, but it's all part of the excitement that grows as your wedding day gets closer.
When brides visit the TDR Bridal rooms for the final fit of their wedding dress, we notice a new glow that surrounds them.
Be special on your wedding day. You're worth it.