Once you have spent the time you need choosing your wedding dress with our lovely staff in our beautiful wedding dress boutique, it's time to think about the accessories, and none are more important than the rings and jewellery.
The wedding rings say everything about your love, but you might want to add the dazzle as well.
Let's take a look at some of the best wedding jewellers in Wolverhampton.
Pick of the bunch
It's not easy as Woverhampton has some great options, but here we go.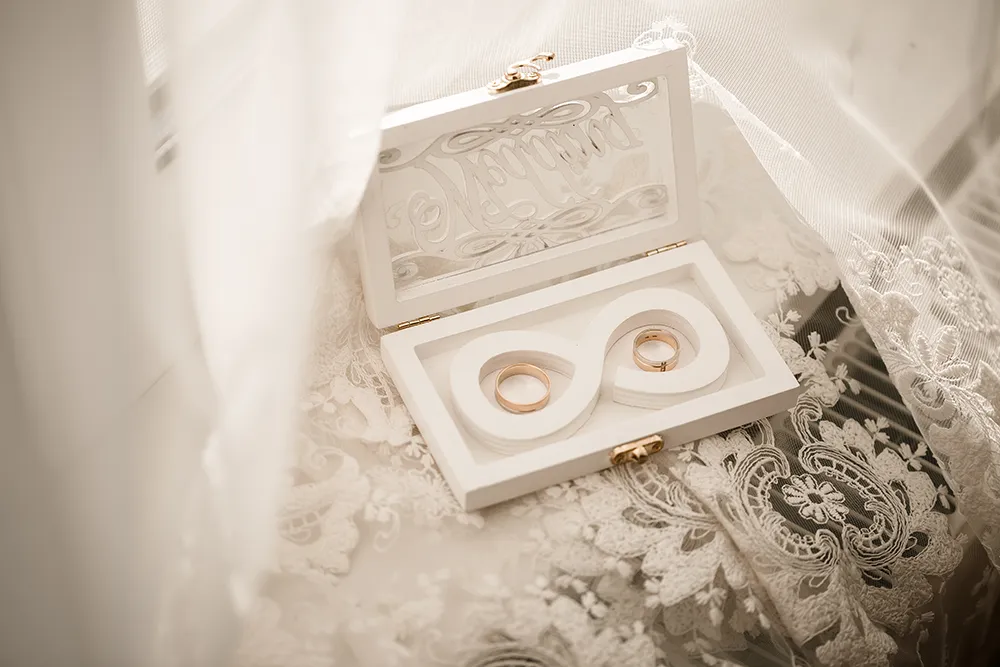 Rudell The Jewellers is a family-run jewellery shop stocking a wide and eclectic range of wedding jewellery, diamonds, watches and designer pieces.
The owners are proud of being renowned as a jeweller of excellence with the finest customer care in the West Midlands, and the lovely staff do everything possible to make sure that reputation stays intact.
The showroom is home to a spectacular range of pendants, rings, earrings, bracelet collections, and watch brands, with their in-house master goldsmiths having over 75 years of experience.
Even while choosing your wedding dress, talk to them about any bespoke items to reflect your wedding styling and the dress.
With a family history of over 170 years in the jewellery business, Henns Jeweller's passion for fine jewellery has been a real family success story based on quality and service. Their experienced staff have met the needs of thousands of brides over the decades, and will ensure they meet yours.
Henns Jewellers has remained an independent store that is well situated in the heart of Wolverhampton and is proud to be able to offer its customer a wedding jewellery personal service with exceptional quality, wedding rings and jewellery for the grandest of weddings to the most intimate family occasions.
Choosing your wedding dress is a joy, Henns Jewellers make sure that choosing your wedding jewellery is equally enjoyable.
Centrally located in The Wulfrun Centre, Wolverhampton make a visit to Warren James Jewellers and discover wedding rings for every bride in their collection of beautiful wedding bands, which includes gold, silver, platinum, and rose gold rings, designed to be treasured forever, and passed down the generations.
A wedding ring is the ultimate symbol of your love, and you'll find the perfect design for you at Warren James, that will compliment and match the style and fabric you have selected when choosing your wedding dress with TDR Bridal
Be the beautiful bride you deserve to be.
Finished choosing your wedding dress and on the hunt for the perfect pair of wedding rings?
T. H. Baker in Wolverhampton specialise in sourcing high quality, classic and contemporary wedding rings at a price to suit your budget.
Carefully selected by their team of specialists, their range of wedding rings are designed to be unique, so that you and your partner are guaranteed to secure a wedding band to suit each of you, whether you decide to opt for couples' matching rings or separate men's and women's designs.
Their wedding rings have been crafted from precious metals with various designs, so pop into Wolverhampton and find your perfect wedding jewellery today.
The choice is yours.
As long standing and respected Wolverhampton jewellery experts, F Hinds jewellers follow a simple ethos "no two couples are the same " and neither should their choice of wedding bands be.
Now the choosing of the wedding dress is over, and you're looking to tie the knot in style, look no further than their wonderful range of wedding rings for him and for her.
Every wedding is unique and special to the individual couple, so they ensure they deliver when it comes to your taste in jewellery.
With excellent customer service and many years of experience, your visit will be a joy.
The Close
Whether you go for sparkle and dazzle, full on bling or minimalist wedding jewellery, the jewellers of Wolverhampton can meet your needs.
Pairing accessories and jewellery is one of the nicest parts of choosing your wedding dress, and at TDR Bridal we can always offer advice from our experience.
Beautiful brides are what we do.