As soon as you have made your first appointment at the wedding dress shop, then you need to start to think about your wedding reception to gather your family and friends after the ceremony and celebrate your big day.
Wedding receptions don't have to follow time honoured traditions and there are as many choices as there are options for stunning wedding dresses.
If you're looking for a wedding reception venue in and around Stourbridge, we have a few great options for you to look at.
Located on the edge of Clent Hills near Stourbridge in the West Midlands, The Lyttelton Arms is a pub wedding venue with a reputation for quality. This property has all the charm of a traditional country pub, with stylish and contemporary interiors.
The Lyttelton Arms offers a welcoming atmosphere for hosting your wedding breakfast and reception. Events can range from an intimate meal after the ceremony to a full reception. Couples are invited to use the elegant dining room, which has sumptuous decor and striking lighting fixtures. In addition to the stylish indoors, the fabulous outdoor dining area is perfect for al fresco dining in any season.
A great venue to show off your beautiful wedding dress boutique bridal gown.
The pub's own dedicated events coordinator works alongside their team to help make your dream day a reality and helps you to make the choices that best fit your needs.
Delicious food is carefully prepared by the talented chefs and in house culinary team who can design a bespoke menu for your wedding reception catering.
Renowned for great flavors, don't go crazy on the sampling or you wont fit in your gorgeous wedding dress.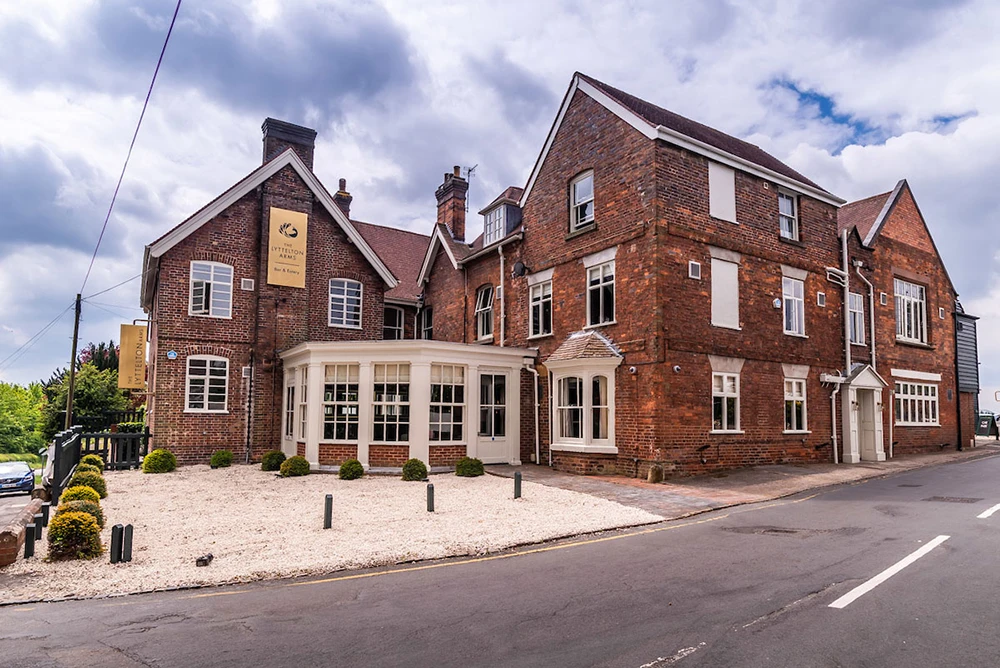 If you want to show off your beautiful wedding dress shop dress in a grand old institution setting then the Old Halesonians RFC Wychbury Room is a great party venue for wedding receptions.
Helpful bar staff add to the superb bar facilities that boasts an extensive range of beers, wine and soft drinks. The venue also has climatically controlled air conditioning and is set in open countryside close to Clent Hills with some great views to get those important photographs. 
There is also an abundance of  good parking for around 250 cars
The Wychbury Room offers hot meals and/or table service, and their events team will be happy to discuss options with you.
A traditional venue with an interesting history and great for the sporty brides and grooms.  But please remember wedding dress boutique creations don't look great after a simulated scrum!
Stourbridge Old Edwardian Club
This is a venue with fantastic traditions and an ideal wedding reception venue in the heart of Stourbridge. An exclusive and unique club with character and eminently suited to  private parties and wedding receptions in a fantastic Edwardian environment.
From the moment you step inside the welcoming entrance hall of Stourbridge Old Edwardian Club you can feel  you are somewhere special. 
The themed luxurious carpet, the display cases, the tastefully appointed fittings and stained glass windows all bear evidence of a quality establishment built on the proud traditions and achievements of one of the best academic institutions in the land.
There are constant visual reminders of King Edward VI, who provided the Charter to the original Grammar School in 1552. The exclusive ambience that pervades the club is appreciated by everyone who hires the venue and there are multiple opportunities for stunning photographs in your beautiful TDR wedding dress shop bridal gown.
With an onsite car park and perfectly located in the centre of Stourbridge with its convenient rail and bus links, make an appointment and take a look around for your wedding reception as soon as possible.

Stourbridge Institute Social Club
Founded in 1834, the Stourbridge Institute Social Club is one of the oldest private members clubs in the West Midlands and if you're looking for a traditional venue for your wedding reception, it's perfect. 
The ground floor function room is for hire as well as the restaurant. In addition on the first floor are the Library and Falcon Rooms, some of which are more suitable for larger or smaller receptions.
You can always use a small room to change out of your beautiful TDR wedding dress once the photos are done ready for the evenings dancing and party fun.
Catering options are available, but hirers can provide their own catering although the onsite kitchen facilities by arrangement.
Access to the car park can be made available and high speed fibre wifi is available throughout the building so you can fill your instagram or facebook page with the stunning photos of your gorgeous wedding dress shop gown.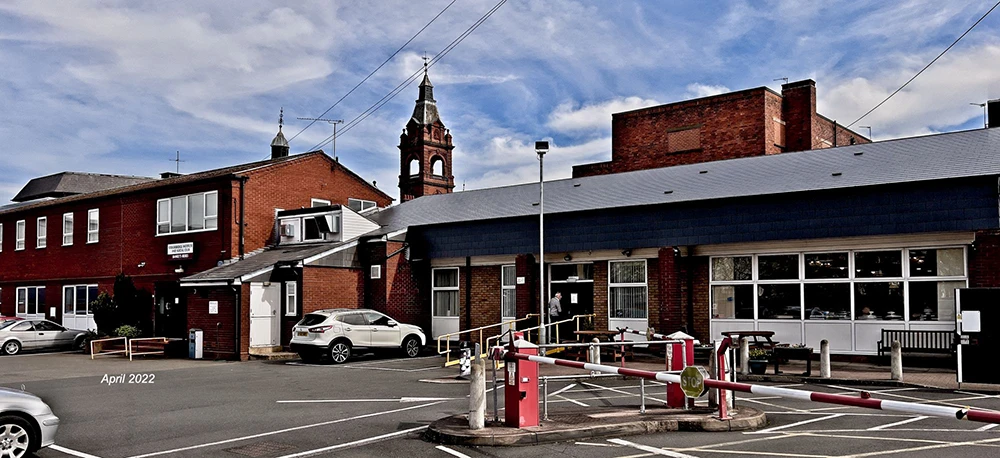 The Bell offers beautiful weddings in a truly unique setting. Located in Belbroughton, near Stourbridge and is a fabulous location for you to enjoy your special day.
The Bell's interiors have been designed to showcase elements of modern styling alongside the pub's rustic charm. The Barn and The Waldron Room are private spaces available to hire exclusively and both rooms provide the perfect setting to celebrate with your friends and family.
The venue is a charming country pub, which is the ideal location for your wedding reception as the barn is a building full of character and original features and the exposed brick walls and wooden beams make the barn a magical space and provide a perfect backdrop for a stunning wedding reception. 
The log burning fireplace is sure to keep your guests cosy in the winter months., but take care after a few glasses of wine if your stunning wedding dress boutique gown has a long train!
The Bell also benefits from a beautifully designed outdoor patio space; perfect for photographs in your wedding dress along with drinks and canapés after your ceremony.
The Barn has its own pop up bar for your guests to use and they also offer a range of buffet menus for your evening guests.
With a pretty beer garden for those summer weddings and a dedicated events manager, you will have a fabulous night and create memories forever.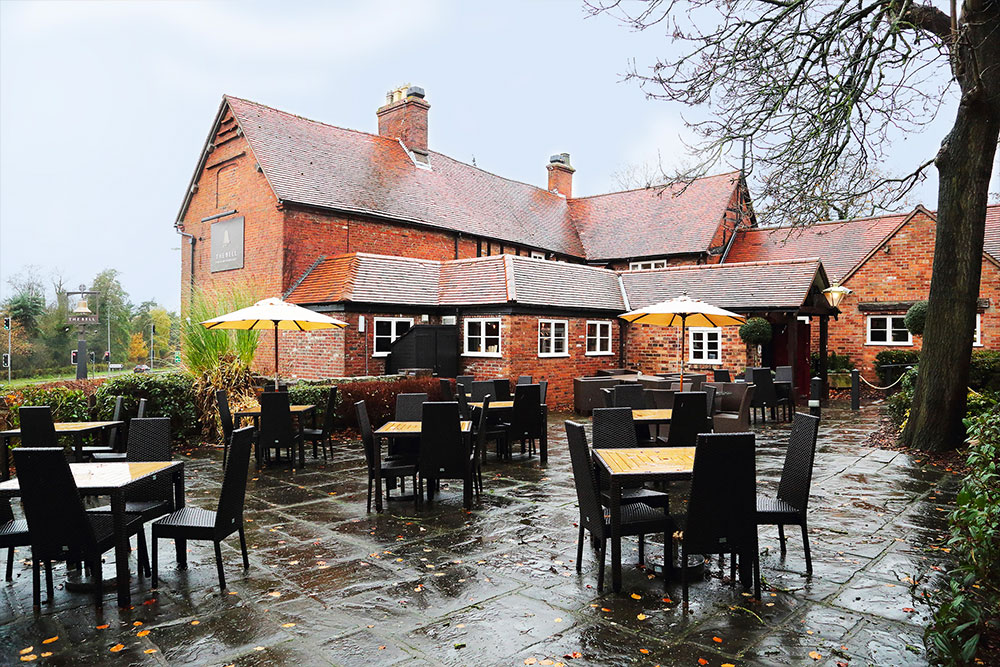 It's a wrap
You must be so excited as the big day gets nearer and there is still lots of planning and organising to do. 
Some great choices for wedding receptions around Stourbridge and it's really your choice as to whether to prefer an intimate reception, formal dinner or get the disco ball spinning and the cocktails flowing.
You will look stunning in your TDR wedding dress and all of the staff at our lovely wedding dress boutique are excited for you.
We make weddings special because you deserve a special day.