SUPPLIERS
Photographer : kimonaspatiniotis.com
Venue : www.danavillas.com Santorini, Greece
Flowers : @bloom_de_fleur_santorini
Stationery : Flora Bekri www.uniqueandforever.com
Shoes : Jimmy Choo
Accessories : www.diamondsfactory.co.uk
Hair : www.bellasantorini.com
Makeup : www.beauty-santorini.com
Cake : @petranart_santorini
Menswear : www.hugoboss.com
Reception band/DJ : www.eventsinsantorini.com
Videographer : nikoskorakakis.com
Wedding Planner : uniqueandforever.com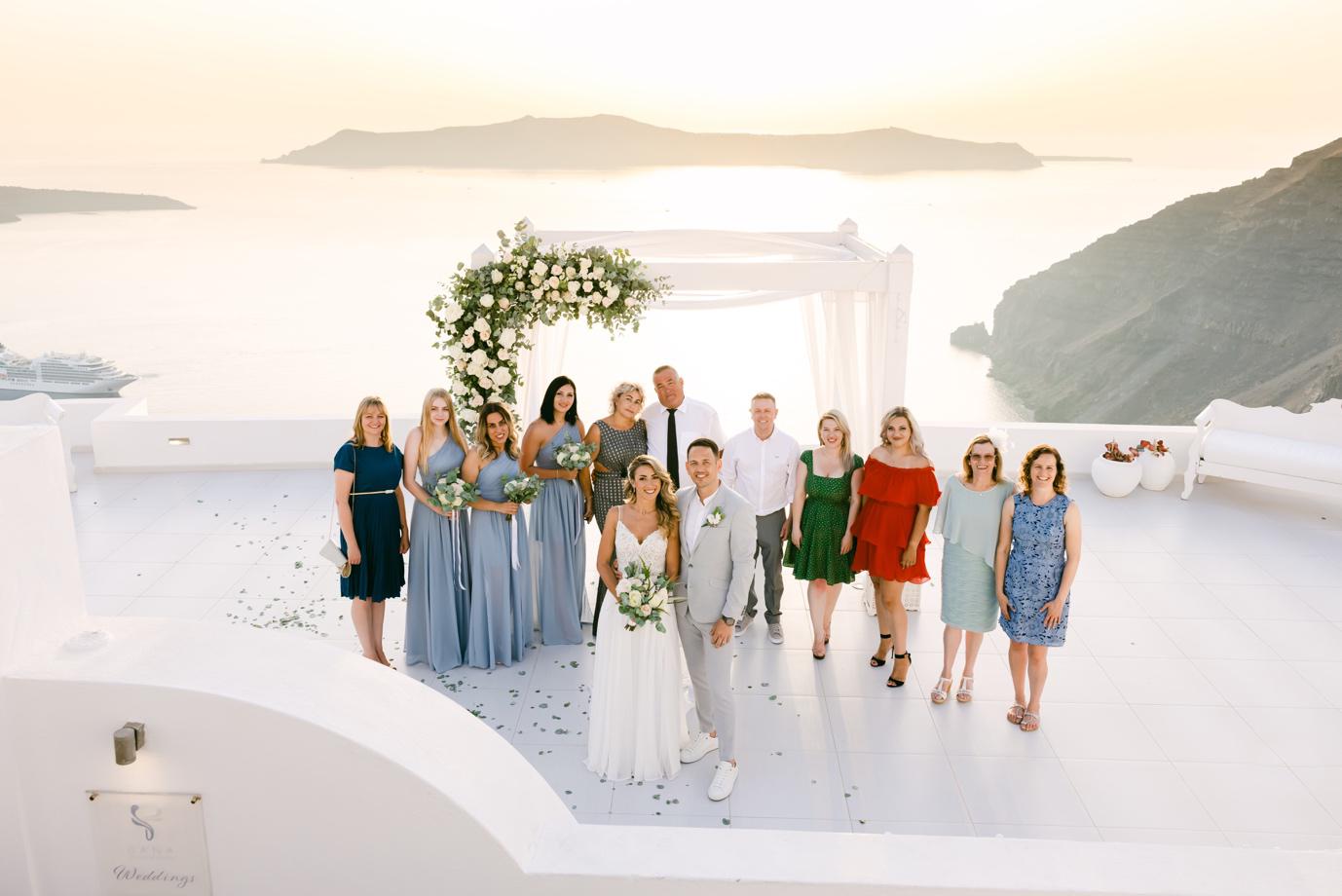 How did you meet?
We met for the first time when David came to fix my electrics, we became friends and then we realised that we are meant to be.
How many dresses did you try on before you found the one?
I had tried three dresses before the one, however I had seen it on your website before I booked the appointment and it just felt right when I tried it on.
Was there a theme or colour scheme for your wedding?
Neutral colour scheme with and green flowers and plants.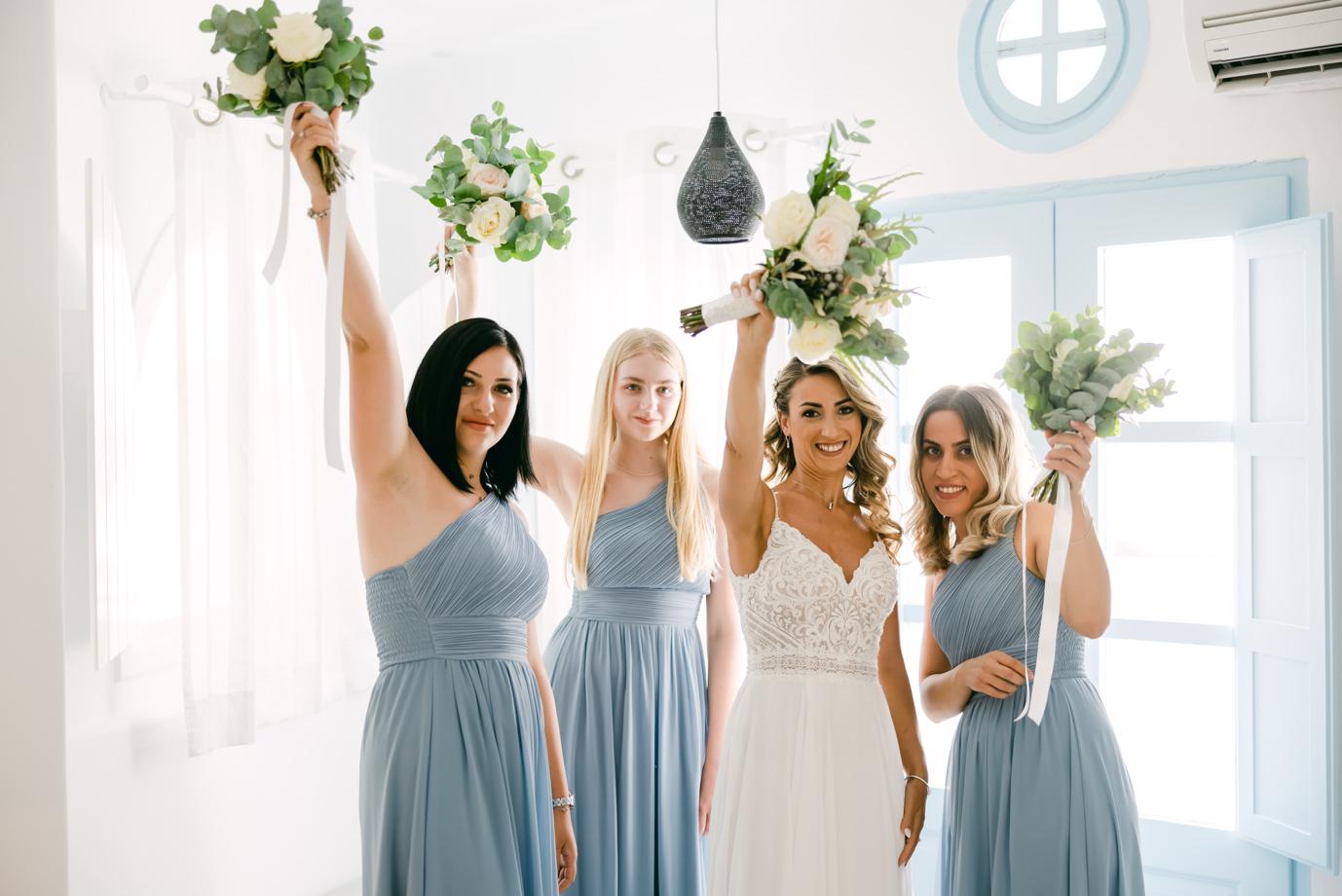 How did you decorate your venue?
Our wonderful wedding planner Flora Bekri had decorated our venue and she did an amazing job. We hadn't seen it until the actual wedding day and we absolutely loved it.
What music did you choose for the ceremony? Why?
It was Ellie Goulding's How long will I love you? because it represents our love story.
What were your best decisions for the wedding?
1 Marrying my best friend
2 Getting married in Santorini
3 Choosing TDR
What advice do you have for other brides?
Only marry your best friend, enjoy the day and don't let anything spoil it.
What was your budget? We didn't have a budget – you can't put a price on love!
Did you make any cost savings, and how?
The dress was cheaper than we was expecting, which was very nice.
Our wedding planner helped saving some money on flowers by reusing the gazebo flowers for the dinner table centrepiece (I know, very creative) and she did the stationery herself.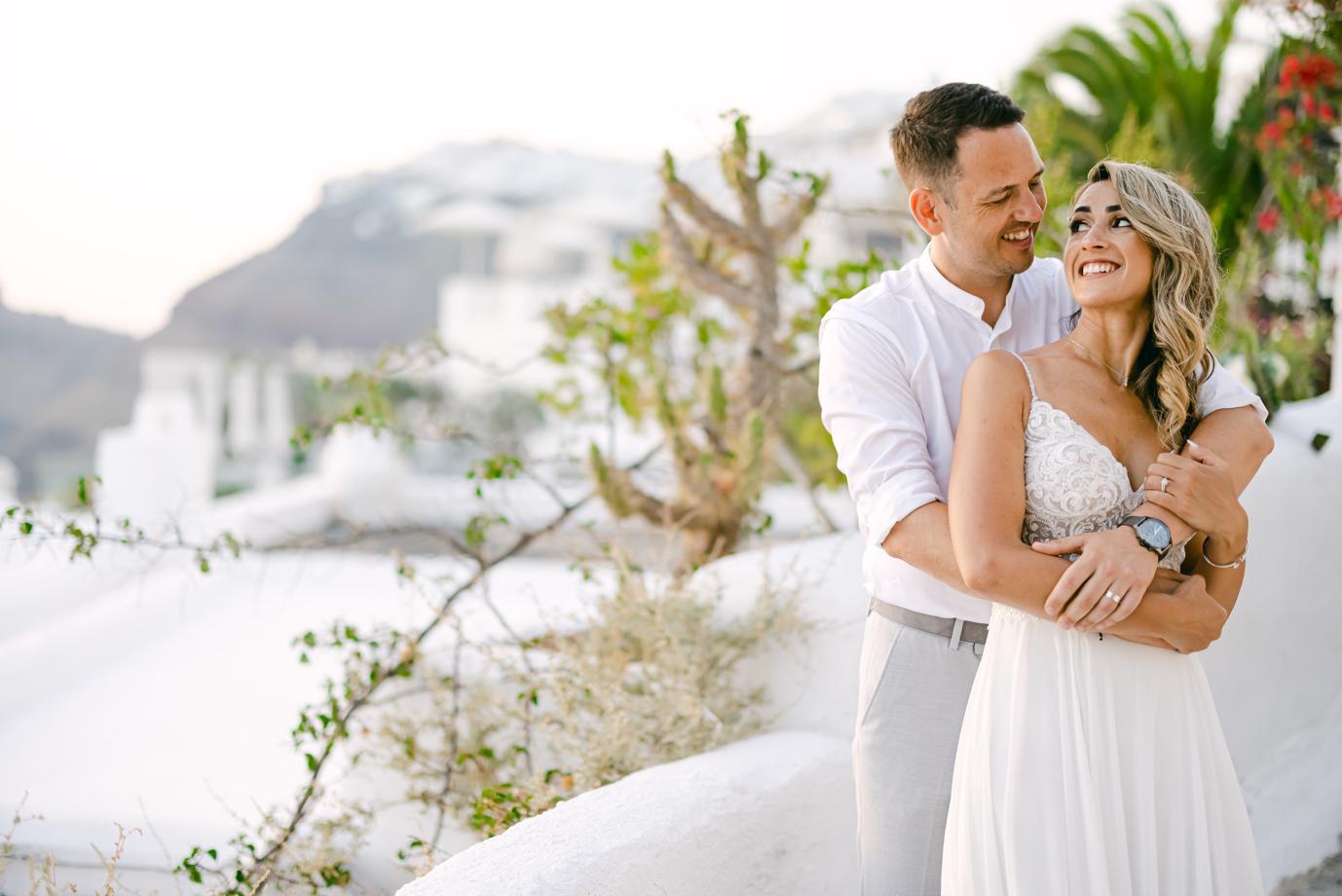 What were your favourite moments?
The whole experience really, however if I was to choose it would be walking down the aisle and marrying my best friend in front of our favourite people.
Any funny things happen? Embarrassing moments?
Yes, loads. Our best man missed his initial flight and my sister had a delayed flight, thankfully they both made it. My sister (our bridesmaid) only arrived 30 minutes before the ceremony and had just enough time to get ready. I left my wedding dress at the hotel's reception on a sofa, luckily it was still there when Dave went to pick it up safe and sound. Last but not least, I was suffering with hayfever for the first time and without realising I had taken too many tablets. I didn't realise that had affected me but people were telling me that I wasn't making sense and they knocked me out and made me fall asleep and only woke up two hours before the wedding!
Did you follow all the traditions?
We followed no traditions, nothing borrowed, not blue, nothing old, however I had something new. And I forgot to throw the bouquet! We did the speeches and we had the first dance though.
What were the challenges of planning and organising the wedding?
We booked the wedding during the COVID first lockdown, we then decided to buy a house at the same time of planning the wedding and with me being Romanian and Dave English we had a lot of trouble with the paperwork and lastly, we didn't know if everybody, including ourselves will be able to enter Greece in August last year because areas of Greece we still in lockdown and in the red. With all this going on we didn't for one moment think about cancelling or postponing the wedding.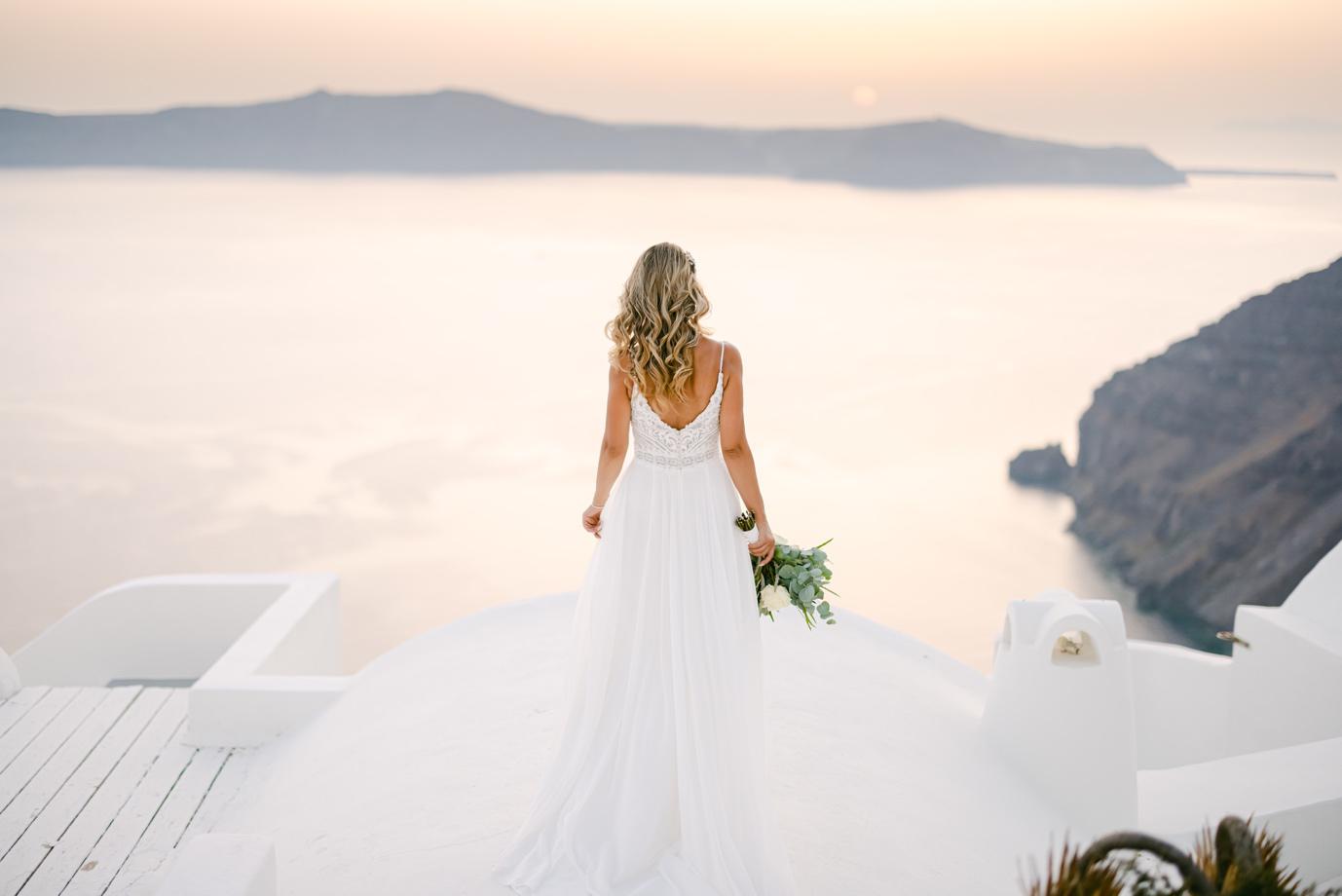 Any regrets? Anything you would have done differently, or included with hindsight?
Not at all. We just didn't want it to end.
Have you got a message for our team?
Thank you very much for my wonderful dress and keep it up with the good work.