Melissa & James
They met at school and finally fell in love… The year was 2016, and the rest is history! A fun-filled wedding in Cambridgeshire for this beautiful couple. Photography by Daniel Ackerley
Photographer: danielackerleyphotography.co.uk
Venue: swynfordmanor.com
Your dress designer: Enzoani – Naroza
Flowers: designerflowersessex.co.uk
Stationery: Made by a friend
Shoes: Monsoon
Hair and makeup: cambridgemakeupartist.com
Cake: prettytasty.co.uk
Menswear: Moss Bros
Ceremony band or musicians: holliechapmanviolin.com
Reception band/DJ: apresmusic.com (DJ and sax)
Videographer: whiteinmotion.com
Toastmaster – toastmasterguy.com
Magician – jamieseagrave.com
Décor – etiquettevents.co.uk
How did you meet?:
James and I met in reception, when we were four years old. We went to school together and after school we met again on New Year 2016, the rest is history.
How many dresses did you try on before you found the one?
I came into the shop once before and tried on five dresses with no idea what I even liked. When I returned in April 2021, I tried on another five and kept putting off the dress I ended up choosing, thinking I wouldn't like it as much. It was so different to what I thought I wanted.
Was there a theme or colour scheme for your wedding?
Black and white monochrome.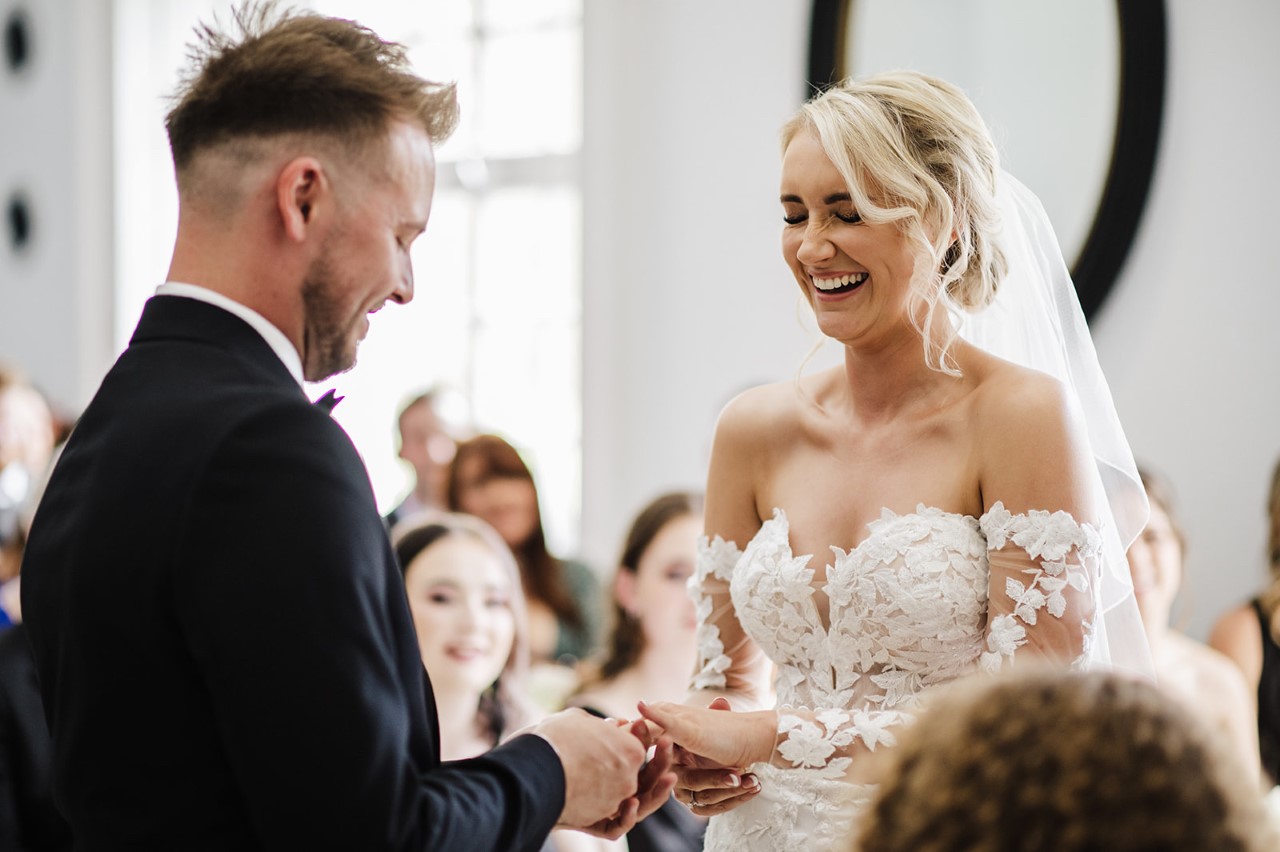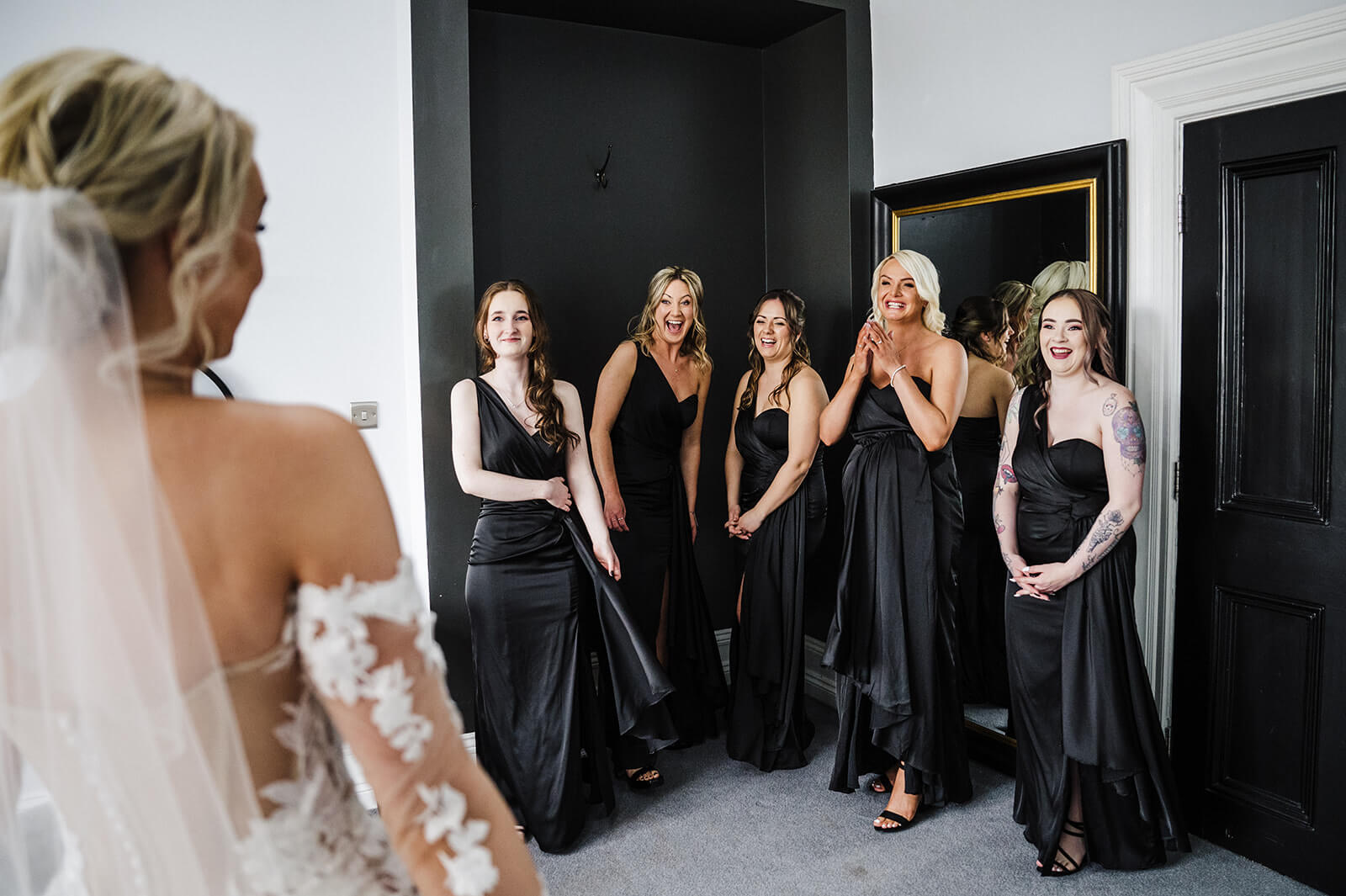 How did you decorate your venue?
The amazing Etiquette Events totally embraced my vision, put their stamp on it and created the most elegant and stylish décor I have ever seen!
What music did you choose for the first dance? Why?
We chose Can't help falling in love – the Kina Grannis version because James proposed to this song.
What were your best decisions for the wedding?
I loved everything about the day, all the big things were amazing, but the best decision we made was taking five minutes out here and there to just go and walk round the grounds together and have a prosecco alone after the ceremony – just to have that time to celebrate us.
What advice do you have for other brides?
The day really does go far too quickly, so take five minutes here and there with your partner to embrace it. Sit back and take it all in, when else do you have everyone you love in the same room celebrating you!? You will never prevent the grass stains on the shoes and on the dress so just be OK with it. Be organised before so you can completely relax on the day and if anything goes wrong it literally will not matter in the moment. Lastly, book a videographer – you will not regret it!
Did you make any cost savings, and how?
We had a graphic designer friend who designed all of our stationery and invitations. My stepfather made our cake stand and signage stands because he is a welder. Call in all the favours from your creative family and friends! We also bartered with pretty much everyone and most suppliers were very flexible to meet budgets, don't ask, don't get! And a huge one for us… We wanted the huge three tier cake but didn't want to pay for the huge three tier cake. So we had two tiers (this was enough for our guests to have a portion each) then we had made a fake tier, which the magician Nadia (Pretty Tasty) covered in icing and it looked identical… No-one would have known! Huge three tier cake for half the price!
What were your favourite moments? Straight after we got married, we went into the back room and there was a prosecco waiting for us, I remember us high fiving and just being so happy we were married. Another highlight of course was the shot cart and the CO2 guns, that was wild!
Did you follow all the traditions?
Not at all, we did lots of untraditional things and lots of unique things, we completely planned the day for us, and everything was personalised for us. As a complete bonus everyone else loved it too!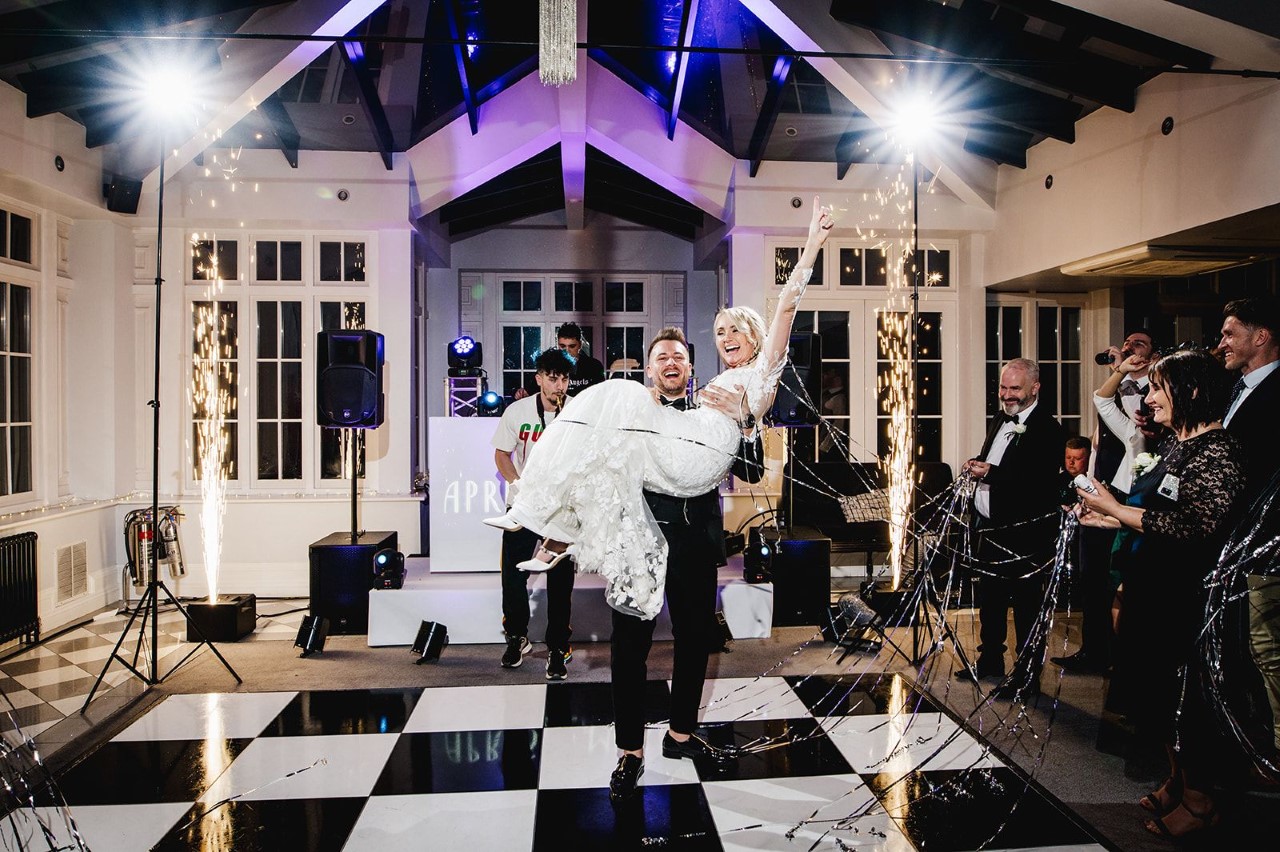 What were the challenges of planning and organising the wedding?
Working 9-5 haha! Honestly it was tough but was worth every hour put into it.
Any regrets? Anything you would have done differently, or included with hindsight?
No regrets at all, it was perfect! I would have probably got ready slightly earlier If I got to do it again as the last hour before the wedding went so quickly, I was ready to enjoy a glass of prosecco with the girls right before and then remembered I needed 20 minutes with the registrars! So be ready with an hour at least to go, I think. Oh and I would have practiced the first dance, we didn't think about it and that was such a funny, awkward two minutes with everyone staring at you, we pretty much giggled the whole time as was like, what do we do!?
Have you got a message for our team?
Yes! THANK YOU! Thank you so much for being the most friendly, welcoming and professional ladies. You made me feel so special and helped me with my confidence. You found me the perfect dress and I loved every appointment coming in. You are all so wonderful!