This week we caught up with our amazing Premier Retailer TDR Bridal in Birmingham, which is less than 30 minutes' drive from Birmingham City Centre.
What have you been up to since we spoke last year? Have there been any major changes at TDR?
We have lots of major developments ahead of us this year, that we are keeping under wraps for now, all we can say is WATCH THIS SPACE it is going to be HUGE!
Do you offer any specialised appointments? Afternoon tea, fizz etc?
Every appointment is VIP at TDR! We don't do exclusives, it's just not our style. We celebrate every single bride who walks through our door, every single bride is important to us and deserves the experience they had always dreamed of! So that means lots of fizz and lots of fun, every time, for every bride!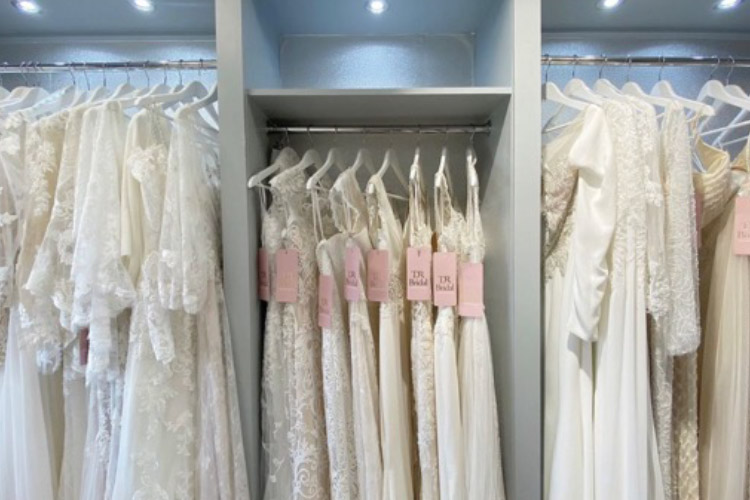 Do brides have to pay for appointments?
No, absolutely not! We do not believe in paying for appointments, every bride is important to us and why should they have to pay for the experience? It is what they deserve, and every bride should be allowed to enjoy these life moments without having to pay.
We loved your diverse Instagram post of your wheelchair wedding dress, can you tell us more about how that came about and what the response was?
Thank you! It is incredibly important to consider the experience of each and every bride that comes into store, that be of different races, genders, sizes and disabilities, visible or not. We know, the bridal industry needs to do more and that sadly, some believe inclusivity isn't always luxurious, however, despite this, it is indeed a necessity.
The response was amazing and since then, we have been introducing more strategies in store, such as the team learning British Sign Language, which has had such a huge impact! We even had a bride message last week to say she "cancelled her first dress appointment because of the anxiety of being deaf and having to communicate" and seeing that we were BSL trained made her feel so much better, even it if is only a few signs! She has now rebooked with us and we cannot wait to help her first her dream dress!
How were things for you during covid? And how have you recovered? How are things now?
Believe it or not, during lockdown we were very busy! We used this time to really get ahead of ourselves in terms of marketing and forward-planning. We decided that to close completely, was just not an option, so we operated from home, replying to emails, answering calls and essentially continuing the majority of our behind the scenes work. We know during this time our brides really needed us for some support and guidance as it was a tricky time for everyone. We used our social media platform to spread positivity for our brides during lockdown, we started doing our live videos once a week for our brides to watch, which from the feedback we received, really kept them going!
Now, we are BUSIER THAN EVER and are looking forward to a very busy, successful year for TDR and our brides.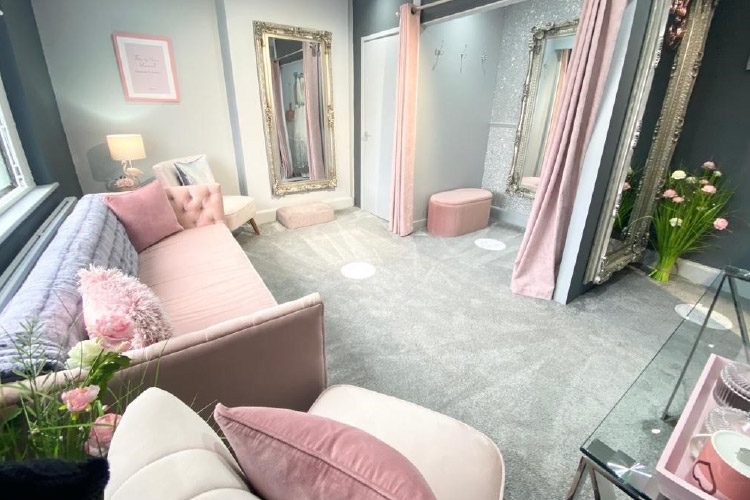 Do you prefer working with brides who come in knowing what they want or those who have no idea?
There is no right or wrong way to feel before you begin your wedding dress shopping, some brides know exactly what they want and will not change their mind once they begin trying on our gowns and others have completely no idea where to start, either is 'normal' and we love the experience with each bride no matter what. The main thing for us is finding every bride their dream dress, and once we get to that point it doesn't matter where we started!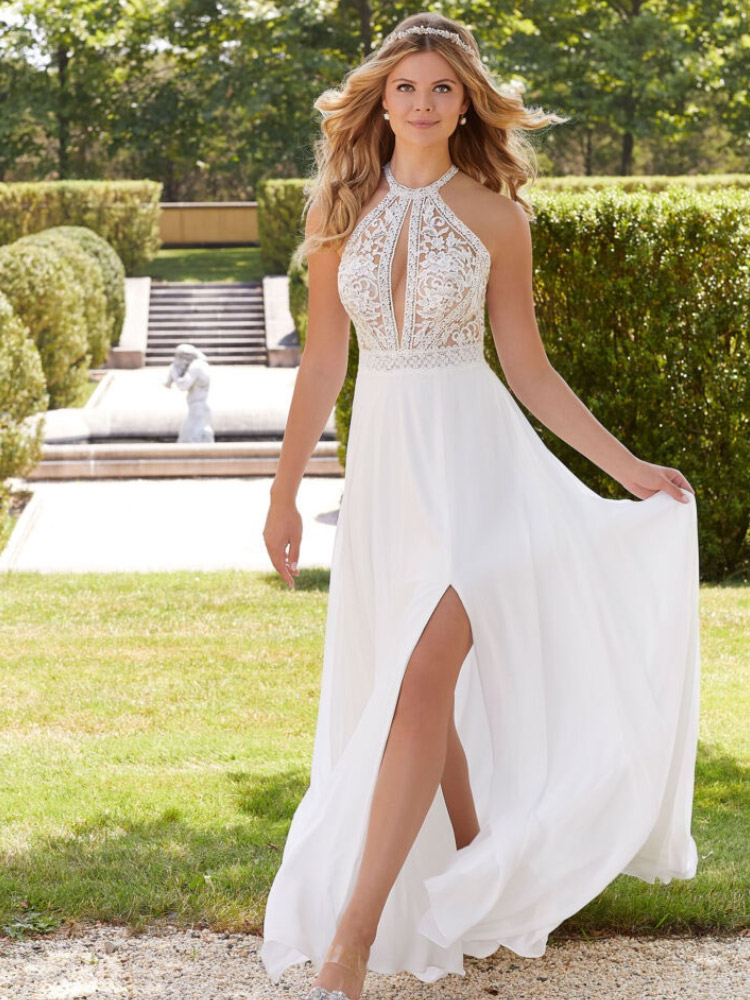 What do you love about the Morilee brand?
We love their inclusivity, we love how their gowns make our brides feel confident, offer support and style all at the same time! We also love the price point of these gowns, we know that no matter what price, Morilee ALWAYS deliver on high quality gowns. We love how well Morilee work with us to deliver a brides gown on time for her wedding, no matter how short the wear date.
What are your favourite Morilee dresses?
5919 Carrie – a plainer, more understated gown in slim fitting crepe with sheer lace panelling and lace train. This is a great dress for small weddings or boho brides.
1066 Constantina – a gown of pure decadence! A soft A-line with sleeves, plunging neckline and beading. This is the gown of a modern-day princess!
5773 Rasia – Another great slim fitting crepe gown with lace details and an open back. This gown has such a pretty sheer low back and matching lace petal train.
6941Bonnie – This is our favourite halter neck gown! It is great for summer or destination weddings with its high slit and peekaboo bust.
2303 Bonita – Another halter neck gown with peekaboo bust detail, this time in lace without the slit and a more decadent petal train.
8283 Lizzie – An absolute classic! A delicate crepe design with exquisite embroidery, appliques and beading with an alluring keyhole back.
6922 Scout – A super modern on-trend gown with detailed bodice and crepe skirt which comes with a detachable net overskirt for a look you can change from day to night.
2139 Sophia – Another classic lace fit and flare much like Lizzie, but this time with more silver beading to the neckline meaning there is no need to wear a necklace.
Is there a typical TDR bride?
No! Every single bride is different and that is what we LOVE! That is why we make sure we have so many different style gowns in store, in all colours, shapes, styles, sizes, so that every bride can find a dress with us at TDR, no matter what.
What are the hot trends at TDR right now?
Hot trends for us right now are Less is More. We are seeing an increase in brides loving square, modest necklines, with a simple, clean line skirt. We are also seeing an increase in 3D detailing, puff sleeves and princess style wedding gowns!
Why should brides follow your socials?
Our standard posting regime for social media includes x5 posts every single day and multiple story posts, this ensures our followers feel we are interactive, always providing new, exciting content, so we can offer inspiration to our followers. Social media is our first go to when we are announcing competitions, events, discounts etc. so in order to be the first to know about each of these, you must be following our accounts!
What would you like to see more of from the Morilee brand?
REAL BRIDES! We know, from our own research, that brides want to see REAL BRIDES not unrealistic models, we want REAL, it is as simple as that. We know our Instagram isn't the prettiest, most 'Instagram worthy' account, BUT we know it's fun, interactive, inspiring, and REAL and that's all that matters to us, and our brides.
How you can keep in touch with TDR
Website: www.thedressingroomsbridal.co.uk
Facebook: facebook.com/TDRBridal
Instagram: instagram.com/tdrbridalbirmingham
You can read about last time we spoke to TDR Bridal here for the low down on the team, appointments, range, lead time and alterations.