Helping brides it's what we do! Have you checked out the new wedding planning website, which TDR collaborates with in so many ways? Well, our Rebecca Baddeley – aka Bec – is very much in demand, but when she was invited to join the team, she jumped at the chance to become Bridal Buzz's very own Godmother, answering some of a bride's frequently asked questions, dilemmas and wedding woes… real worries from real brides!
Check out a few of her wonderful answers below and head to Bridal Buzz to see even more from Bec and the team.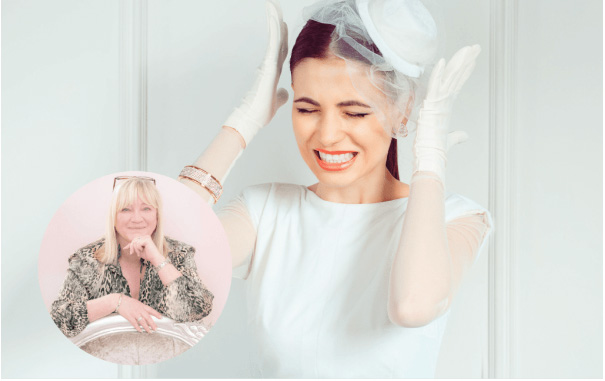 Q: My mother-in-law-to-be is really controlling and is insisting on coming to my dress appointment as well as inviting three of her closest friends to the wedding. I don't want her involvement. Help!
Jennie, Shropshire, by DM
A: Weddings can be a really tricky time because everyone wants to be involved, especially if they're related, or will be once you're married. My advice to avoid a wedding dilemma would be to think about the long term with this. Your mother-in-law is likely to become an important part of your marriage and, while throughout your married life, the truth is, you will have some disagreements with her, she could also become your best ally and an important means of support, especially if children come along. So I would say, try to involve her as much as possible, even though it might grate a little – just let her have her time too as no doubt her friend will be asking about your wedding plans and it will be a big topic of conversation for her, as it will be your own Mum. Try to see that she longs to feel a part of it, she wants to be your friend and she wants to be involved and feel involved and helpful.
As a Mum myself, I understand that she wants to invite her closest friends – it's her son, remember, as well as your fiancé and, if you've not had children yet, it's hard to explain the bond a mum and son have. Maybe you should look at it another way, she's raised the man of your dreams, try and empathise with her and understand the emotions that she will be going through as well as being thankful that you've found such a wonderful person to marry.
If finances make it difficult to invite her friends, then maybe have a quiet chat with her, just generally, about how much everything is costing – you never know, she might take the hint and help financially too! That said, it's a fine line between being able to feel involved and being in control, so always be firm, honest and fair, especially with your choice of dress, but let her be involved, it'll pay off long term, I promise!
Q: I am really not looking forward to trying on dresses – I am the heaviest I have ever been. I have a year to go – what should I do?
Michele, Norwich, by email
A: Oh my darling! I get asked this so much! My answer is always the same, please please don't put off dress shopping just because you're not feeling 100%. Wedding dresses take at least five months to arrive from the order date and sometimes up to nine or 10 months, depending on the Designer. Your wedding dress, when you choose it, will make you feel beautiful in every way, regardless of your size, it's like no other purchase you will EVER make, it's something really special and very emotional. If you put off going wedding dress shopping you will end up having to compromise on your dream dress because the shop you choose simply won't be able to get it into the store in time for you. My advice would be to go shopping, embrace who you are and just go with it. This way you will be able to have the full choice of dresses available to you and your dress can be altered to fit you (by a couple of sizes usually) so even if you do lose weight, it can still be fitted to fit you perfectly. So get out there and get shopping! You'll thank me for this advice nearer your wedding – promise!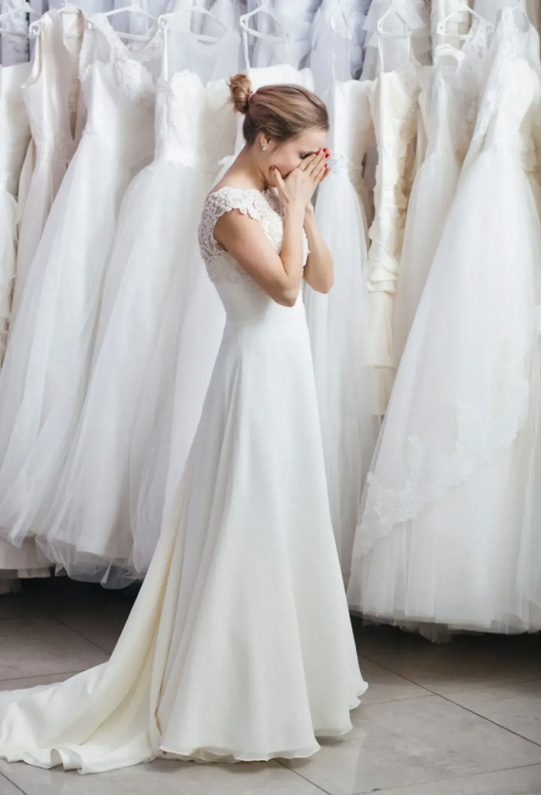 Q I am only two months into planning but already sick of all the politics. Should we just go abroad and get it done with a few of our nearest and dearest?
Ellen, Devon, by DM
A: Ah, the wonderful world of weddings! Everyone and anyone has an opinion and they all feel entitled to voice it! Ultimately, it will calm down (and then ramp up again nearer the date, probably!) but do what feels right for you and your partner. A wedding abroad can be wonderful if you choose the right venue and suppliers out there, so if you do go down this route, do your research thoroughly. The only thing I would say is be sensitive to the fact that some of your nearest and dearest might not fly, due to age, fear or illness, so be mindful of this and make sure you can have those all-important people there at your wedding day.
If you have any questions to ask Rebecca, pop them on the TDR Brides Facebook group or email us at [email protected] and we will get them answered ASAP!