There are certain big events in history and our lives, where everyone remembers where they were at the time the news broke. This will be true for decades, as we come to terms with the sad news of the passing of the nation's beloved Queen Elizabeth the second.
Along with the rest of the nation, everyone at TDR Bridal is saddened to hear the news of her majesty's death. A resolute lady and inspiring presence, she has led the country through some of its darkest and its greatest hours. Always respectful, with grace and a genuine caring warmth, along with a twinkle in the eye, a hint of her great sense of humour.
She has always been in our lives and will be sadly missed, but she will surely be warmed by the heavenly staircase welcome she will receive from her beloved Prince Phillip, to whom she was married to for 73 years, until the time of his sad death in 2021.
Elizabeth and Phillip
So many memoriam speeches and articles have mentioned the enduring love affair of Elizabeth and Phillip and how desperately she felt his loss, though she still heroically did her public duties through her sadness.  
They were married on Thursday 20 November 1947 at Westminster Abbey in London, which has been the wedding venue of choice for many a royal wedding. They first set eyes on each other at another Royal event, in 1934 at the wedding of Princess Marina of Greece and Denmark to Prince George, Duke of Kent.
Princess Elizabeth's beautiful wedding dress was designed by the venerable Sir Norman Hartnell. His design was approved by her Majesty in mid-August, which was less than three months before the wedding.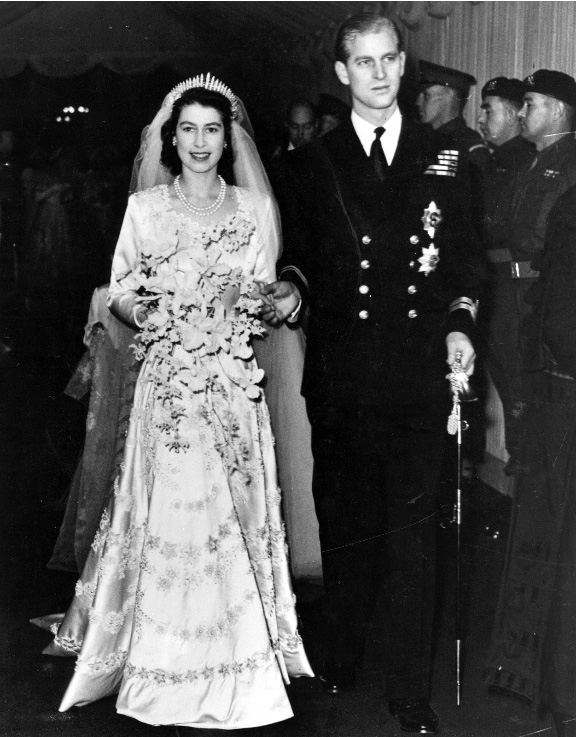 TDR Bridal can certainly identify with the need for superb organisation and teamwork to deliver
wedding dresses
on short notice, whatever your timeframe, we always deliver on time.
That Dress
Princess Elizabeth's wedding dress design was an A-Line gown with a fitted bodice, and a classic "at the time" heart-shaped neckline with a low v style pointed waist. Made from silk and decorated with crystals and 10,000 pearls.
The dress featured a floor-length panelled skirt and had a 15-foot silk tulle full court train, which was attached at the shoulders This beautiful dress is now on display at Buckingham Palace.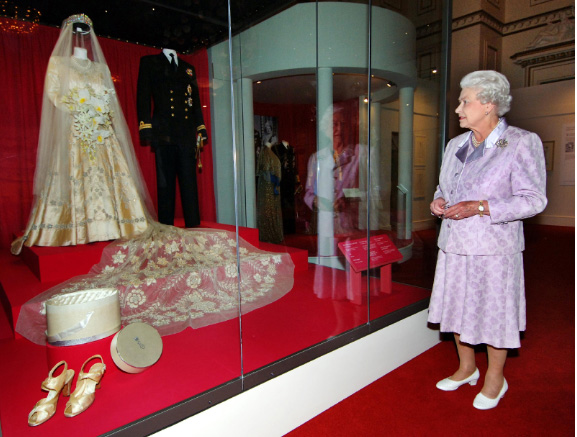 We wonder how many of you knew that due to government rationing measures in place following World War Two, Princess Elizabeth had to use her clothing ration coupons to pay for her gorgeous
wedding dress
As Queen she became known for her careful spending and was well known to recycle garments and household items. What really set the dress apart were the exquisite pearl and diamanté, encrusted star flowers, roses, jasmine blossoms and ears of wheat embroidered on the gown's bodice, full skirts and ethereal silk tulle train. Princess Elizabeth's outfit was completed with a pair of ivory duchesse satin high-heeled sandals, which were trimmed with silver and seed pearl buckles.
The organisation and logistics must have been enormous in planning a wedding of that magnitude, but at least her majesty had one of the most spectacular wedding venues for the wedding reception any bride could wish for in Buckingham Palace.
Her wish to always be near her people was apparent as the couple simply honeymooned at their beloved Balmoral castle.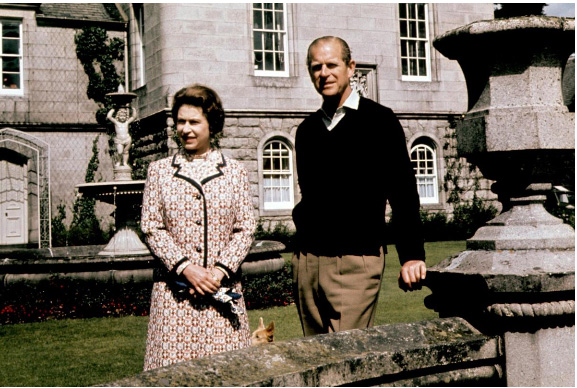 The final phase
On Monday September 19th 2022 at 11am, the Queen will be laid to rest, having dutifully served the country for over 70 years as our regent.
The day is marked with a national bank holiday, so that as many people in the UK and across the world can pay their respects to our wonderful dear departed Queen.
We wonder if Phillip will see her again in that stunning wedding dress or as she was in her final years. In whatever way they greet each other, their love is now eternal.
TDR Bridal wishes to convey our deepest sympathies and respects to The Royal Family and will be closed on Monday the 19th September, while we all pay our tributes to this incredible inspiration who has touched all our lives. Sleep well your majesty.