Unveiling the Glamour: The biggest wedding dress trends for 2024
From all-out glitz to Hollywood glamour, these are some of the biggest wedding trends for next year…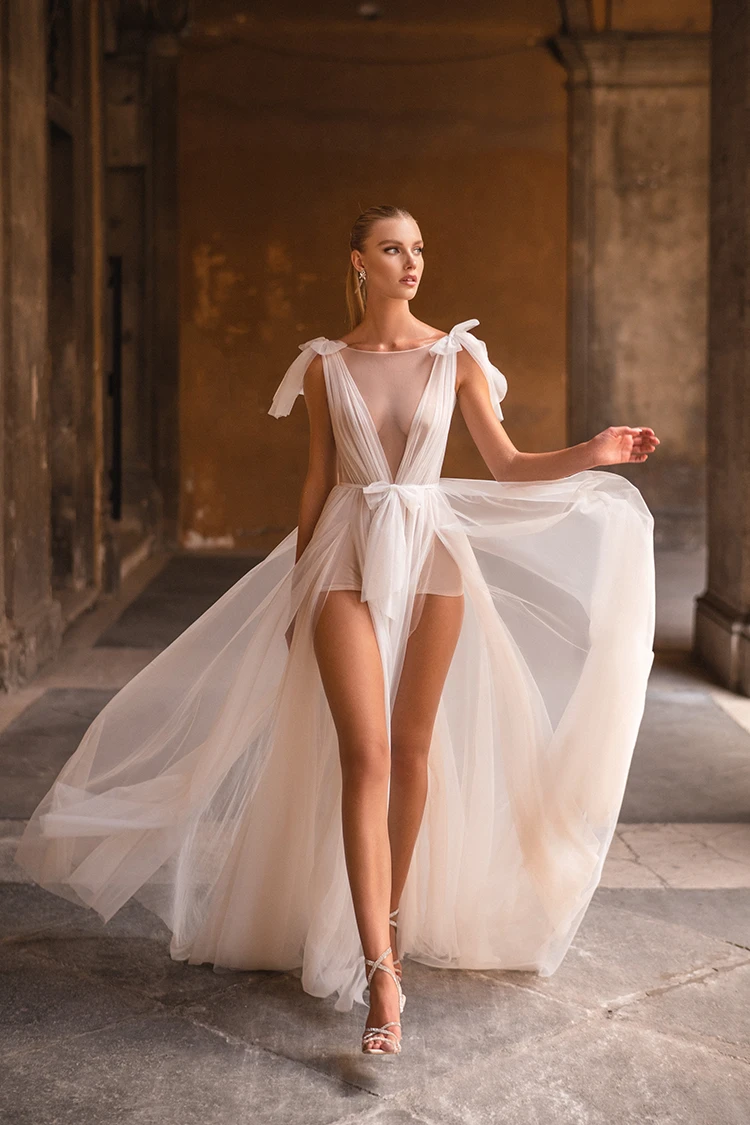 Featuring style: 23-J05 Jolie-Berta
https://www.thedressingroomsbridal.co.uk/dresses/jolie-berta/23-j05-jolie-berta/
As bridal designers begin to reveal their latest collections, we're looking ahead to fashionable styles for next year's weddings. The biggest wedding dress trends for 2024 promise to make your special day even more magical. From glitz and glamour to high-drama silhouettes, this year's wedding dress trends are sure to bring the wow factor.
Glitz, Beading, and Texture
When it comes to wedding dress trends for 2024, more is more! Glitz and shimmer take centre stage, adding a touch of opulence and luxury to bridal gowns. Intricate beading, sequins, and metallic embellishments create a captivating sparkle that is impossible to ignore. These exquisite details are often combined with textured fabrics such as 3D appliqués, feather accents, and laser-cut patterns, adding depth and dimension to the gown. Whether you opt for a fully adorned gown or subtle shimmering accents, these glitzy elements will make you feel like the belle of the ball.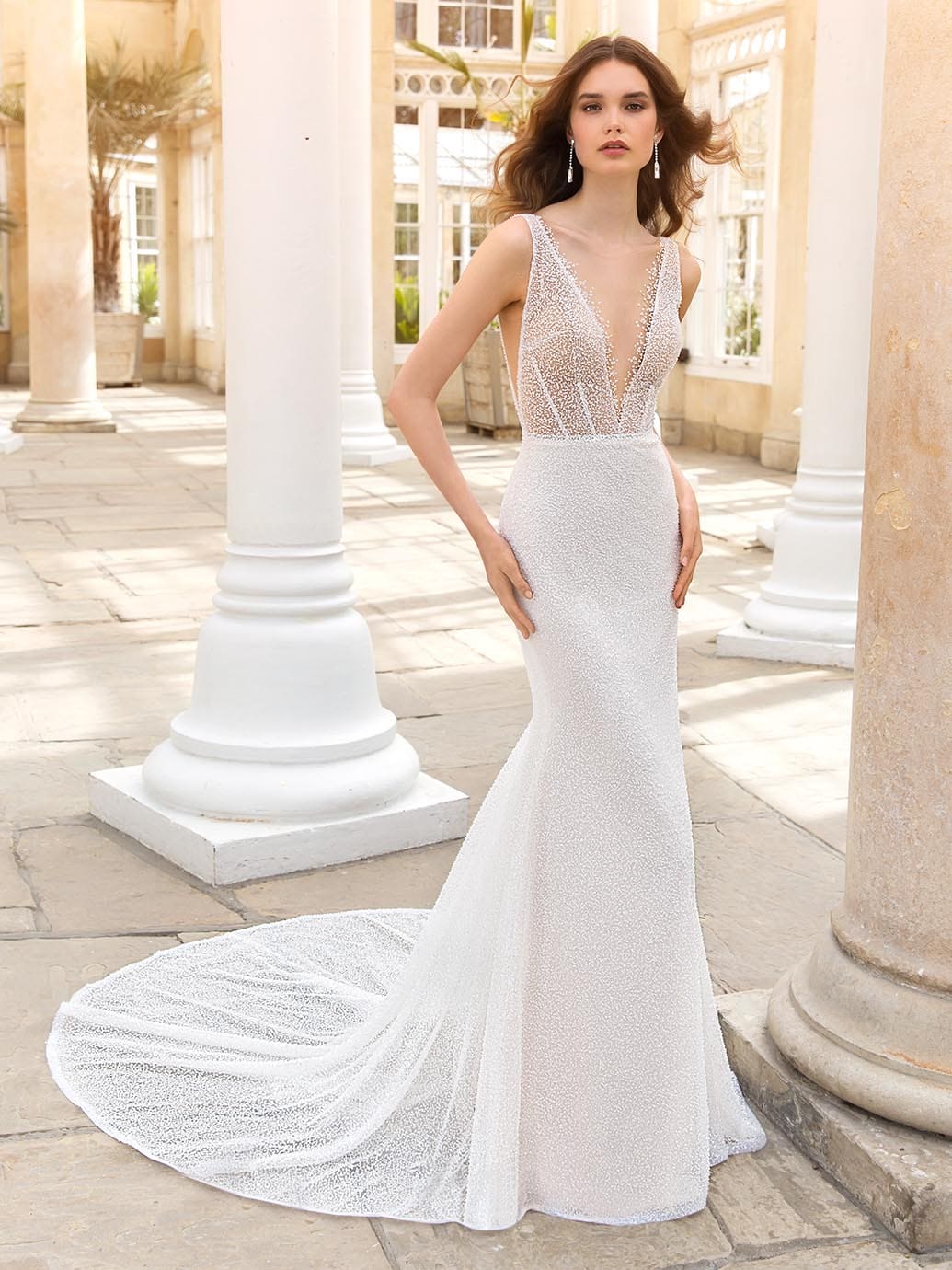 Featuring style: SIERRA Enzoani
https://www.thedressingroomsbridal.co.uk/dresses/enzoani-by-enzoani/sierra/
 High-Drama Silhouettes
2024 is all about making a grand entrance. High-drama silhouettes are taking the bridal world by storm, offering brides the opportunity to make a statement. From voluminous gowns with cascading layers of tulle to sleek styles that accentuate your curves, these bold silhouettes demand attention. Structural details such as oversized bows, dramatic sleeves, and exaggerated trains add an extra dose of wow factor to the overall look.
Colour and Pattern
While white will forever be the classic choice for wedding gowns, 2024 brings a pop of colour to bridal wear. Brides are embracing a range of hues, from soft pastels to bolder shades, like deep jewel tones. Patterned fabrics, including floral prints and delicate embroidery, are gaining popularity, offering a unique and memorable look for the fashion-forward bride.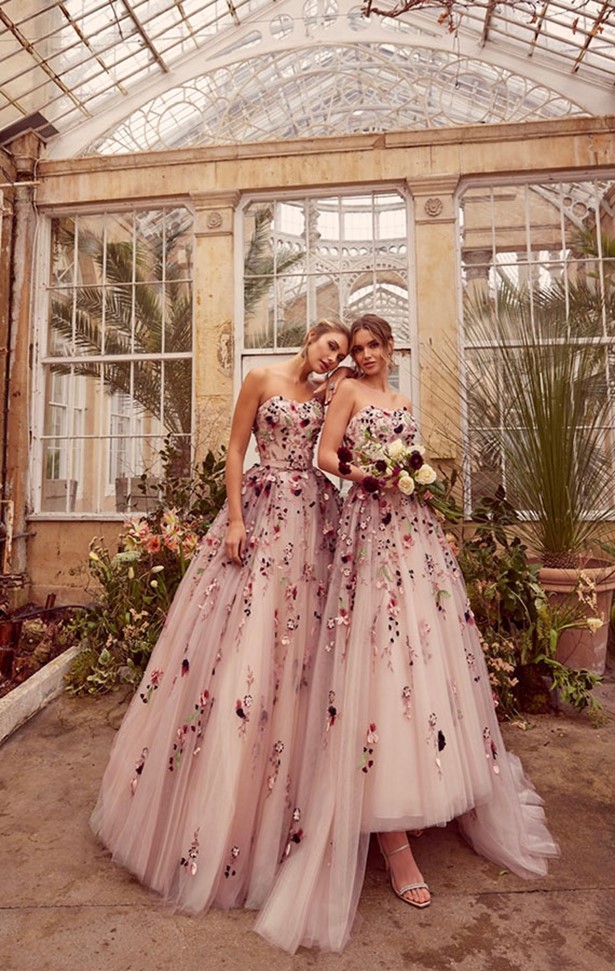 Featuring the beautiful new Botanical collection from Ronald Joyce – Coming Soon! 
https://www.thedressingroomsbridal.co.uk/ronald-joyce-dresses/
Hollywood Glamour
Go all out in a red-carpet-worthy gown on your big day! Hollywood glamour is making a triumphant comeback as a wedding dress trend for 2024. Think Old Hollywood-inspired designs featuring plunging necklines, off-the-shoulder sleeves and figure-hugging silhouettes. Sheath dresses with high slits and chic satin gowns nod to a bygone era of elegance and sophistication.
Corset Bodices
The corset is back and better than ever! A symbol of femininity and grace, corset bodices are reigning supreme in 2024. These structured tops cinch in the waist and create a flattering hourglass silhouette. Delicate boning and intricate lace-up details add a touch of romance while providing support and enhancing your natural curves. Whether you choose a corseted ball gown or a sleek sheath dress, this trend offers both style and comfort. 
Sheer Fabrics
For the bride who wants to add an alluring touch to her wedding day look, sheer fabrics are the answer. From illusion necklines and sleeves to daring sheer panels and skirts, this trend allows gives a barely-there look. Delicate lace, tulle, and organza create an ethereal and romantic aesthetic, adding a touch of sensuality to your bridal ensemble.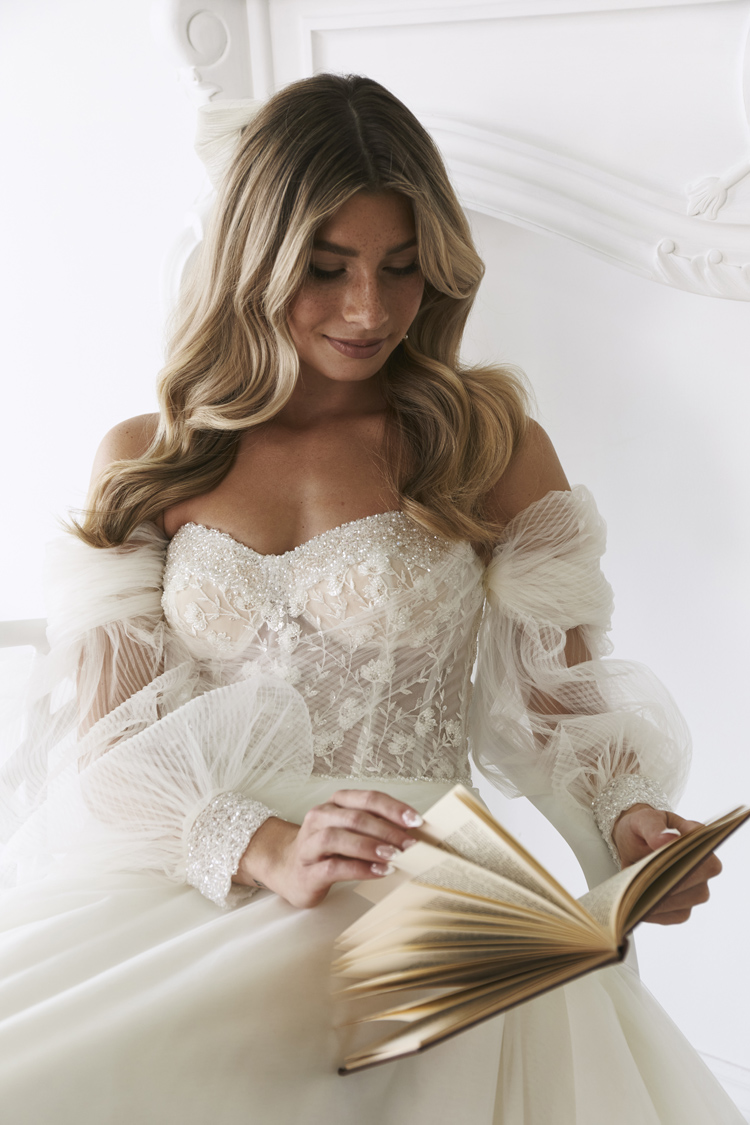 Featuring exciting new designer Sarah Alouache, now available at TDR Bridal
https://www.thedressingroomsbridal.co.uk/product-category/sarah-alouache/
 The wedding dress trends for 2024 offer something for every bride. From intricate beading to corset bodices, you can find a show-stopping gown to walk down the aisle in. Embrace the trends, but choose a dress that makes you feel like the most beautiful version of yourself on your special day. We can't wait to help you find your dream wedding dress at TDR Bridal Birmingham – where magic happens!