In March 2022, Phoebe was selected as the lucky winner of our TDR Wedding Dress Giveaway and in April 2023 she tied the knot, wearing the wedding dress of her dreams! We caught up with her to find out all about her beautiful big day…
Bride and Groom: Phoebe and Maximillian Batteson-Davey
Wedding Date: 15.04.2023
Photographer: Henry Lowther
Wedding ceremony/reception venue: The Kimpton Fitzroy
How many guests did you have to the ceremony? 80  And the evening reception? Extra 50
Wedding dress designer: Shasta by Sottero And Midgley @maggiesottero
Flowers: Flavia Studio
Stationery: Ten Stories
Shoes: Rainbow Club
Accessories: Victoria Percival
Hair and Makeup: Alice of Lucent Hair and Makeup
Cake: Sugar Plum Bakes
Bridesmaids – who were they and what did they wear?
I had my best friends in the world who were 5 women and 3 men- all from different walks of life- some from uni, some from work, some from childhood. I wanted them all to feel incredible on the day, and feel like themselves as they're all so different, and didn't want them all in the same thing. So they wore what they wanted in either pink or blue. They all looked absolutely fantastic!
Menswear: Max wore a Hugo Boss tux and his 4 groomsmen matched with their own tuxedos.
Ceremony band or musicians: For the ceremony Estilio Quartet and the band was Uptown Showdown from Boujee Music
Reception band/DJ: Boujee Music
Videographer: Down the Aisle Videography
Our coordinators were Occasion Queens, who were incredible! And we hired candles from The Stable Props Hire who were also amazing.
The cherry on the cake was the photobooth by Absolute Booths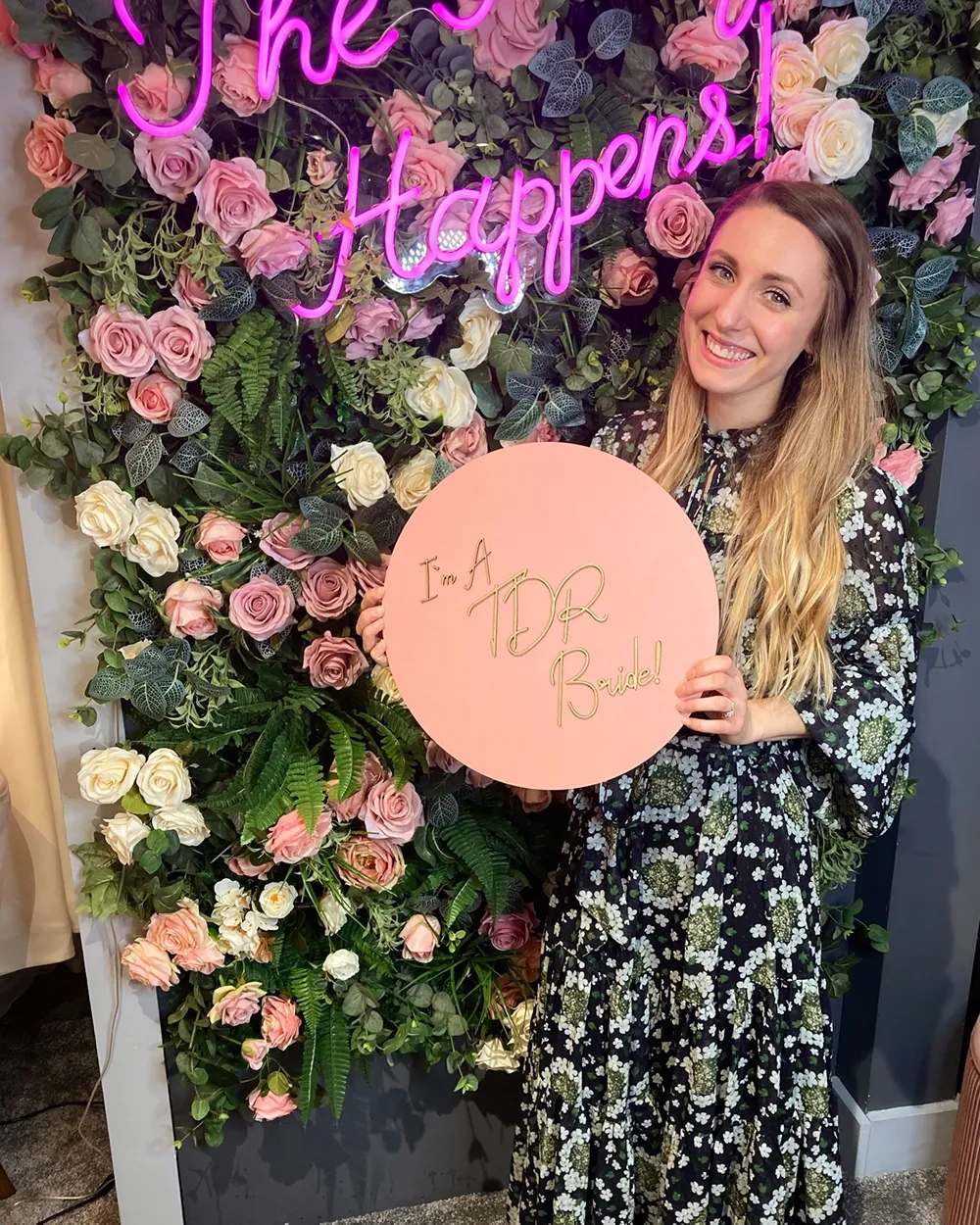 How did you meet, and when?
Max and I met in the Green room the National Theatre back in 2016 – what a perfect meet cute for actors! I knew the second I laid eyes on him that he was mine.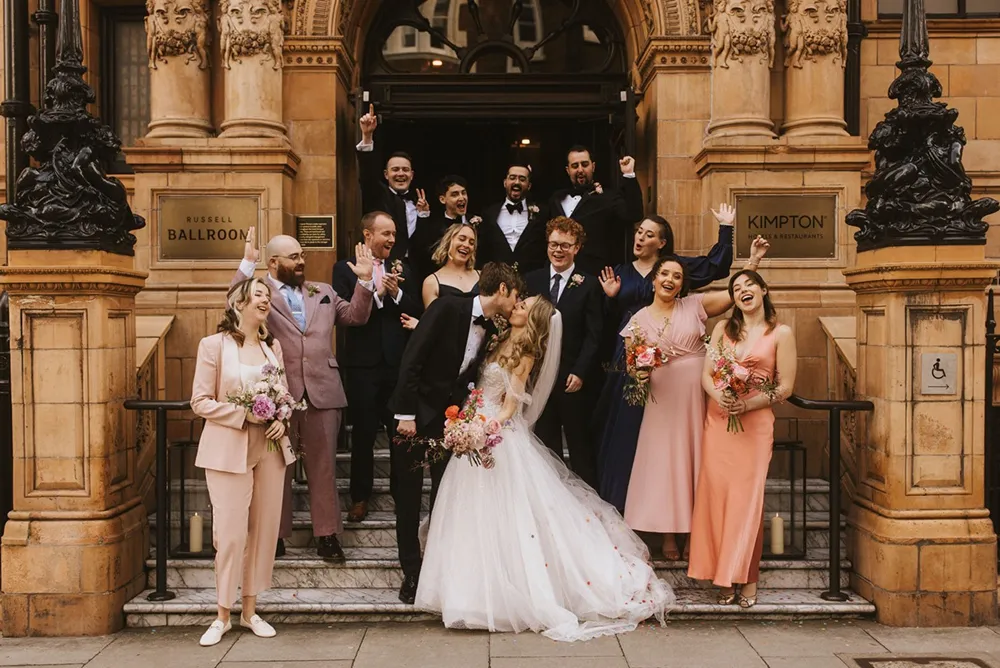 How many dresses did you try on before you found the one?
I was incredibly lucky to have won a competition back in March 2022 to choose a Sottero and Midgley dress from TDR! What a dream come true! I had looked at the dresses online and suddenly saw the Shasta and couldn't believe that the dress I had always imagined being in on my big day was right there. I just knew it would be perfect. My Shasta was the first one I tried on! And of course, it was love at first try. I tried 3 more on after this but it was the Shasta for me!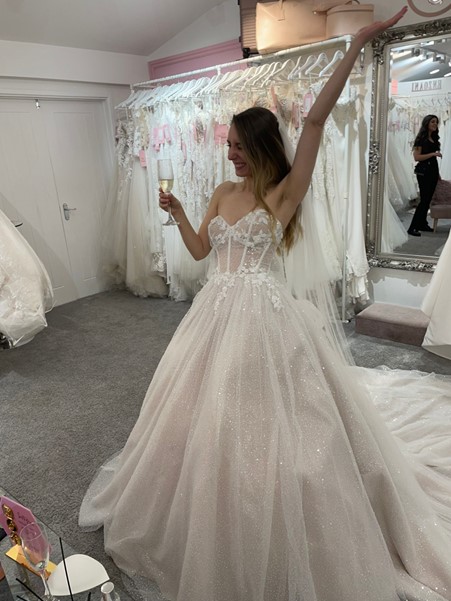 Was there a theme or colour scheme for your wedding?
The theme was a mix of London glamour and celestial, with the colour scheme of gold, black, pink and blue.
How did you decorate your venue?
The venue was so stunning and so in keeping with our theme that we didn't need to do too much with decor. We got married and had the dinner and part in the ballroom of the Kimpton, which is so grand and stunning, and the drinks reception was held in the Palm Court, which is so elegant, you didn't need to do anything at all with it. But we had lots of gold star lanterns and candles, and the flowers were really beautiful! The celestial touches were lots of star candles and lanterns, stars on the stationary like welcome signs and place settings as well as invites. Our wedding cake also had stars on and a moon topper. We had little touches like having our own champagne flutes that had stars on (a great Oliver Bonas find!)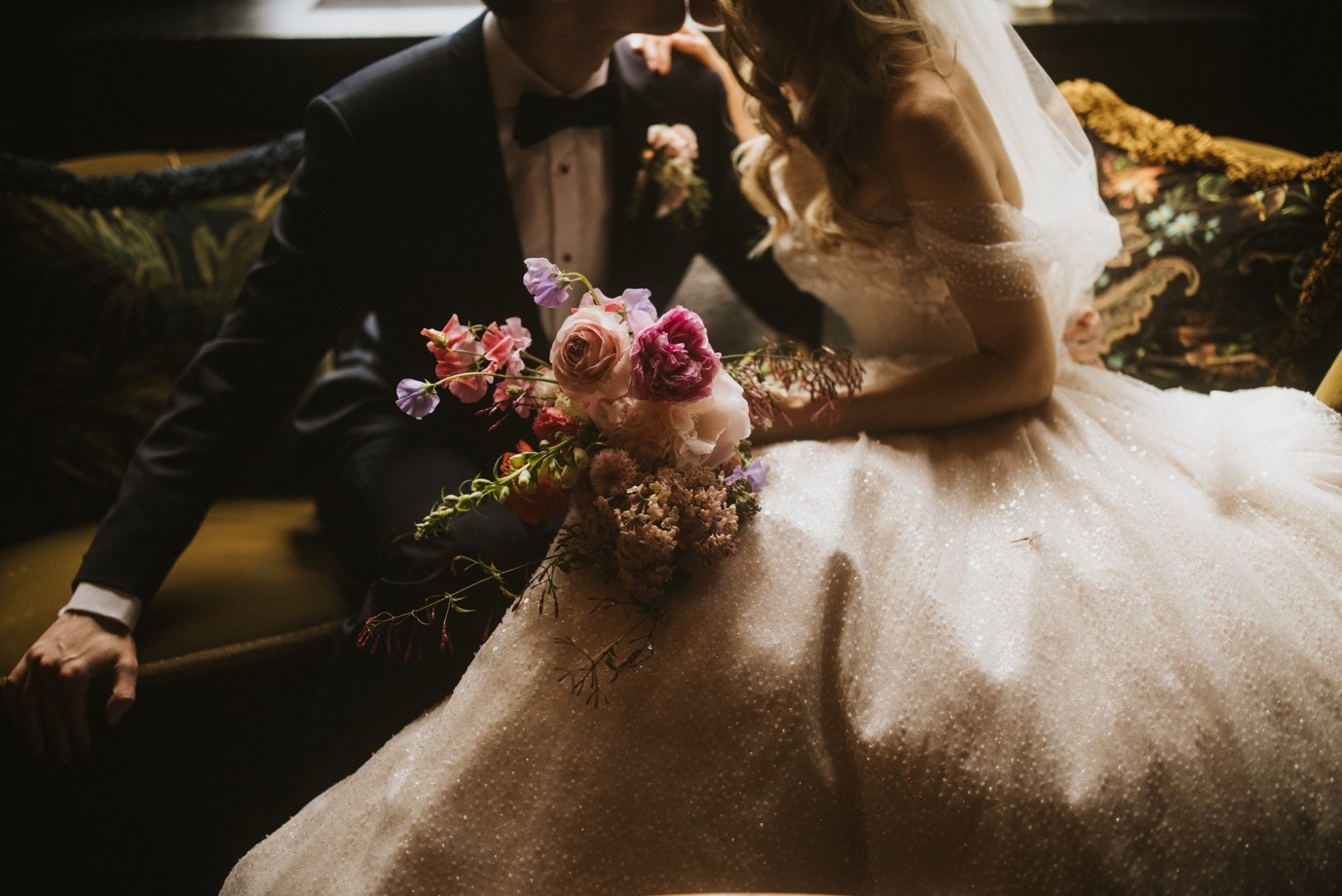 What music did you choose for the ceremony? Why?
I walked down the aisle to the string quartet playing La Vie En Rose because Max proposed in the Regents Park rose garden, so roses featured heavily! And our first dance was to our song, Wonderful World by Sam Cooke, which was sung live by the fabulous Uptown Showdown.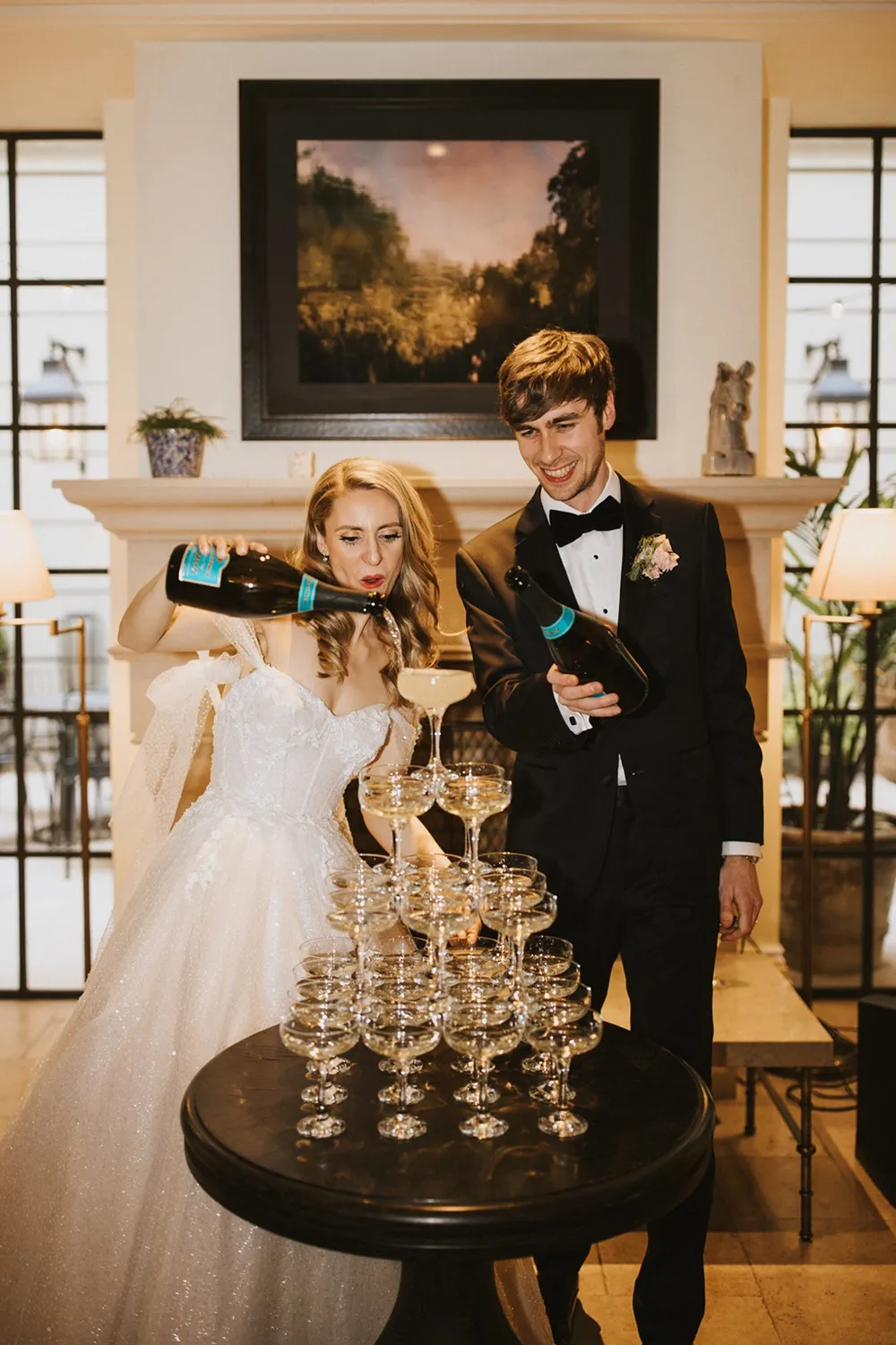 What were your best decisions for the wedding?
Definitely to have a London wedding! We're both proud Londoners, so we always knew we had to have it in London. But all our friends have been thanking us ever since for having it in London, as most are London based and were able to get the night tube home! We all love a weekend away for a wedding, but sometimes it's nice to be able to not have to worry about sorting hotels or transport. Also everyone has said how few London weddings they've been to and that it was nice to have been in the capital, and at somewhere that meant something to us. Max works round the corner from the Kimpton so we are now like regulars there! Another great decision was breaking free from tradition and doing what is right for you- age old advice but it's true. I had 'bridespeople' not just bridesmaids- I have 3 best friends who are men, and didn't want to not have them be part of our special day because the tradition is to just have women! They also all did mini speeches for me- I also made a speech!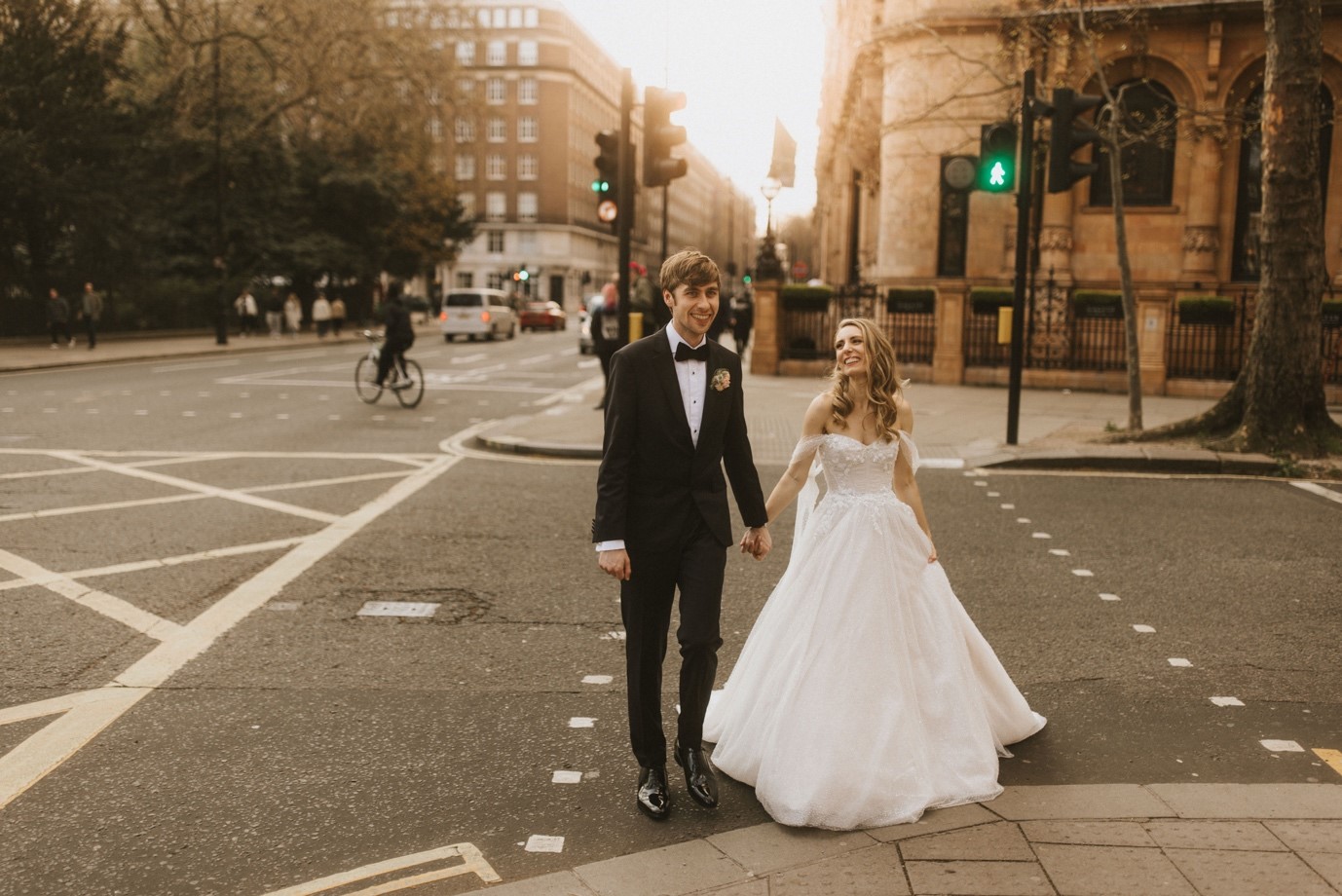 What advice do you have for other brides?
Forget the noise from other people. You have to do it your way! Everyone has an opinion on everything, so drown it out if it doesn't feel good to you. Also don't compare your wedding to what you see on Instagram or Pinterest! So many shoots you see are staged photoshoots and are often so unobtainable and unrealistic for a real wedding! Flowers are EXPENSIVE so do think about other ways to make the venue look great. And have FUN! You can stress and plan up until the day before, but then on the day, let it all go. Things will go wrong! But it doesn't matter. Just roll with it all and drink in every second. Last bit of advice… watch the booze. I love a prosecco, believe me, but you want to remember the best day of your life properly! So take it slow and steady and remember to drink water! You'll regret being hazy on the speeches or cake cutting.
What was your budget?  
Entire budget was around £40k
Did you make any cost savings, and how?
We didn't do wedding favours – they always get left behind! We also didn't hire a load of props or chairs. I also didn't have to buy a wedding dress! But that's the amazing good luck I had winning the competition! I also let my bridespeople choose what they wore, so didn't pay for their outfits.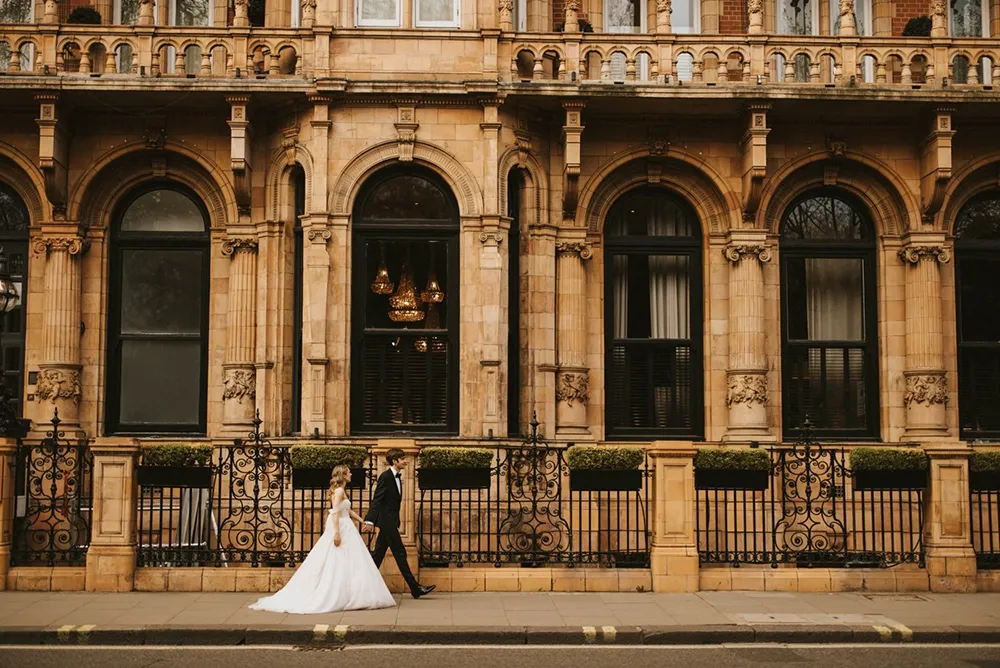 What were your favourite moments?
Ah this is an impossible question! But I would say getting ready in the suite with all my bridespeople was magical- we were so excited and in the best mood! The doors opening to the ballroom for the ceremony and seeing Max at the top of the aisle- this made me melt. Being announced for the first time as Mr and Mrs Batteson-Davey- this felt so wonderful and surreal! Max's beautiful speech that had everyone in stitches. And the first dance was magical! (apart from Max and I being horrific dancers!)
Any funny things happen? Embarrassing moments?
Max and I are known for being clumsy and have ridiculous things happen. Friends had bets on whether I would fall over walking up the aisle, but nothing happened! It was all very fun and hilarious, but thankfully no drama! I think the sight of us wobbling about in an attempt to dance to the first dance was probably pretty funny!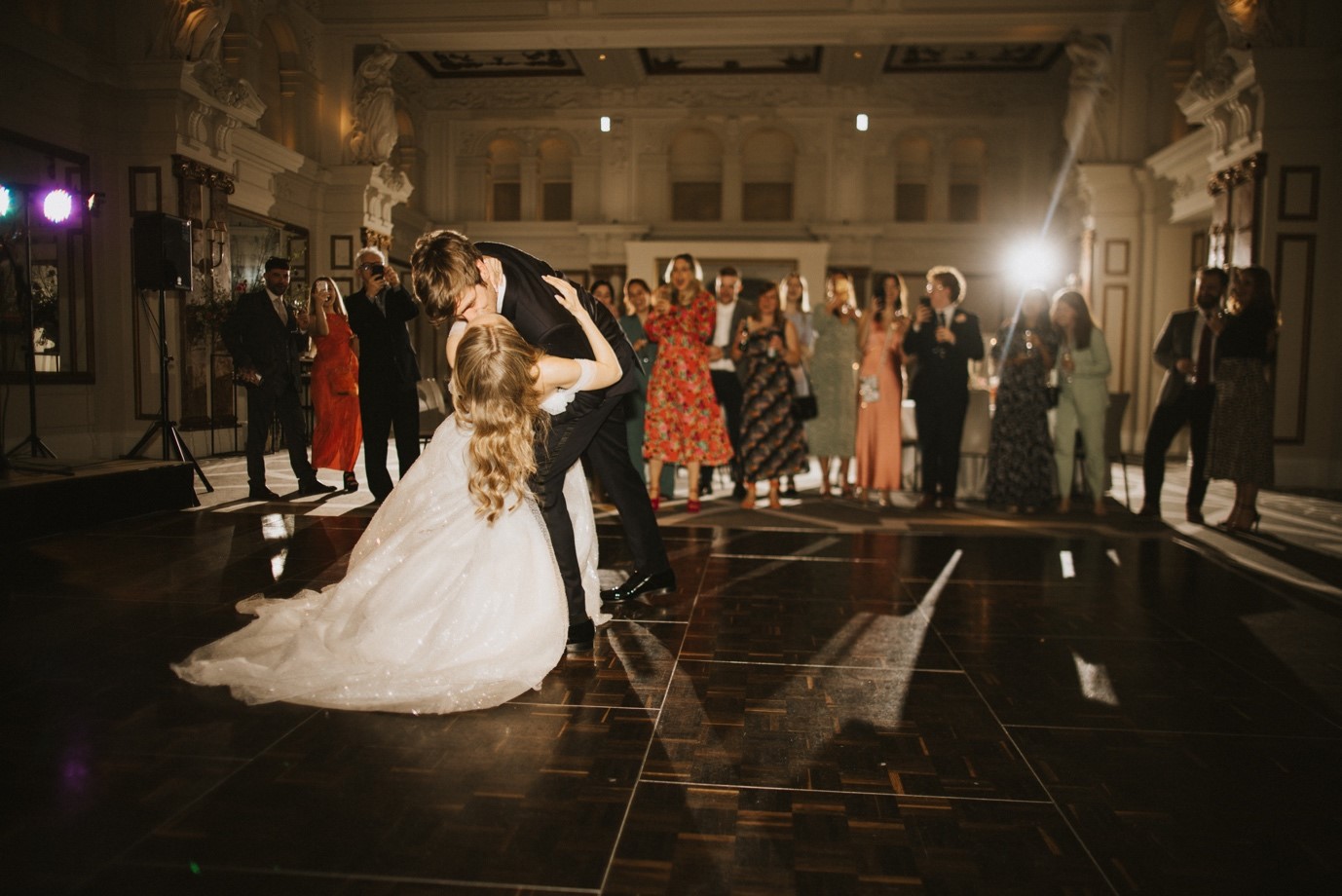 Did you follow all the traditions?
Absolutely not! We followed lots like my dad walking me down the aisle but we broke it with my bridespeople giving speeches, as well as me! I didn't toss the bouquet (flowers are expensive and I wanted to keep it!!) and I didn't have a garter. I think it's great to pick and choose what's right for you.
What were the challenges of planning and organising the wedding?
There's a lot of pressure to live up to what you see online, but I had to be very clear on the budget and what we were prepared to spend on each thing. It can be incredibly hard to choose between suppliers because there are so many amazing ones. It can also sometimes feel like a full time job- I'm freelance so had more time than I know others do to put towards it- but it really can be a lot.
Any regrets?Anything you would have done differently, or included with hindsight?
I don't regret one single thing. It was honestly the most perfect day and I wish we could do it all over again!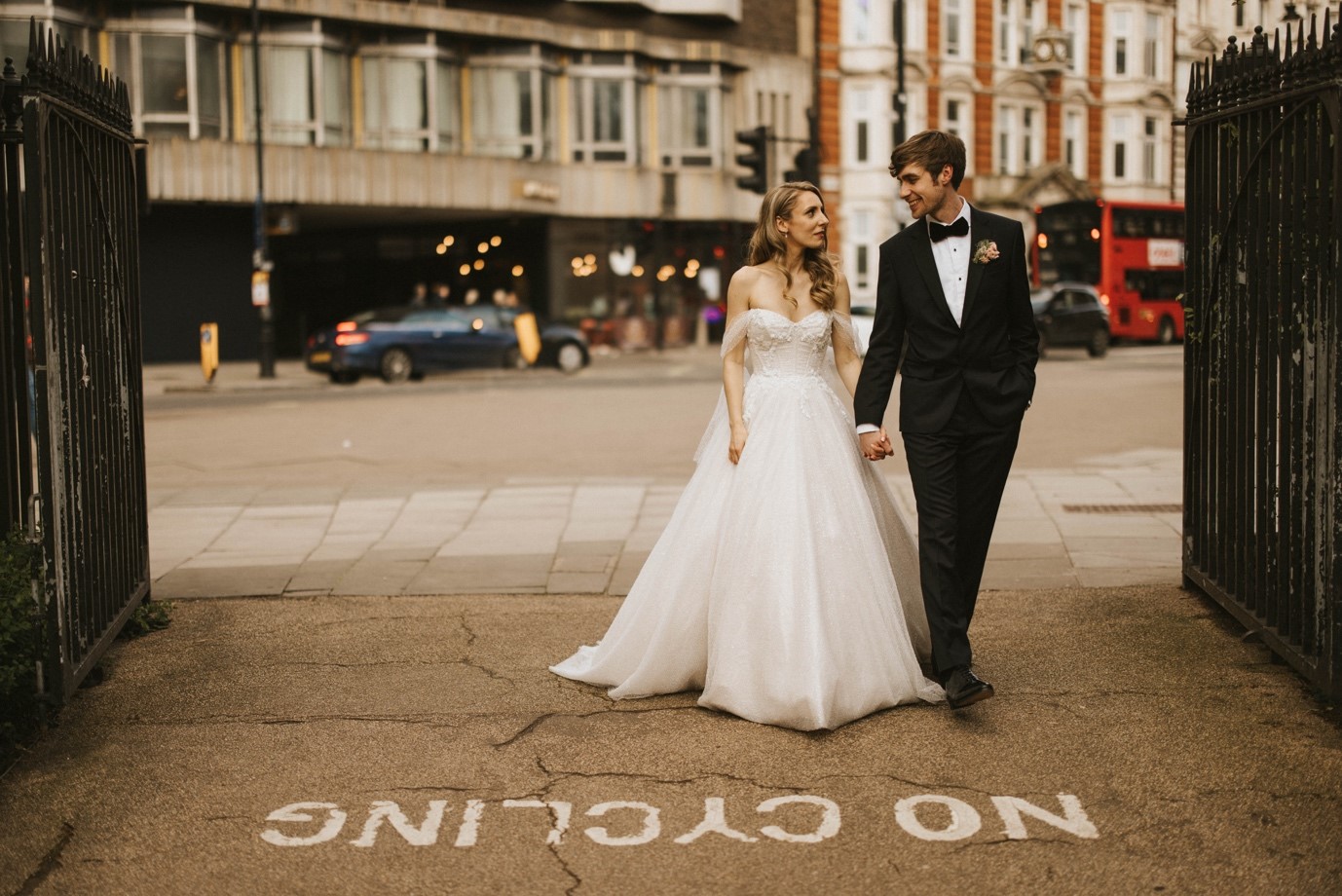 Have you got a message for our bridal team?
Just the biggest thank you from the bottom of my heart! Every interaction I had with the team at TDR has been gorgeous- they're all so friendly, bubbly, happy and helpful. It's so clear they love their jobs, and they make you feel like the only bride in the world. At every fitting they were just so encouraging and fun! I have to say the biggest thanks to my seamstress, Lisa! She had to do 3 fittings for me because the Shasta is one hell of a dress and I'm very petite so lots of work was needed. But she made sure it was absolutely perfect for me! I felt like an absolute princess on my wedding day- I genuinely don't think I will ever feel as beautiful! I may just wear my dress to Sainsbury's for the weekly shop one day, just for fun (imagine!)
THANK YOU SO MUCH!! Pheebs xx