The glow of gold and sparkle of diamonds has always been a major part of wedding ceremonies and getting the right wedding jewellery can be as important as choosing your wedding dress.
For some brides it is about selecting matching or style relevant jewellery to go with their wedding dress, for others choosing your wedding dress is the most important job, then matching the bling afterwards. 
Worcester is blessed with a great range of jewellers for wedding jewellery, and we invite you to take a look at a small selection of some of the best wedding jewellers in Worcester.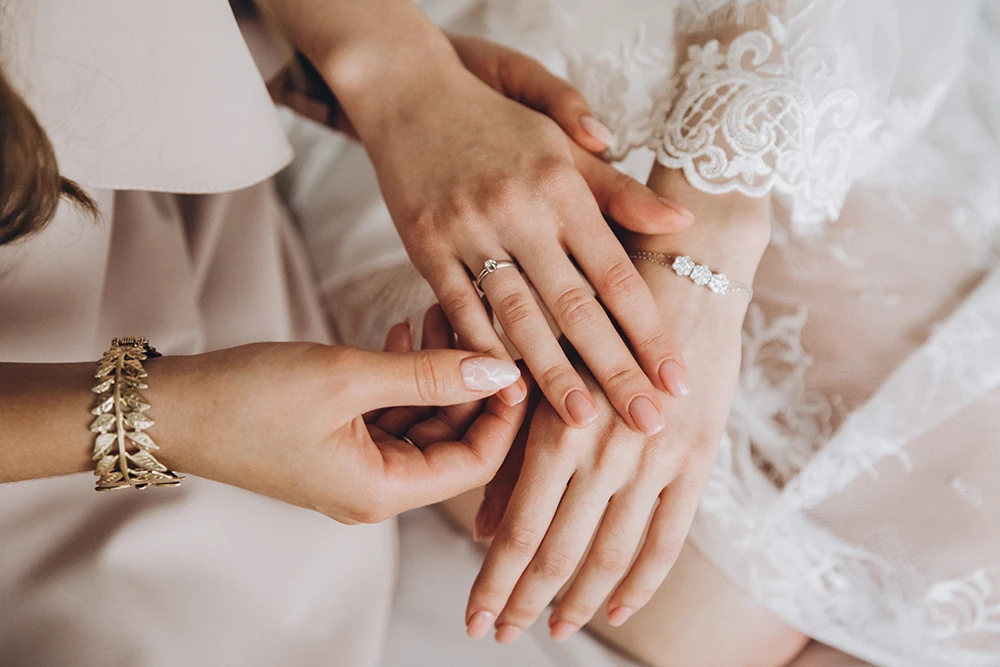 The business was started in 1994 and Anja Potze jewellery is an award-winning independent jeweller based on historic Friar Street in the centre of beautiful Worcester. They aim to provide high quality jewels at a reasonable price. Their jewellery is specially made from certified diamonds and the finest Tahitian and South Sea cultured pearls. 
Anja takes great pride in being one of Worcester's independent traders. She loves to remodel customers' older or inherited pieces, and create something new out of something old, so when you're choosing your wedding dress keep that family heirloom in mind.
At Anja Potze, you will be sure to receive warm and friendly service and advice, and the option to reinvent your old unused jewellery with their bespoke design service.
Your perfect wedding jewellery is waiting in Worcester. Gift vouchers are available.
For premium wedding jewellery and fantastic service, visit Fraser Hart jewellers, a renowned jewellery store in Worcester. Their friendly staff provide first class service and quality jewels to every client. They also provide expert advice and assistance with any aspect of jewellery.
You'll find their store on the famous High Street, the main thoroughfare through the city. Whether you're shopping for wedding rings or a gift for other members of your bridal party, discover the perfect piece from their fine jewellery collection. 
Maybe matching jewellery for the bridesmaids is on your mind when you're choosing your wedding dress? If that's the case their stunning Worcester jewellers' store is beautifully fitted to create a light, open and welcoming space where you can browse their extensive collection of jewellery and watches in comfort.
As the premium jewellers in Worcester, there is a dedicated Diamond Lounge designed to make buying your special diamond a magical experience.
Every bride wants to make her wedding dress as special as possible and with wedding jewellery from Fraser Hart, it will be.
Peplow Jewellers was founded in 1818 and is one of the oldest family firms in Worcestershire. They work hard to offer their customers independent advice and use their extensive expertise in the jewellery business. Peplow's are proud of the wide range of beautiful jewellery and watch brands that they offer at their shop in Worcester.
With 200 years of history behind them and plenty of new ideas and products you can start to talk to them about jewellery ideas even as you are choosing your wedding dress.
Peplows jewellers offer a comprehensive gift wrapping service free of charge.  Watches, jewellery and rings are presented in gift boxes to make your gift an even more treasured possession, so you can ensure that any gifts for your bridesmaids or wedding party members are perfectly presented.
Your stunning wedding dress will make you a beautiful bride, wedding jewellery adds to the sparkle.
There's something for everyone at David Christopher in Worcester. Located on the corner of The Cross, you are invited to browse their wide selection of pre owned jewellery? 
The experienced staff would love to help you find that ideal piece you are looking for. A wide selection of jewellery brands is also available to suit all tastes. From the Madrid workshops of UNOde50 in Spain to the rare Welsh gold of Clogau, there is something to suit all tastes and every style of wedding dress.
A family business of two generations, David Christopher Jewellers like our customers to feel at home and special.
The directors hand select all their Diamonds using their wealth of knowledge and expertise, so start choosing your wedding dress and discuss your jewellery requirements so they can select the perfect stone for you.
A diamond is for life and Weddings are for wonderful memories.
Ian Quartermaine Jewellers & Goldsmiths
The staff and management love to welcome brides and wedding parties at Ian Quartermaine Jewellers & Goldsmiths to choose their beautiful wedding jewellery.
In the Heart of Worcester City Centre, and known as jewellers of distinction the store takes a traditional approach to both customer service and the unique range of exquisite jewellery that they stock. The ethos of Ian Quartmaine jewellers is very much about "traditional values , modern approach"
They specialise in the manufacture of unique pieces of jewellery and also stock a large range of rings, necklaces and other beautiful jewellery items, so if you have something very unique in mind when you're choosing your wedding dress, they can help.
Whether traditional or contemporary, branded or bespoke, a visit to their Worcester City centre jewellery shop is an experience you will treasure.
Ian Quartermaine is a name that you can trust to deliver the highest quality Jewellery in the centre of Worcester. When you walk down the aisle in your stunning wedding dress and Ian Quartermaine, you know you're special.
And Finally
There is never a best time to shop for wedding jewellery and the choice is yours. Whether you decide to start selecting jewellery as you're choosing your wedding dress or wait until your stunning wedding dress creation is finished is up to you.
But whichever way you choose to do it, Worcesters jewellers are there to help and guide you and ensure you get exactly the pieces you're looking for.
Every wedding is special and TDR Bridal Rooms does everything to ensure you experience the magic.