Celebrity weddings are still a well of inspiration for brides-to-be everywhere and we were intrigued by the research that fashion experts at JOOR did on TikTok, Pinterest and Google to see which star has the wedding dress we most want… We match some of these gorgeous celebrity wedding looks to similar gowns at TDR, to show you that you can recreate that celebrity look as one of our brides.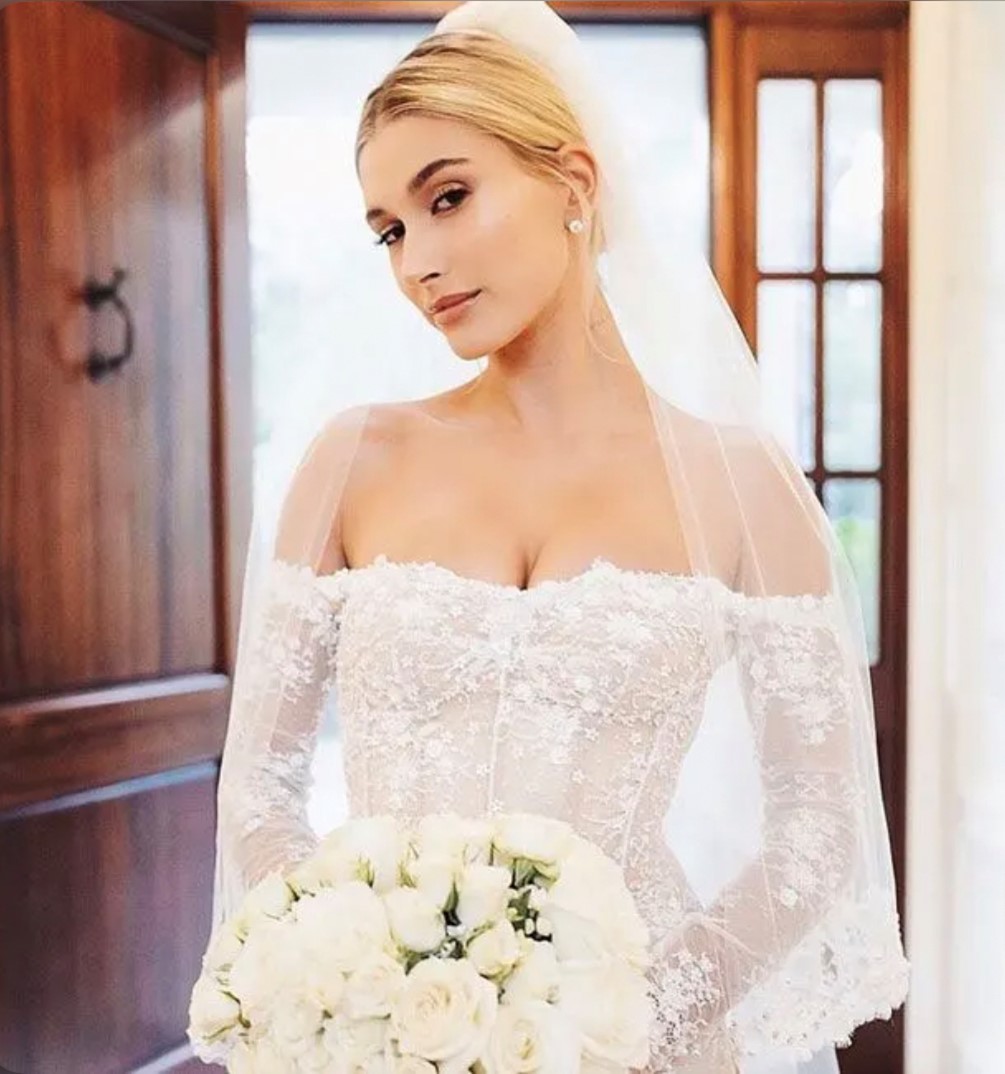 Top 10 most popular celebrity wedding styles
In first place, with a popularity score of 8.89 out of 10 is Hailey Bieber's wedding dress. Her custom Off-White wedding gown has earned one million views on TikTok and almost 2,000 pins on Pinterest. With many interested in her timeless vintage lace look, global monthly Google searches for 'Hailey Bieber wedding dress' continue to reach 26,000 despite getting married four years ago. Not only so, but in true fashion icon manner, Hailey's wedding hair and nails both receive a combined 1,450 searches a month.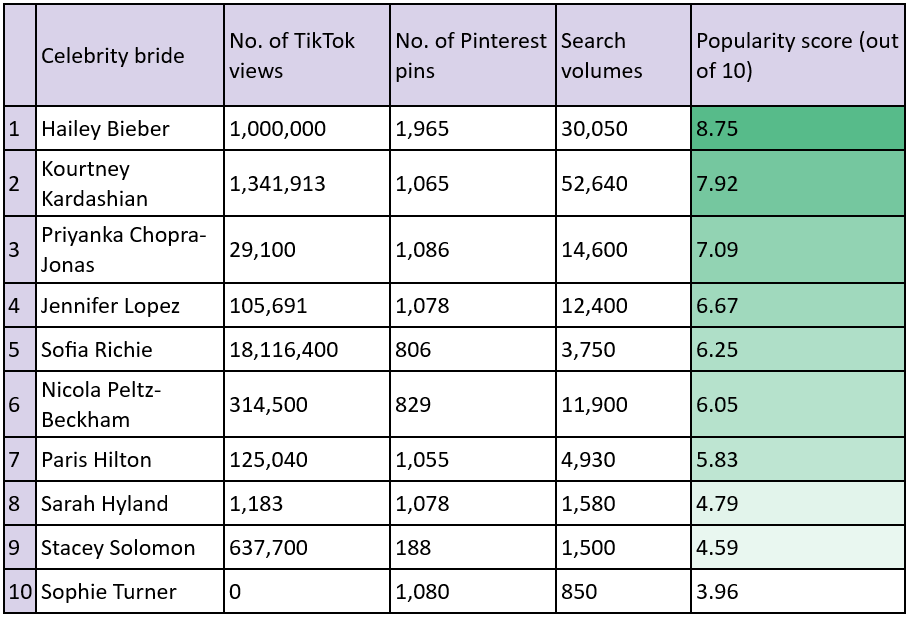 Following in second with a score of 8 out of 10 is Kourtney Kardashian's Dolce & Gabbana mini wedding dress. Scoring the highest number of TikTok views (1,341,913), her lingerie-inspired gown also receives 51,000 Google searches each month. Not only so, but the Kardashian sister's jaw-dropping 12-carat engagement ring also averages 1,600 searches.
In third is Priyanka Chopra, scoring 7.33 out of 10. Her cross-cultural wedding gave way to a stunning white dress and a hand-beaded red lehenga – receiving 11,000 searches and 3,400 searches respectively. Her one-of-a-kind white Ralph Lauren satin gown also garnered 1,078 saved pins on Pinterest while her lehenga worn in the traditional Indian celebration earned 29,000 views on TikTok.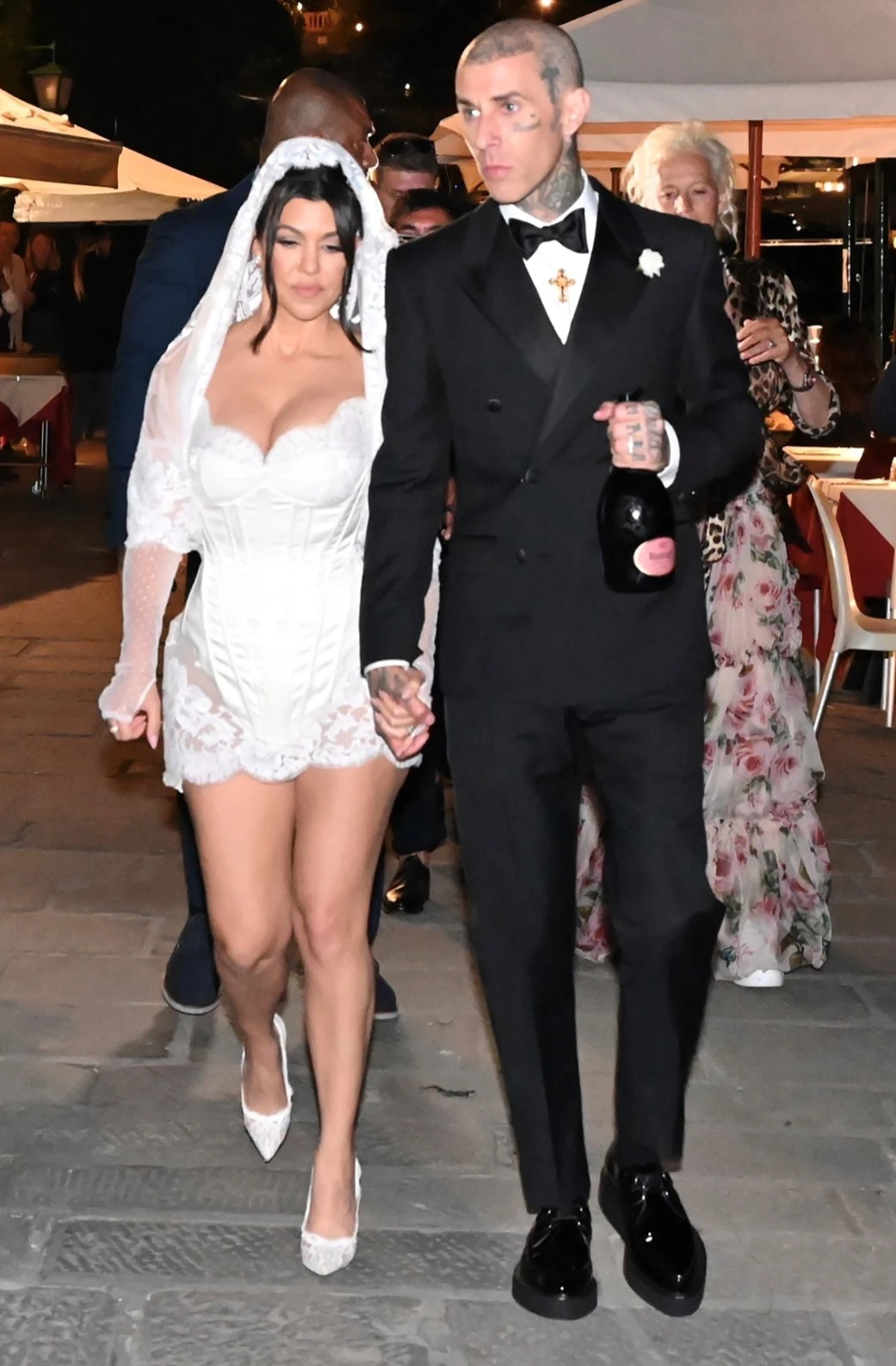 Get the Look – Hayley Bieber, featuring Elysee ARWEN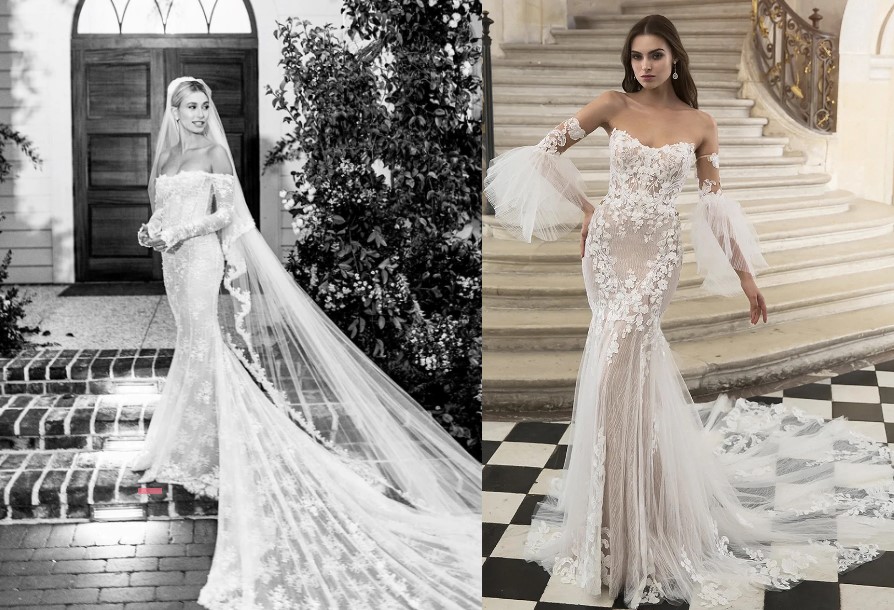 Get the Look – Sophia Ritchie, featuring style Ronald Joyce Paloma 18655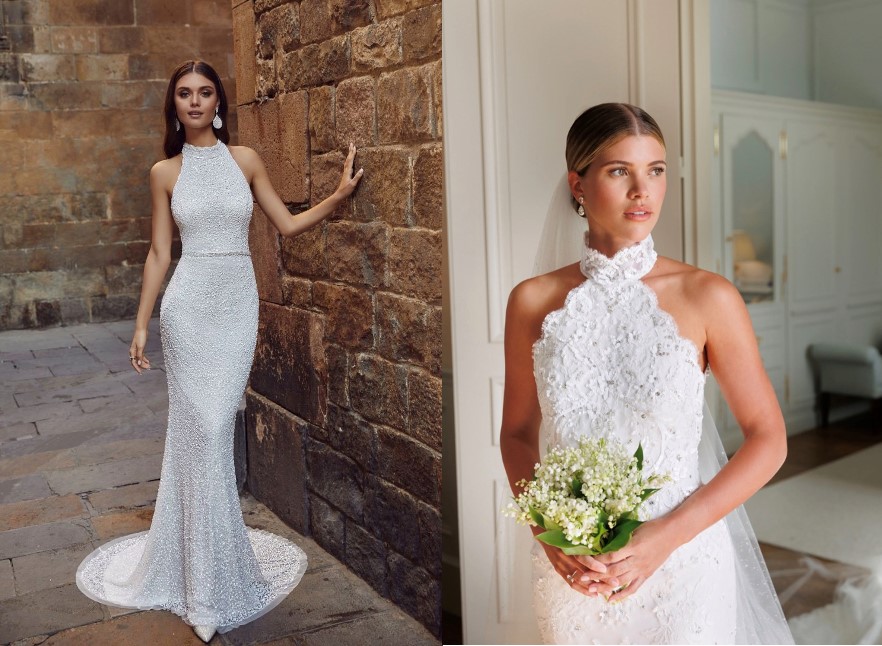 Get the Look – Stacey Soloman Featuring Blue by Enzoani, ROBYN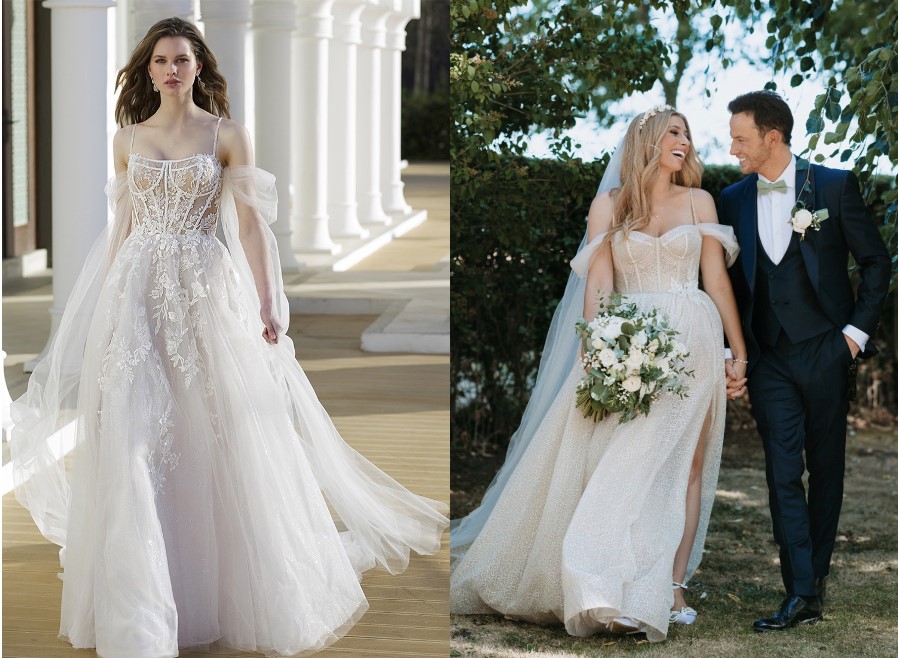 Get the Look – Paris Hilton, featuring ELLIS Pippa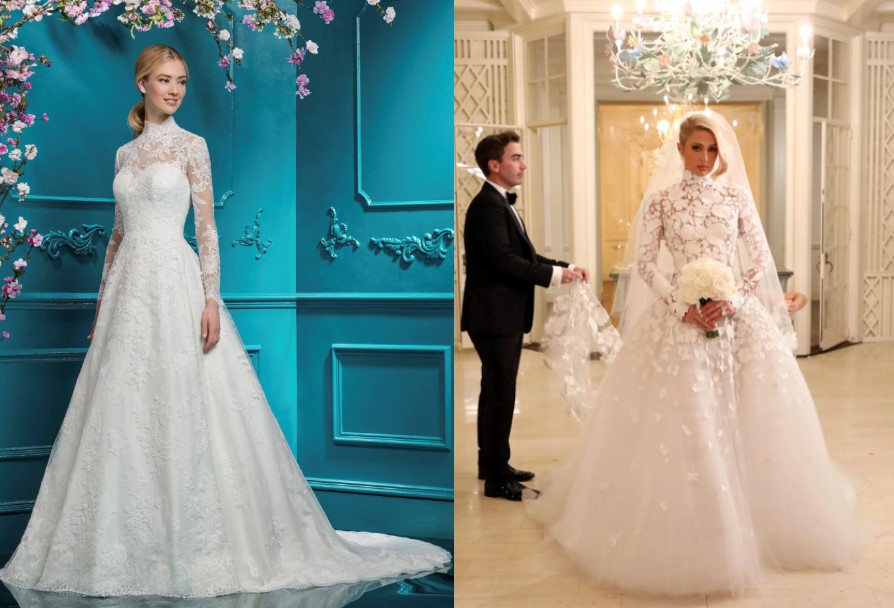 Get the Look – Sarah Hyland, featuring Elysee DELA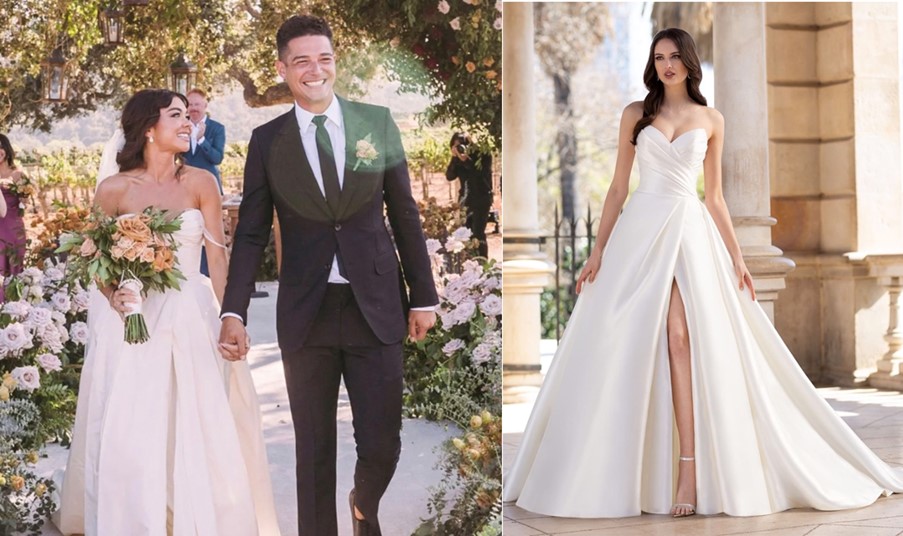 Did you know that we have the biggest selection of wedding dresses to try in the region and are one of the largest bridal boutiques in the UK. That doesn't stop us from delivering a truly amazing experience where you will feel like the only person getting married, ever! Book your bridal experience today and browse hundreds of stunning styles here https://www.thedressingroomsbridal.co.uk/all-wedding-dresses/