Vintage, bohemian, traditional, glamorous… There's a lace gown for every type of bride at TDR Bridal!
Your first thoughts of a lace bridal gown might be of an old-fashioned frilly number that you would only wear down the aisle in your worst wedding nightmares. But you couldn't be more wrong – and trust us, we're in the know! There are so many different ways that lace can be incorporated into your aisle style, explore some ideas with us…
The epitome of romance! A lace wedding dress has always been and will always be a bridal fashion staple. While other trends come and go, lace remains strong. It continues to be a front-runner as we head into peak wedding season and there are many reasons why.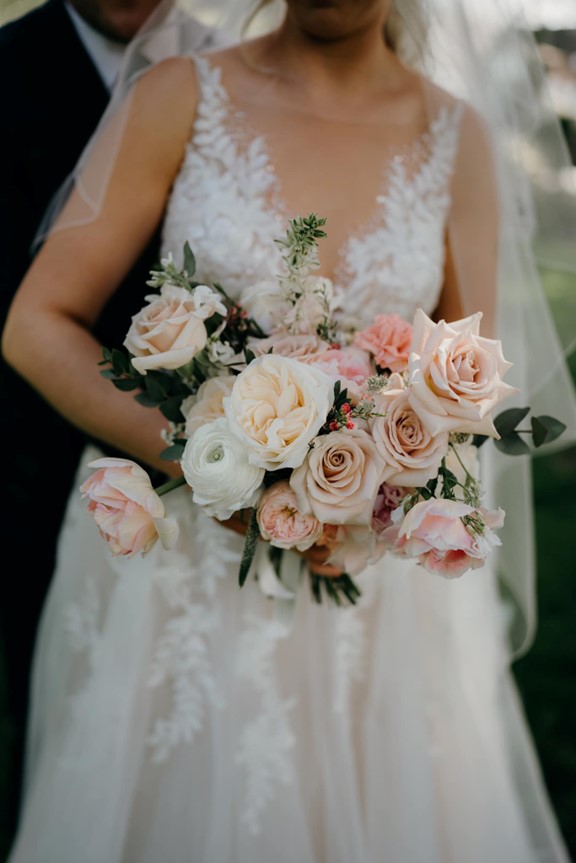 For a start, there are so many different types of lace, from fine Chantilly lace and textured Alencon lace to heavier crotchet lace (like 'Finley 20SC648' by Sottero and Midgley). Some lace fabrics have an ethereal, romantic look, while others have a more bohemian aesthetic. The type of lace used in a design will hugely change the overall look of the dress, resulting in endless lace options.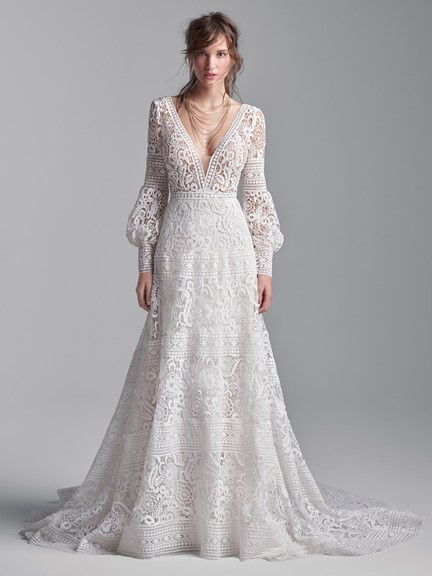 Finley 20SC648' by Sottero and Midgley
The way lace is used in a dress design makes all the difference, too. Two dresses could be made using the same lace, but each dress could look entirely different. The amount of lace and where it's positioned is as important as the type of lace used. You could opt for a head-to-toe-lace, like the 'Grazia 1088' gown by Morilee, or something more subtle like 'Dina 2404' by Morilee which features a more delicate over layer of lace over tulle. Both dresses could be described as lacey, but they are nothing alike and will appeal to different brides.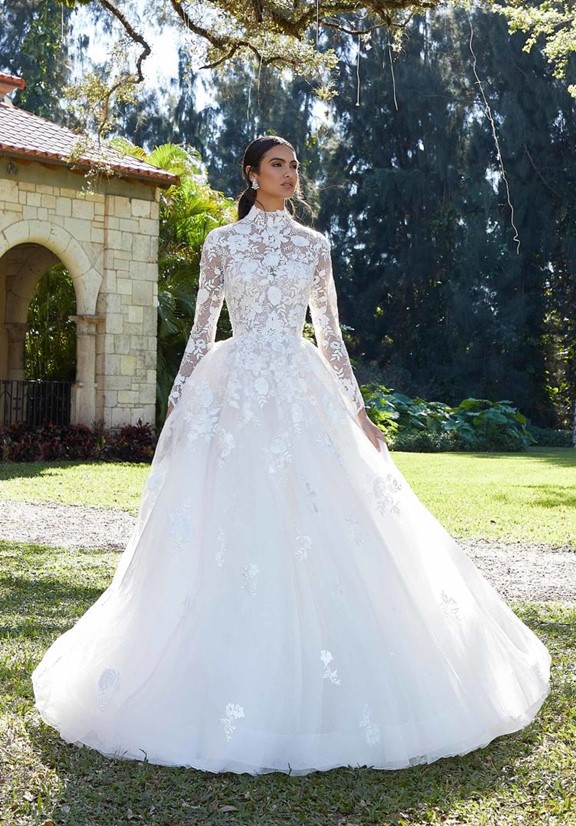 'Grazia 1088' gown by Morilee
Then there are embellishments, appliqués, embroideries and added lace details. Take 'Lea by Etoile' an A-line gown featuring sparkling floral and Chantilly lace on the illusion lace bodice with a drop waist for a dramatic effect on the dreamy skirt, or you might be drawn to a ball-gown like 'Patience by Enzoani' with those captivating 3D floral motifs adorning the bodice which cascade down to the airy but voluminous skirt.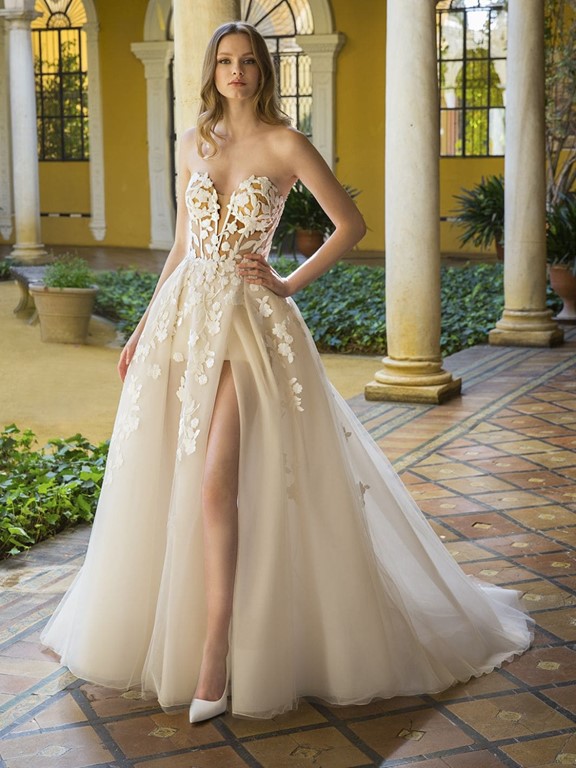 Want to switch up your bridal look as day turns into night? Another way to incorporate lace into your dress is with a lace over-skirt. Walk down the aisle in a romantic, full lace skirt and later remove it to reveal a satin fit-and-flare number like style '66223' by Lillian West. Or you could change your style with a lace bolero or jacket. The addition of which could give your gown a different neckline, sleeves or simply a layer of lace to an otherwise plain style.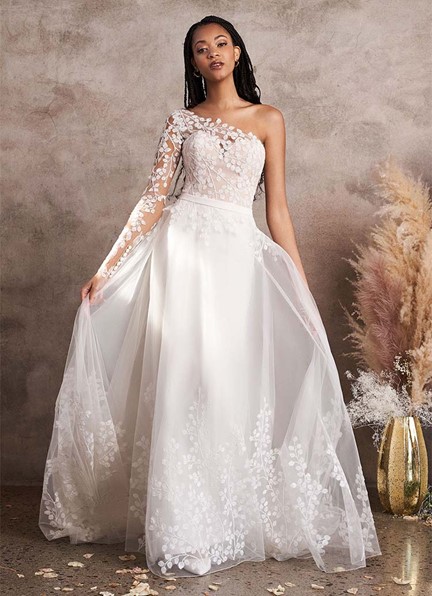 Lace is a beautiful choice year-round. In the spring, delicate lace embellishments with a clear floral pattern will echo the blossoming flowers. A light and airy lace dress will keep you cool during the summer. Autumn lends itself to a boho style lace gown. And in the colder months a feminine long lace sleeve gives you a little more coverage, while adding to your winter wedding look.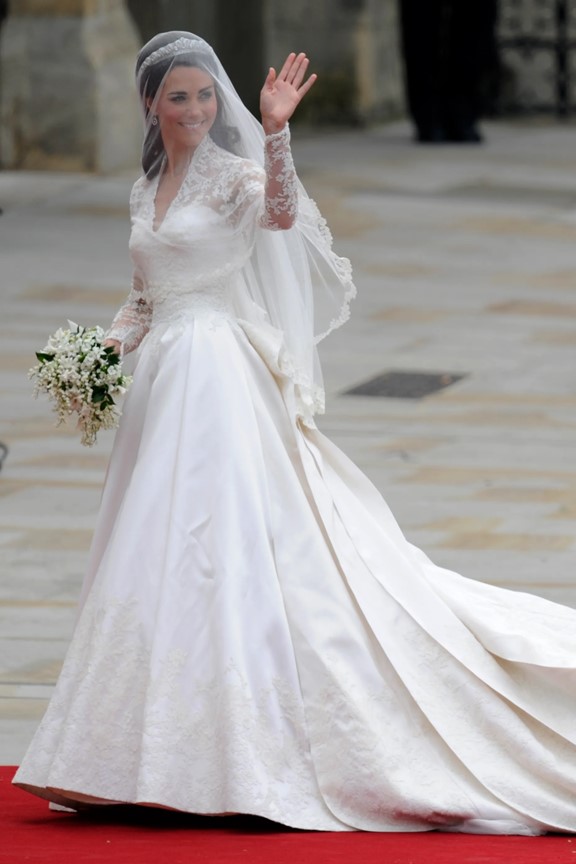 From Grace Kelly to Kate Middleton, many a celebrity bridal icons have stepped down the aisle in a lace wedding dress, come and see us and find out if you'll be joining them in lovely lace!